15″ Laptop Messenger Bags for Women
Whether your going for a a more classic professional look, or a funky trendy vibe most of us business ladies, students, and women alike often need to carry a laptop. It can be hard to find something cute and affordable, with so many bulky or over-complicated laptop bags on the market.
This article provides a list of lovely messenger bags that are functional, yet fashionable for a variety of women. Each bag holds up to a 15″ laptop.
We also have a review article highlighting the top leather messenger bags.
1. Samaz Shakeproof Nylon Laptop Messenger Bag
This durable messenger bag is practical reliable bag that comes in 8 lovely colors. It's loaded with convenient pockets and user friendly features for a gal on the go.
Durable Nylon material
Lots of colors
User friendly features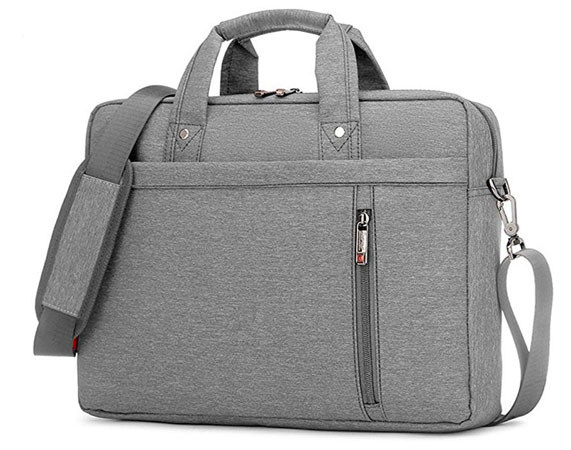 Whether your traveling by land, air or making the day to day commute this is an excellent reliable bag. The soft nylon material is both soft and durable. A water repellent exterior helps any drink or liquid roll off with ease avoiding stains and damage. 8 lovely colors are sold, the pink and rose red are very pretty feminine colors.
The exterior has no zip pockets both front and back with additional compartments inside. It also includes a small front zip pocket for more secure storage. A removable and adjustable nylon padding shoulder strap is provided, along with a dual sturdy handles for comfortable carrying.
Inside it's loaded with convenient pockets, just right for the many gadgets and gizmos ladies may carry in a day. It features a middle thick foam wall inside which will protect your laptop from accidental bump, shock or scratches. Top-loading dual zippers on the bag glides smoothly and allows convenient access to your goods including a laptop up to 17″.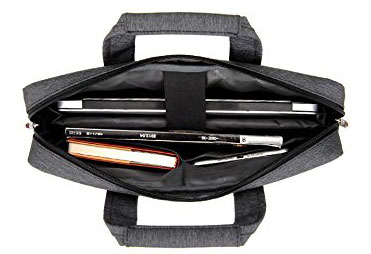 This is a great bag for any business woman or student, with many color options. It can carry a lot and has a reputation of durability.
2. Canvaslove Watercolor Flower Pattern Canvas Laptop Messenger Bag
This pretty little bag comes in some fun patterns and is equipped with functional features. It's simple straightforward design is excellent for daily use.
Fun patterns
Simplistic design
Durable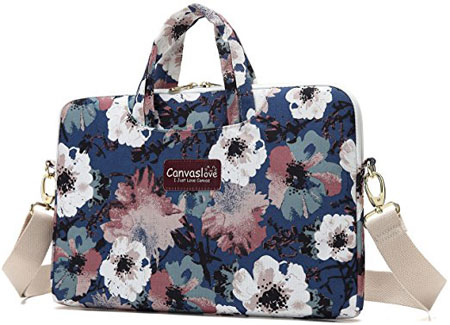 At just around $20 bucks this cute little bag is sure to turn heads, in a good way. It's fun patterns are both fashion-forward and feminine.
The exterior canvas material is durable and easy to clean. A outer zipper pocket is conveniently added for a mouse, cables, pens, and so on. Additionally a hidden pocket is provided that can snugly store a phone or other small thin items. Carrying is made easy with a top dual handle and a padded removable shoulder strap.
Interiorly the design is simple and practical. One compartment safely and comfortably holds up to a 15″ laptop.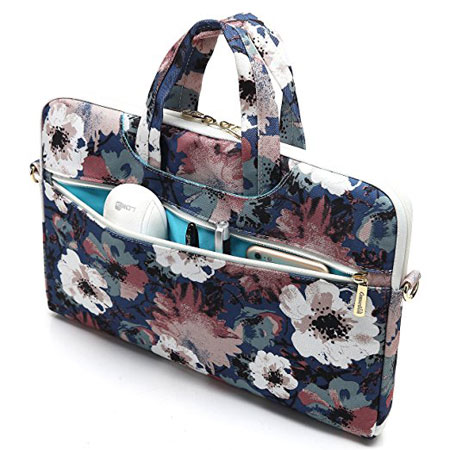 You can't go wrong with piece. It's unique fashionable look makes it a great gift, and a user-friendly everyday laptop bag. It's great for ladies that like something a little different or want a fun piece to change up the routine.
3. Vaschy Leather Canvas Laptop Messenger Bag
If you want something a little more masculine, this vintage inspire retro bag is an excellent choice. It's well-crafted from real leather and canvas making it durable for long term use.
Vintage inspired look
Durable canvas and leather material
Spacious interior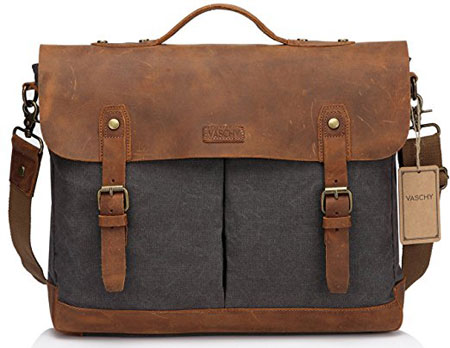 This premium genuine leather and high-density canvas messenger bag is made from superior materials and is fit with sturdy hardware. Overall it is a retro-looking cross-body bag with a classic uni-sex style that leads a fashionable life.
A shockproof laptop compartment makes this baby a smart buy. Lots of pockets are added for organized storage including; two symmetrical deep front pockets, one rear A4 sized pocket that fits paper or documents, and a middle main zipped compartment has many small wall pockets.
The bag is additionally double secured by a detachable shoulder strap that is durable and comfortable.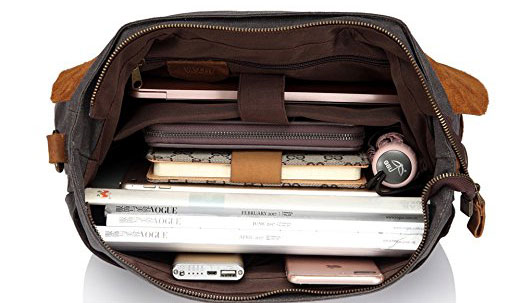 This bag is spacious enough for flights and day trips, or great for everyday use. The real leather and durable canvas make it a reliable travel companion. I love the overall look of this bag, which is vintage inspired and retro.
4. ZipperNext Leather Laptop Messenger Bag
This classy bag has an elegant flair and expensive look. Inside there is lots of storage space making it a smart bag, especially for a business woman or student.
Lots of pockets
Full grain leather
Classy professional look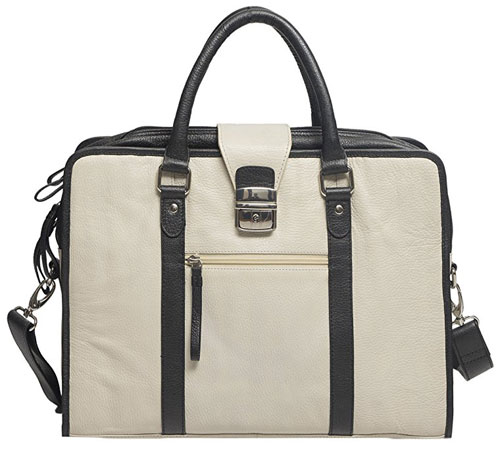 Made from genuine high quality leather this beauty is a professional functional messenger bag. You have the option of 4 gorgeous classy color options. It is also a lightweight bag that securely fits up to a 15 inch laptop.
The inner lining is made of soft silk fabric. The bag has plenty of storage that is well organized and thoughtful. There are main 3 compartments, 1 front pocket, 2 pen pockets, 1 card holder, and 1 wallet section.
Zipper closures are smartly provided for security. A sturdy handle along with adjustable & detachable shoulder strap are provided for comfortable carrying of this lovely bag.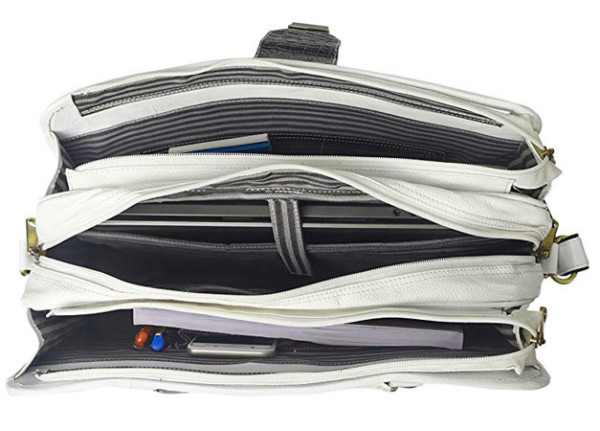 Overall this is a classy and practical messenger bag for every day use. It's not a bold flashy choice, but more of a conservative business look. It would be a lovely gift for an attorney or another professional woman.
5. BRINCH Laptop Messenger Bag
This lightweight messenger bag is a sturdy choice for a female on the go. It's durable and has plenty of convenient pockets and compartments.
Very durable
Lightweight
Practical compartments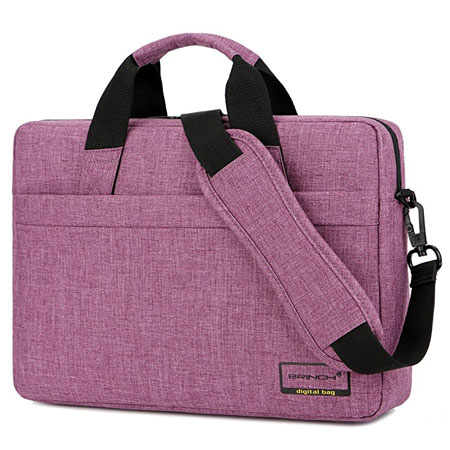 Made of quality anti-tear lightweight fabric this bag is sure to stand up to daily damage in any environment. It features a thick foam padded laptop sleeve with Velcro strap in main compartment, offering protection for your laptop from accidental bump, shock, or scratch.
It's simple deign is smartly crafted with 2 non-zippered pockets can hold a mouse or adapter. Plus there is a middle compartment that is very roomy for big items, such as books. A zippered front compartment with 2 small pockets, and 2 pen pockets inside is ideal for a phone and writing utensils.
A back belt is designed on the exterior, that is easily fixed to trolley suitcase for travel. Additionally it comes with a removable and adjustable padded shoulder strap, and dual sturdy handles for comfortable carrying.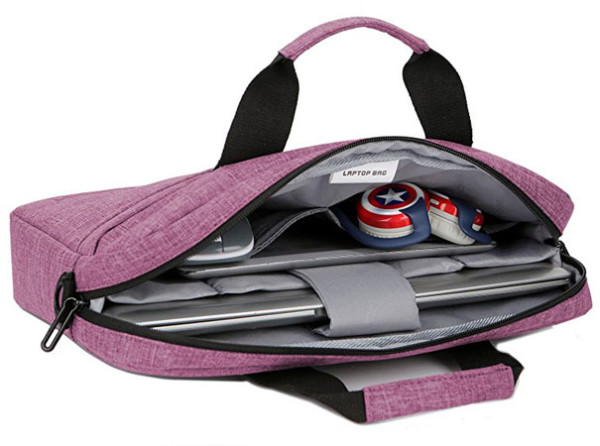 If you need a bag to keep up with your busy hectic life this one is likely to stand up to the challenge. It's cute, durable, practical and well priced. It also come in 5 colors and 2 additional sizes to meet your style and needs.
6. Dachee New Bohemian Laptop Messenger Bag
This funky youthful bohemian pattern piece it a fun way to spice up your style. It's simple lightweight design makes it a great every day bag. I like it especially for a student.
Youthful style
Lightweight
Uncomplicated design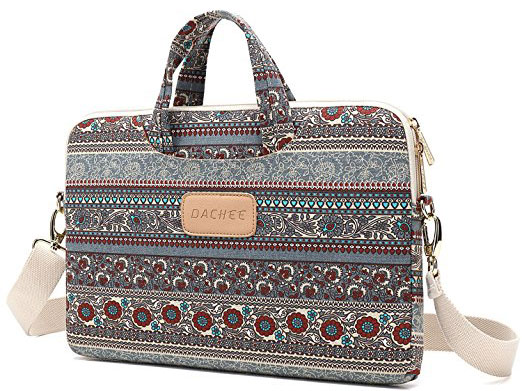 For under $20 bucks this funky little bag is a fun addition to accessorize your life. However it's more than a fashion statement, it will protect your laptop and electronics.
The exterior canvas material is durable and easy to clean. A outer zipper pocket is conveniently added for a mouse, cables, writing utensils, and so on. There is also a smartly placed hidden pocket to provided safe storage for  a phone or other small items. Carrying is made easy with a top dual handle and a padded removable shoulder strap.
Interiorly the design is simple and practical. One compartment safely and snugly holds up to a 15″ laptop.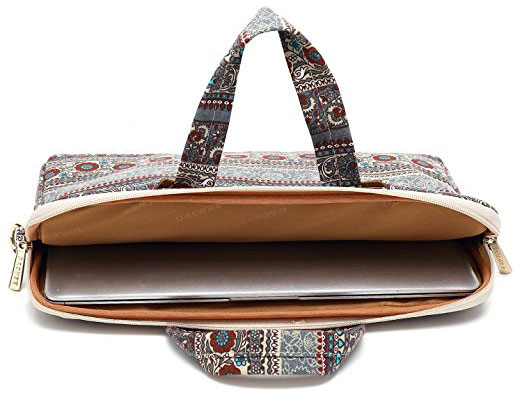 Life needs a little spice every now and then, or maybe for you everyday. This lovely little simple messenger bag is practical for everyday use and comes in several fun fashionable patterns. It's a great value.
7. Estarer PU Leather Laptop Messenger Handbag
Here is something a little different for you. Some would not consider this a "messenger bag", however it serves the same purpose in an elegant fashion.
Lots of storage space
Classy and professional
Great quality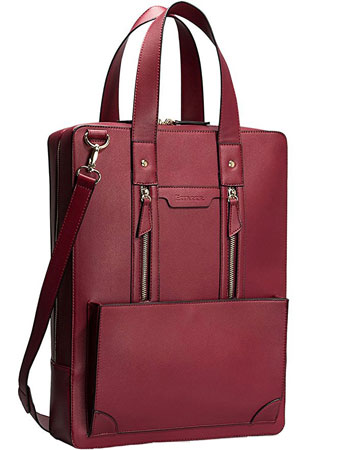 This synthetic leather bag is very attractive and the design is contemporary and classy. It's resistant to spills and can be easily cleaned. The best thing is, it is affordable but doesn't by any means look cheap.
Exteriorly there are 2  convenient zipper compartments in the back great for cell phones, keys or other important items you want to get to quickly. Buckle closed separated front pockets can also be easily access to your most frequently used accessories. There is a adjustable shoulder strap for ease of carrying, plus a reinforcement top handle so you can use it as a tote bag.
Inside you have plenty of space to house, a laptop, tablet, books, wallet, and so on. It's very spacious and there are a variety of pocket sizes for tidy organization.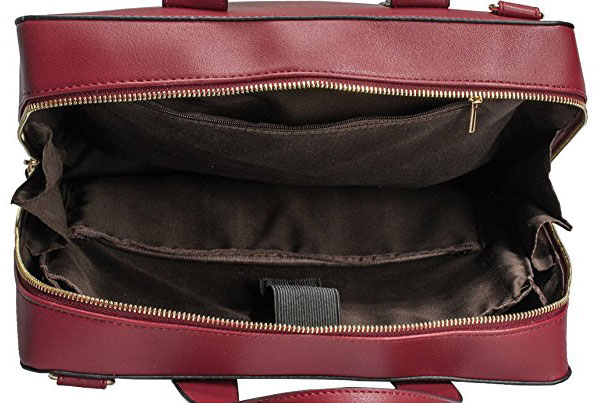 All in all this is a great bag. It's elegant and gets the job done at a affordable price, under $50. It's appropriate for many types of people and occasions.