Here are our picks for top luggage across a variety of categories!
Samsonite Karissa Duffle
MORE: Here is our in-depth review of the Samsonite Karissa Duffle.
In the way of travel, every gal has a list of must-haves. On the top of that list is a good travel duffle. While usually thought of being more masculine, this classy modern duffle from Samsonite has a feminine charm without sacrificing the convenience of a classic "stuff all your stuff in duffle".
Practical simple design
Durable material
Removable strap and smart sleeve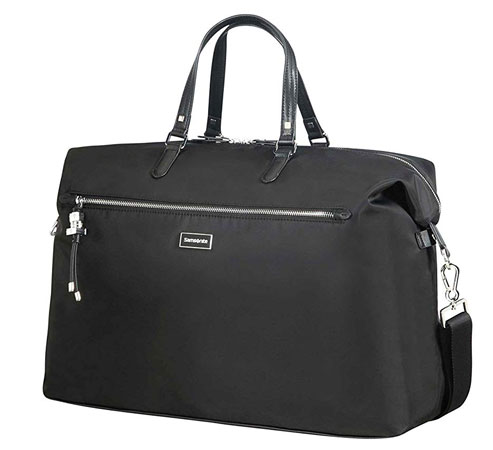 The Samsonite Karissa Biz Duffle is a feminine duffle in an understated dignified way. This classy bag is well-crafted of durable Nylon and Polyurethane materials that is easy to clean and maintain. It's equipped with a exterior zippered pocket for storing items you need to accesses quickly. The strap is adjustable and removable for convenience and preference. Unlike a lot of duffle bags the rear side of this bag comes with a vital smart sleeve so you can loop this beauty onto your roller luggage.
The interior is not over complicated with lots of pockets. A simple zippered pocket is provided for small items you want to keep separate. There are also two small opened top pockets.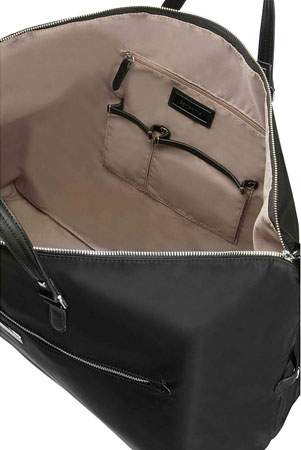 All and all duffle bags are handy item to add to your travels for convenient packing. With the number of feminine and modern duffle bags being limited, this bag from Samsonite is a great buy at around $190. It's simple, clean look and contemporary style make it versatile and appropriate for all seasons. You can pick up the Samsonite Karissa Duffle on Amazon.
2. Michael Kors Jet Set Handbag
This Michael Kors, designer tote handbag, is versatile and large. The bag is made from gorgeous leather that comes in 15 different colors! This practical handbag boasts a beautifully simple over-the-shoulder style for everyday use.
100% leather in 15 different colors
Spacious interior
Versatile and modern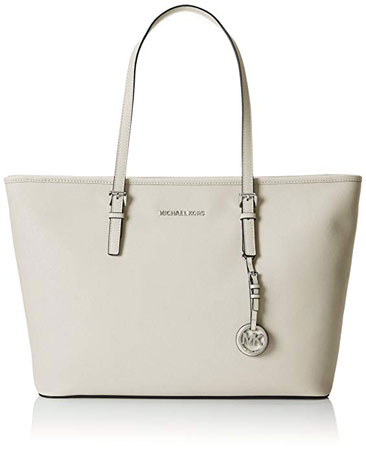 This gorgeous tote by Michael Kors has a zippered top so it can be closed off with a stylish zip fastening. Dangling from one of the straps is a charming signature pendant with the Michael Kors logo.
The interior is lined with signature MK logo fabric. On the inside this tote has six pockets. The dividing middle section allows you to keep all of your belongings tidy and securely organized. The handles are also adjustable so that the tote bag can be customized to anyone.
The handbag measures 17 by 11.5 by 5 inches and is made from 100% quality leather.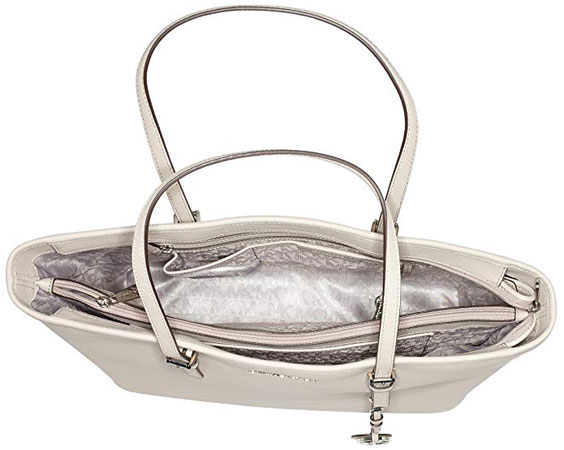 This quality Michael Kors Jet Set Handbag comes in around the $200 mark, and can be purchased on Amazon. and would make an excellent gift for a lovely lady in your life, or yourself!  If you're looking for a stylish designer handbag that is fictional for regular use.  You need to look no further. Michael Kors is a perfect choice.
3. Delsey Cruise Lite Carry-On
MORE: Here is our in-depth review of the Delsey Cruite Lite.
This lovely suitcase from Delsey is the perfect marriage between a softside and hardside case. It's a hard side case that can be packed like a softside, made for convenient packing with maximum protection.
Roomy with expandable option
90/10 opening packing style
4 Smooth gliding multi-directional wheels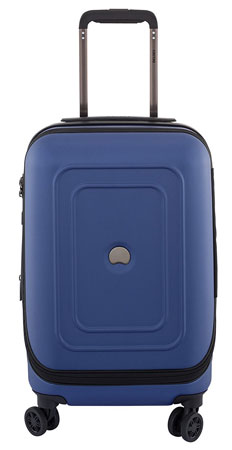 This 19″ Carry On Spinner is made to fit conveniently in the overhead bins of most domestic and international airlines. It's crafted from 100% polycarbonate, a highly impact-resistant plastic that's durable and easy to clean.
The interior of the case is very special. I love how Delsey thought outside the box a little for this case. It's smartly designed with a unique 90/10 opening which allows the case to be packed like soft side luggage.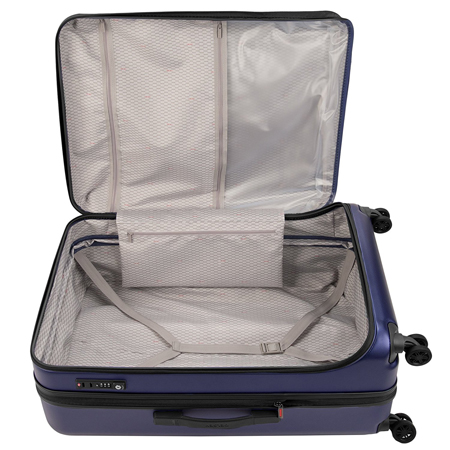 This Delsey Cruise Lite Carry-On goes for around on Amazon, $85 depending on the sale. The beautiful textured finish is very resistant to scratches and scuffs, unlike many of it's hardside relatives. On top of that, it's unique 90/10 packing style is a refreshing difference, that works!
4. Briggs & Riley Sympatico Large Cx Spinner
Briggs & Riley has long been making some of the best hardside luggage on the market. This 31-inch bag  made of 100% virgin Makrolon polycarbonate material is high-strength, lightweight, and provides elasticity and resiliency.
High-strength, lightweight material
CX expansion-compression system
Ergonomic Outsider handle grip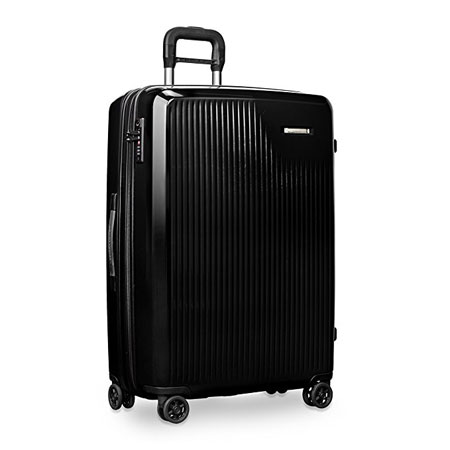 A real selling point for this large roller is the CX expansion-compression system. It increases packing capacity by 25%, then compresses back to original size to keep contents secure. The outsider handle provides greater interior capacity and a smooth surface for packing so clothes arrive wrinkle-free.
Double spinner wheels and a soft touch carry grip make maneuvering easy. And if that wasn't enough, it comes with a lifetime warranty!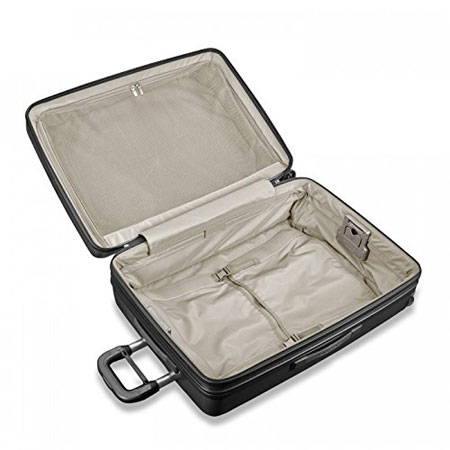 Breeze through the airport and extended getaways with this expandable spinner. CX technology meets hardside luggage for the first time, letting you expand for 25% more space and then compress back to original size. Complete with a lifetime warranty, this large 31″ from Briggs & Riley is a fantastic investment for around $650. You can pick up the Briggs & Riley Sympatico Large Cx Spinner on Amazon.
5. Samsonite Freeform Hardside 21″ Carry On
The Samsonite Freeform is a great piece of luggage, and is highly recommended by users. It is made of a sturdy material, which has the benefit of being extremely lightweight.
Lightweight
Durable
Very highly rated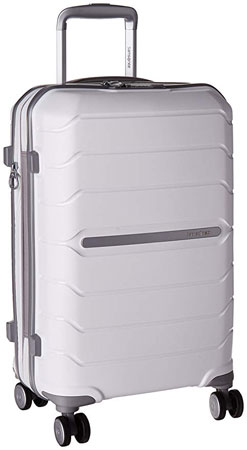 This Samsonite suitcase is not only beautiful and contemporary, but has all the latest quality-luggage necessities. A TSA lock, spinner wheels and the telescopic wheel handle. Additionally, you'll love packing your clothes in this suitcase because you will be able to organize every little detail. And, the zippered divider will make sure that everything stays neat and tidy.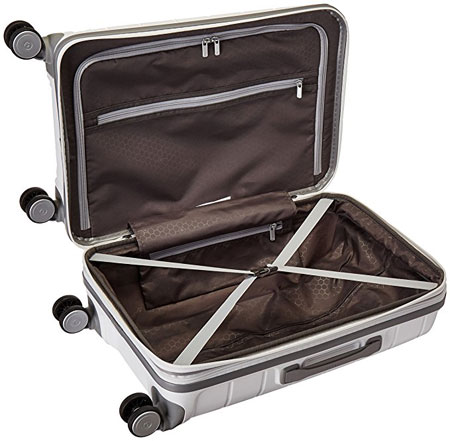 A great reputation, modern clean look, and the quality of Samsonite. Around $105, this carry-on is a smart buy. It also comes in a set which includes this 21″ carry on, along with a 24″ and 28″ suitcase. You can purchase the Samsonite Freeform Hardside 21″ Carry On on Amazon.
6. Fossil Graham East West Leather Messenger Bag
I have owned several different Fossil leather products over the years, and they have all exceeded my expectations with regards to durability. Fossil's messenger bag is exactly what is expected from a messenger bag. Nothing elaborate, but looks and feels great.
Soft, genuine leather
Quality craftsmanship
Simple no fuss organization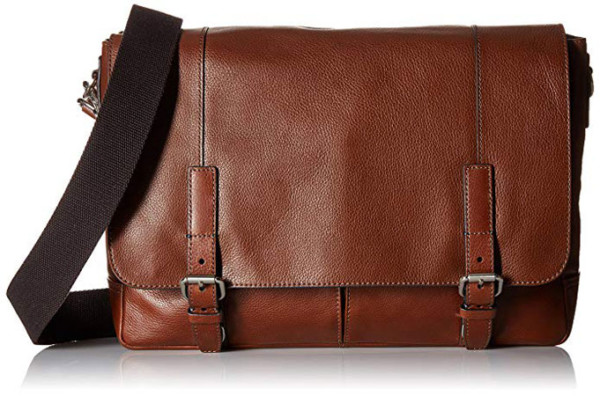 Fossil's messenger bag here does not disappoint. The leather is soft and rich feeling. The stitching is well done and seems to be very strong for durability. There is a leather handle on the back for easy carrying or you can use the adjustable body-strap. Inside you have a laptop compartment, 1 zipper compartment, and 2 slip pockets.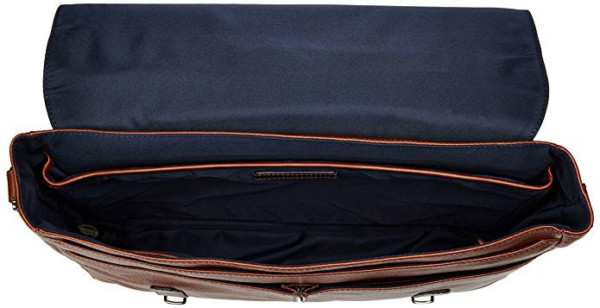 The Fossil Graham East West Leather Messenger Bag is available on Amazon. I feel that if you are going to buy leather, then you want leather that looks and feels great. After all, you will have it for years or even decades!
For those who would use it everyday for work, or are looking to buy a gift, then it is a great investment. My recommendation? Buy it online, like at Amazon, and if you don't fall in love with it, then just send it back! I'm pretty confident that you will keep it though!
6. eBags Professional Smart Backpack
This low profile bag is adaptable with lots of smartly designed pockets and features to house your travel gear and devices. The professional discreet look of this bag would be appropriate for corporate casual and is even sleek enough to wear with suit.
AC adapter "garage"
Slim low profile professional design
Spacious with removable padding to store large laptops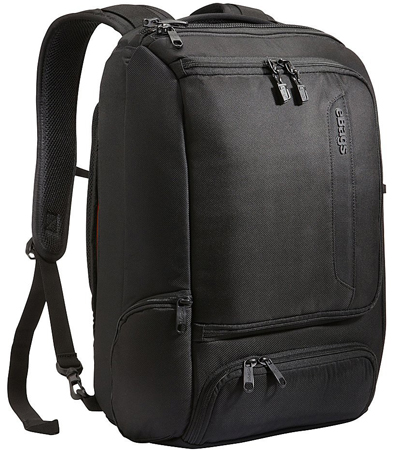 This corporate casual bag is all about flexibility.  It doesn't have a lot of bells and whistles, but what makes it smart is it's ability to be easily fit with, and hold all your devices.
Well organized pockets in the outer compartment fit small items perfectly, with a concealed pocket excellent for passports and boarding passes.  The large main compartment open with an L-zip to fit up to a  17.5″ laptop along with other goods. Inside there is removable bottom padding, that can be keep so nothing slides around, or removed to fit more gear. To top it off it has a TSA approved combination lock, can lock all the 3 main compartments. A trolley handle pass-through is also added so it can slipped over another piece of luggage with ease.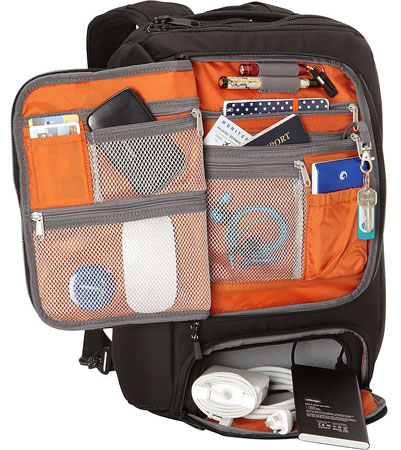 eBags Professional Smart Backpack is a available on Amazon with over 900 reviews this bag is rated 4.5 stars. Needless to say users are pleased with this smartly crafted bag. At around $120, it's a worthy investment that's sure to last for years, especially since it comes with a lifetime warranty.