Best Luggage Options for 2020
I love options. And at the same time I hate them. There are just so many options for everything now, that just to pick which kind of toothpaste to get takes 5 minutes.
Luggage is no different. There are hundreds of options from dozens of brands. To save you hours researching, we have narrowed it down to the best luggage options in various categories such as budget, luxury, style, technology, and overall option.
BEST LUGGAGE 2020 | AmazonBasics Hardside Luggage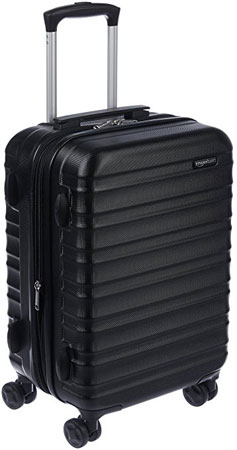 The AmazonBasics luggage is a great suitcase. It strikes the balance between functionality, durability, style, and price. All of the standard features that are expected these days are here: spinner wheels, durable hardside shell, and interior pockets. The various color options allow you to stand out or blend as desired, and you can always get the set later if you want.
With so many positive reviews from consumers, it clearly has stood the test of time. That's why we've picked it as the best luggage for 2020.
For a detailed look at this suitcase, along with more pictures, check out our full AmazonBasics Hardside Luggage Review.
Check out the AmazonBasics suitcase on Amazon.
Case: Hardside (hardcase) 100% ABS
Wheels: Spinner (4 wheels multi-directional)
Interior pockets
Color Options: Black, Blue, Navy Blue, Orange
Weight: 7.2 lbs
All Sizes Available: 21″, 26″, 30″
Available as Set: Yes
BEST BUDGET LUGGAGE | Exzact Cabin Suitcase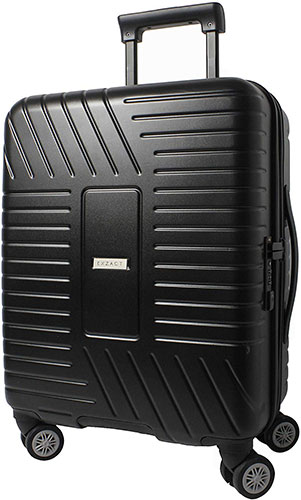 Exzact luggage is not a well-known brand. But it is picking up in popularity. No doubt that's why it's one of the cheapest options available currently. A well-known brand with their marketing expenses is rarely the producer of budget items.
The Exzact Cabin suitcase has all of the features that you need for a carry-on item. It's super lightweight for a hardshell case, at 6 pounds. The design is stylish and functional to reduce scratches and increase durability. There is a TSA lock and interior dividers, along with spinner wheels.
You're not really losing anything by going with this budget suitcase from Exzact, besides not getting a name brand and perhaps the longevity that you may get with another brand like Samsonite. Because of that, we're picking this as our best luggage on a budget.
Check out the Exzact Cabin suitcase on Amazon.
Case: Hardside (hardcase) 100% Polycarbonate
Wheels: Spinner (4 wheels multi-directional)
Interior dividers
TSA Lock
Weight: 6.6 lbs
All Sizes Available: 20″
Available as Set: No
Very lightweight
BEST SMART LUGGAGE | Ovis Side-Follow Suitcase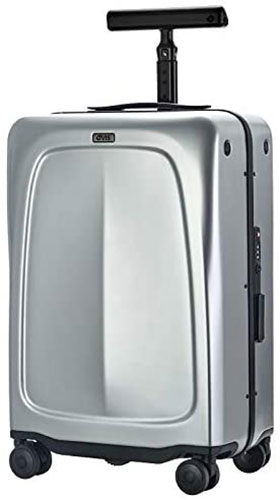 Wow. The Ovis suitcase is more robot than suitcase I think. In the last few years, a number of smart luggage options have hit the market. We reviewed the BlueSmart One Suitcase which included USB charging ports and GPS. But this takes those tech features further.
Along with having charging ports for your USB devices and GPS tracking, the Ovis luggage FOLLOWS you! It has multiple cameras in the handle and wheels that are powered by a battery. I'm sure we've all had our hands full before, especially if we're trying to carry two pieces of luggage at once. So this is an amazing feature. Pricey? Oh yeah. But so cool. Of course, you will need to be a frequent traveler for this to be worth the money. But for those who do, this is a fantastic weight off of your hands (literally).
For those worried about airport security, the battery pops out within seconds for screening. That's much easier than having to remove your shoes or laptop from the suitcase.
Check out the video below for all the convincing you need of its cool factor.
Also find the Ovis Smart Luggage on Amazon.
It's an Autobot and drives itself
USB charging ports (for your phone etc)
GPS tracker
Can take pictures (using phone app)
Case: Hardside Makrolon Polycarbonate
Wheels: Spinner (4 wheels multi-directional)
Interior dividers & pockets
TSA Lock
Weight: 13 lbs
Available as Set: No
Colors: Black, Dark Blue, Silver, White
BEST LIGHTWEIGHT LUGGAGE | IT Luggage World's Lightest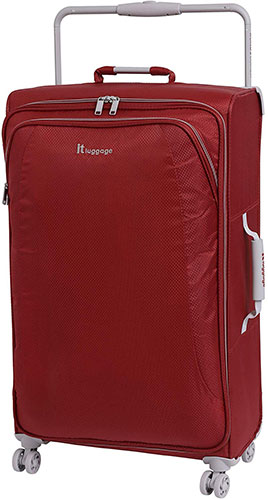 IT Luggage claims to have made the world's lightest luggage. Big claims, but the numbers support them. Being of the lightest definitely puts you up there as some of the best luggage available, especially when traveling by air.
We highlighted their biggest 31″ suitcase here, as lighter luggage tends to be a more important factor with larger luggage. A mid-size suitcase typically doesn't go overweight. But the larger suitcases do. In fact, I've stopped using my 29″ suitcase because it would always end up over 50lbs before it was filled up.
At 31.5″, the suitcase only weights 5.2lbs! To put that into perspective, the Samsonite Freeform is 9.5lbs and only 28″, which is still a nice weight. And most 20″ carry-ons weight 6-6.5 lbs. So IT Luggage has made a 31″ suitcase lighter than a 20″. Impressive.
IT Luggage's smaller 22″ carry-on weights just 4.07lbs, while you gain 1-2 inches in packing space compared to most carry-ons.
They accomplished this with a tough fiberglass frame and high-tensile fabric. It still has spinner wheels. You also gain more packing space because the handle is the full width of the luggage and hides in the sides, thereby removing the raised center piping that most suitcases have on the inside. All of that a reasonable price. Because of this, we feel it deserves its place on our list of best luggage for 2020.
Check out the size and color options for IT Luggage on Amazon.
World's lightest luggage
Case: Fabric
Wheels: Spinner (4 wheels multi-directional)
Interior dividers
Weight: 5.29 lbs for 31″, 4.07 lbs for 22″
All Sizes Available: 31″, 27″, 22″
Available as Set: Yes
9 Colors
BEST LUGGAGE SET | Samsonite Centric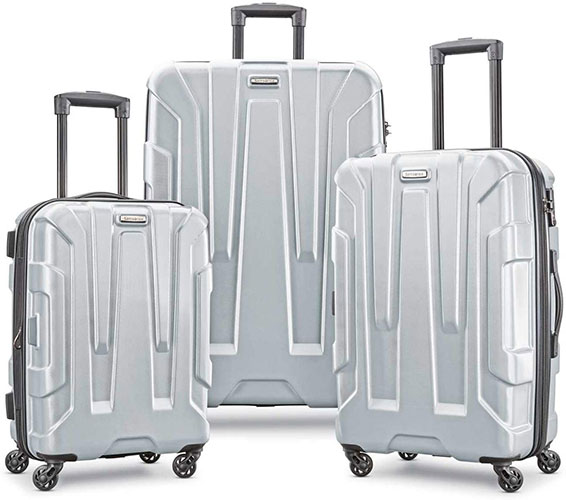 If you are going to invest in an entire luggage set, you should get something that will hold up for years. Otherwise, if one of the suitcases gets damaged and has to be replaced, then you have a mismatched luggage set which defeats the purpose of buying a matching set to begin with.
Samsonite is well known for their durability. The Samsonite Centric is one of our favorite luggage sets. It's stylish, but also very durable. The raised pattern in the design prevent scratches from going all the way across the shell. It also can be cleaned and sterilized very easily after a flight. Samsonite's 10 year warranty is listed for this model too.
It comes with a 20″ carry-on, 24″ mid-sized suitcase, and a large 28″ suitcase. Some of the standard features are here like spinner wheels, TSA lock, and a 1.5″ expansion.
Check out our in-depth review of the Samsonite Centric luggage.
You can see the entire set and color options for Samsonite Centric on Amazon.
Case: Hardside
Wheels: Spinner (4 wheels multi-directional)
Interior dividers
TSA Lock
9 Color Options
All Sizes Available: 20″, 24″, 38″
Available Individually Too: Yes