Samsonite Mobile Office Bag Review
PRODUCT GRADE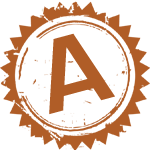 As your dashing off to work, school or a business meeting do you ever wish you could just put your office on wheels? Well, Samsonite has smartly designed a little bag, just for that.
The Mobile Office luggage is basically a briefcase on wheels. Stylish and professional while making it all way more mobile than carrying a bag on your shoulder.
Does it meet your needs? Read on to find out more about the Samsonite Mobile Office bag.
Features | Samsonite Mobile Office
BASICS
Case: Polyester
Wheels: Spinner (4 wheels multi-directional)
Color Options: Black
Weight: 8.84 lbs
SELLING POINTS
Durable high-quality material
Functional and smooth gliding
Excellent interior organization
Dedicated laptop and tablet compartments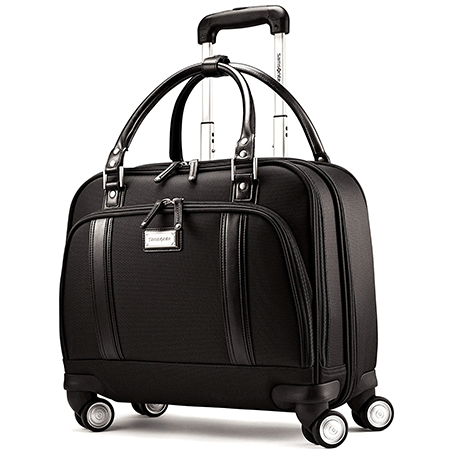 Design | Samsonite Mobile Office
Exterior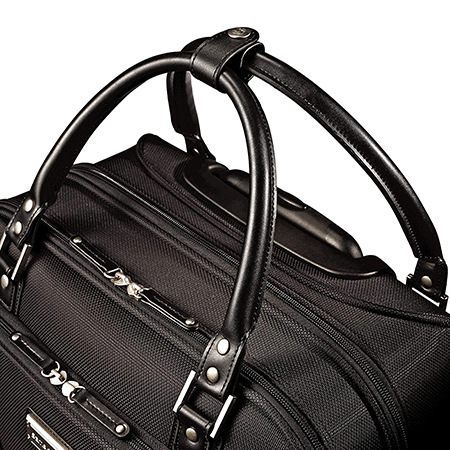 Samsonite's office bag is a sophisticated and professional rolling briefcase perfect for business people, teachers and so on. The textured polyester exterior is easy to clean, scratch and tare resistant plus water resistant.
The 4 Multi directional spinner wheels glide smoothly and users report they are durable. The telescoping pull handle is retractable and comfortably fits in the hand. There are also two top handles.
It's a simple classy bag with a posh design. But far more than stylish, it's functional for everyday use. It would be nice to see it in more colors than black like a soft brown, dark grey or another neutral color.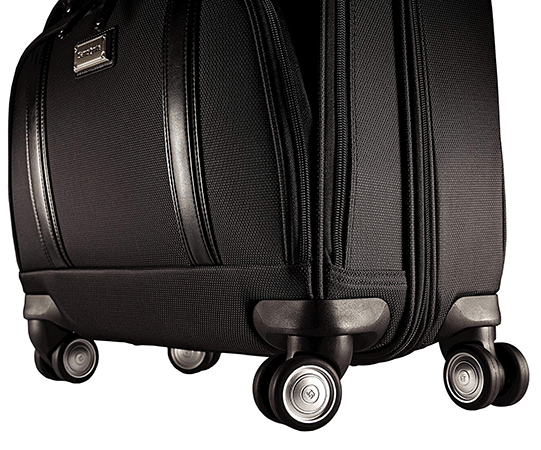 Interior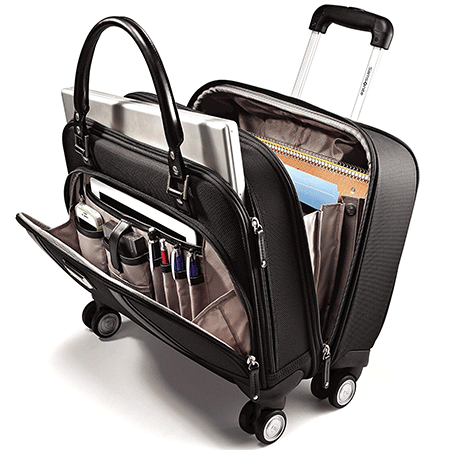 This Samsonite spinner really is an mobile office on wheels! It includes a dedicated laptop compartment that's padded to keep your computer safe. It can easily store your laptop up to 15.6″. In addition to that there is a sleeve for a tablet.
A rear compartment is provided to hold files and documents. Several slip pockets are perfectly placed to hold laptop peripherals. On top of that there is a zip front organizer compartment with pen sleeves, and slip pockets.
Whether your dashing to a business meeting, on your way to school or fulfilling your entrepreneurial dreams, this mobile office is a great travel companion. There is a spot for everything to help you stay organized and professional.
Durability
The luggage is definitely well-constructed and sturdy, ready for regular use. The textured polyester material is resistant to water, tares and abrasions. It's easy to clean so you can keep it looking new and professional.
Overall, it does live up to the Samsonite reputation for long term durability. 
Price
This is an investment piece that is surprisingly affordable for how much the average buyer will use it. You can snag it on Amazon for under $120, depending on the sale. 
I suggest dishing out the money as it will be a business investment you can use everyday likely for years.
Summary | Samsonite Mobile Office
Pros
Excellent organization
Durable
Stylish
Affordable
Verdict
Samsonite's Mobile Office bag is the perfect travel companion for the professional person on the go. Crafted from durable polyester fabric it's sturdy for the long haul. With user's in mind it features a professional design with multiple storage pockets, two top handles, a telescoping pull handle, and smooth rolling spinner wheels that can be easily pulled wherever you're headed.
This mobile office includes a padded laptop compartment, a rear compartment to hold files and documents, slip pockets, and a zip front organizer compartment with pen sleeves, slip pockets, and a sleeve to hold your tablet.
At around the $120 price point, depending on the promotion or sale, this is a durable, affordable and professional bag that can easily be purchased on Amazon.