Samsonite Aspire xLite Luggage Review
The Samsonite Aspire xLite looks largely like your standard softside suitcase, with the exception of the two-toned color design. But the luggage actually has some nice features that surprise, along with the well-known Samsonite durability. This review is also a little unique in that it's a 2 suitcase luggage set.
Read on to learn more.
Samsonite Aspire xLite Features
BASICS
Case: Softside 100% durable 680D polyester
Wheels: Spinner (4 wheels multi-directional)
Color Options: Black, Blue Dream, Red
Weight: 20″ is 7.5 lbs, 25″ is 9.5 lbs, and 29″ is 11.3 lbs
All Sizes Available: 20″, 25″, 29″
Available as Set: Yes
SELLING POINTS
Durable steel-wire construction with rugged polyester fabric
All 4 wheels are 360 degree spinner wheels
Nice internal organizing compartments
Expands to allow for added packing
2-tone style of the blue and red color options are unique enough to stand out from other luggage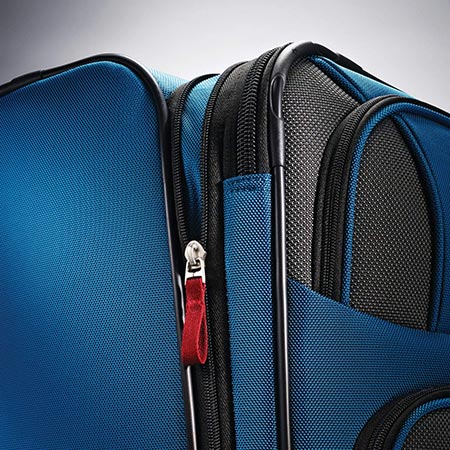 Exterior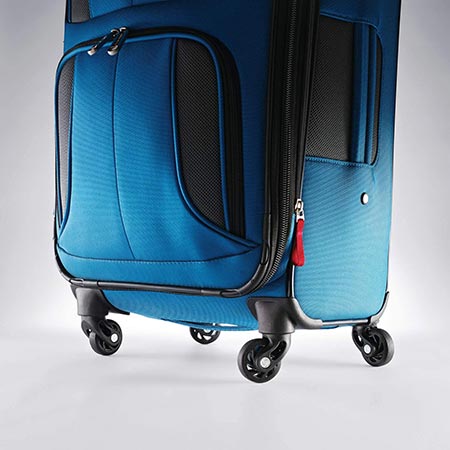 The exterior of the Aspire is stylish but yet rugged and durable. The steel-wire frame and tough poly fabric allow it to withstand the rough handling common on a flight.
Spinner wheels all the way around make the Aspire xLite glide smoothly. The study retractable handle helps with guiding the suitcase when on its wheels and is solid.
I personally am not a huge fan of exterior pockets, as I feel the space tends to be often wasted. You tend to only put small things that can't break there, or where you just shove a last minute clothing item or papers. But a single item can make the exterior pockets bulge enough so the luggage is too wide for a carry-on. Exterior pockets are pretty much on all softside luggage, though. So the Aspire is just following tradition here. And if you are using the 25″ suitcase where the extra width won't matter (provided it's not over the weight limit) then it can be a welcome feature.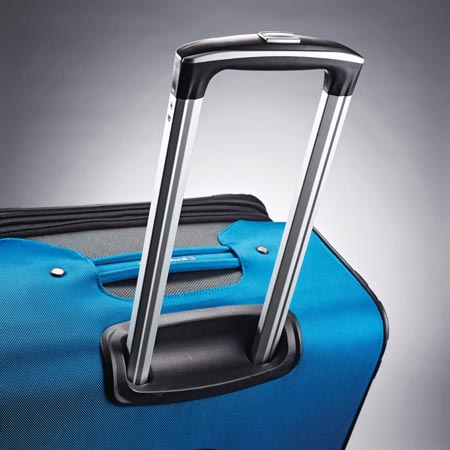 Padded top and side handles are a nice feature as it makes lifting the luggage in and out of a vehicle much easier.
And as always, Samsonite has some solid quality zippers on the suitcase. They should hold up for the life of the luggage.
Color Options
The Aspire doesn't come in a large array of colors, but thankfully it has more than just a plain black.
The colors are: Blue Dream, Red, and Black. Both the blue and red colors are 2-toned with black accents.
Interior
I love this style of top loading. Instead of a suitcase that opens down the middle with equal sections, the top only has some internal organizing pockets.
This allows you to actually take fuller advantage of the space having more depth to pack on the bottom side of the suitcase. Packing cubes work great with this design.
The top portion has 2 pockets. One has a mesh to breathe and the other is a plastic which makes it great for toiletries or items you are afraid could leak.
On the bottom side of the suitcase are cross straps, so your items will stay in place. Again, packing cubes make this work even better!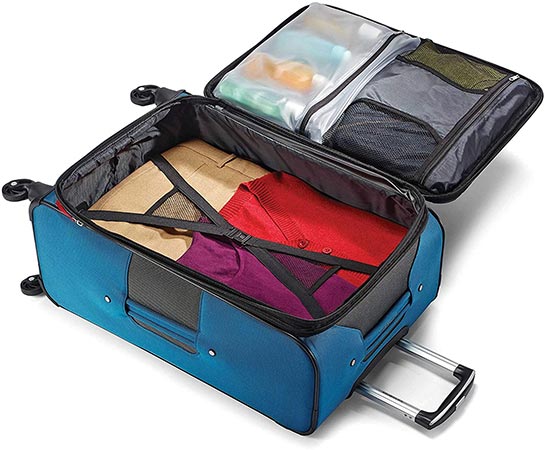 Sizes | Samsonite Aspire xLite
The Aspire can be purchased in 20″, 25″, and 29″. They can be bought individually or as a 2-piece or 3-piece set.
It's important to note that the 20″ is actually 21.6″ tall if you include the wheels. The 25″ is 27.2″ with the wheels. And lastly, the 29″ is 31″ with wheels.
Durability
It's a Samsonite. End of story!
Samsonite has a reputation for durability and the Aspire meets that reputation with solid wheels, a study retractable handle, smooth zippers, and a durable 680D polyester fabric.
Price
Samsonite is typically on the pricier side as they are well-built and meant to last. You get what you pay for usually.
However, compared to many of Samsonite's other suitcase models, the Aspire xLite is definitely one of the more affordable options. This is even more so when you purchase their 20″ and 25″ luggage as a set versus buying them individually. We give the price on the Aspire a beautiful A+!
Summary | Samsonite Aspire xLite Luggage
Pros
Great price for Samsonite
Good internal compartments
Softside material means it won't scratch of scuff
Stylish 2 tone color
Cons
The 20″ carry-on could be 2″ too tall for some airlines
Verdict
Samsonite's Aspire xLite luggage is a great value.
It has the durability and style that you expect from Samsonite, but at a lower price point than many of their other luggage models, especially when bought as a set.
The internal pockets make organizing easy and the 2-tone color style will allow your suitcase to stand out more on a luggage belt.
You may also want to consider the Samsonite Solyte or Samsonite Leverage if you are wanting to stick to softside luggage.
Or check out our review on the Top Luggage for 2020 to see a variety of choices that will be sure to please.