Travelpro Crew Versapack Luggage Review
Travelpro's luggage is targeted at customers who are willing to pay a little more to get a quality product that will last. The Travelpro Crew Versapack keeps that reputation going strong, with an excellent suitcase design. Read our review for all of the details that make this a great piece of luggage and if we feel it's worth the higher price tag.
Features
BASICS
Case: High-density ballistic nylon fabric with duraguard coating
Wheels: Smooth, magnetic self-aligning spinner wheels
Color Options: Black, Patriot Blue, Perfect Plum, Titanium Grey
Weight: 7.3 lbs (for 20″ model being reviewed)
All Sizes Available: 20″, 21″, 25″, 29″
Available as Set: Yes
SELLING POINTS
Ballistic nylon fabric with corner guards is exceptionally durable and stain resistant
Best roller wheels on the market, with magnetic alignment to keep them straight
Multiple zip-in organizers and dividers available for organized packing
Built-in USB charger port and TSA lock
Lifetime limited warranty
Exterior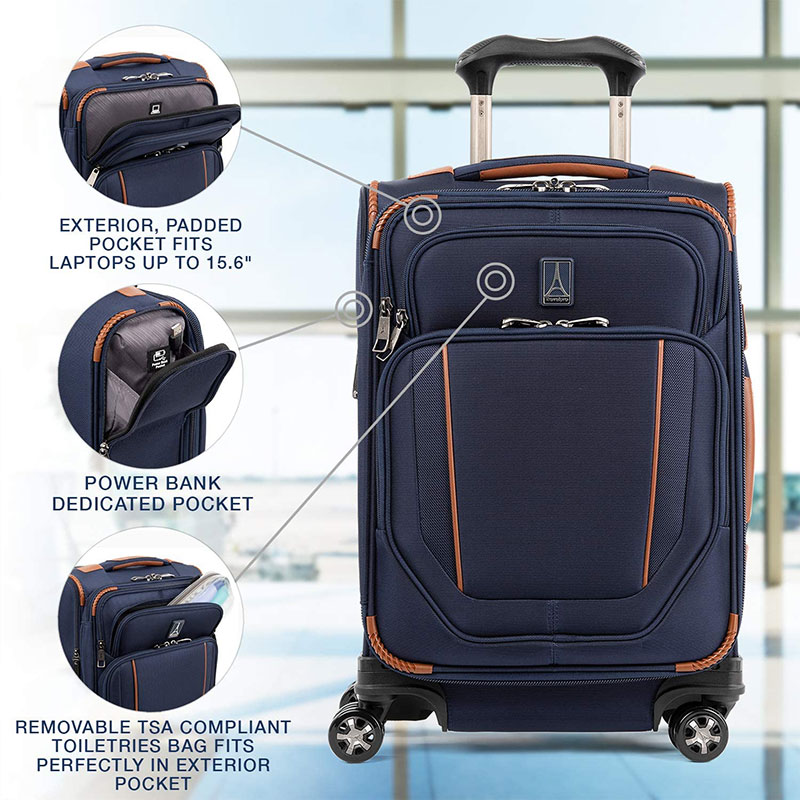 Everything about the Versapack is designed to hold up during travel. The exterior is made from an exceptionally durable fabric called ballistic nylon. The extension handle is solid, even when fully extended. Let's not forget the wheels. They are double-wheeled magnetic spinner wheels, which keeps them gliding straight. And smooth, so smooth. The wheels make it feel like you're driving a luxury car.
An external USB port connects to a battery pack if you'd like, so that you can easily charge your phone or tablet as needed. The battery pack can just be pulled out when going through airport security.
External pockets work great for quickly storing a small laptop, tablet, or toiletries. This is very helpful, because when going through security it can be a hassle to open your carry-on luggage to take out your electronics and toiletries.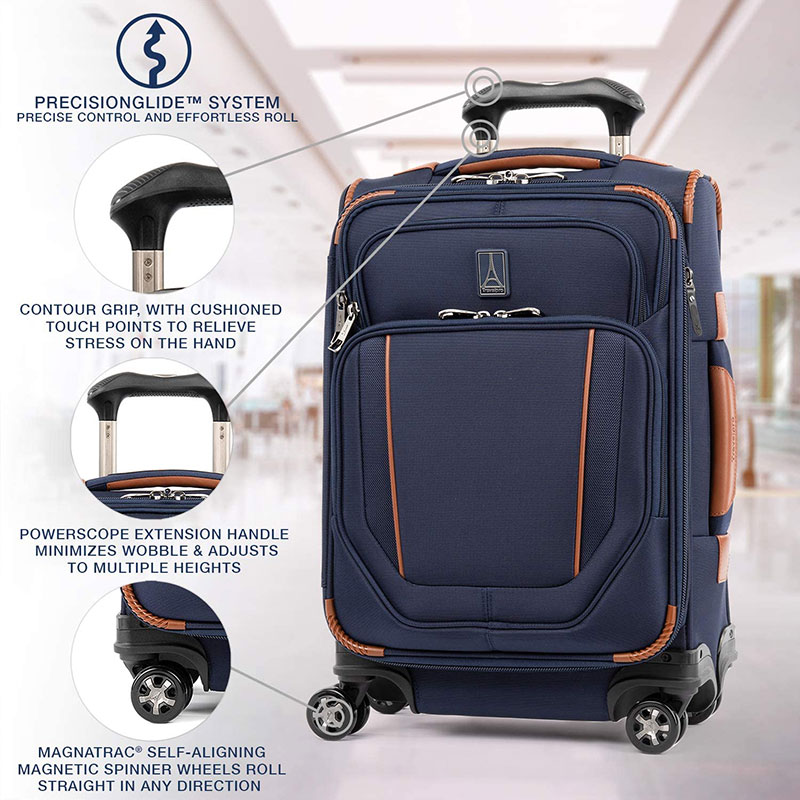 Interior
As is more common these days, the suitcase unzips on the top instead of in the middle (also known as a clam-shell design). To me, this is the only way to go. It allows for you to pack deeper and utilize packing cubes better. It also makes it so much easier to open the suitcase as there's nothing to fall out.
A unique feature about the Travelpro Versapack is a removable zip-in compartment/divider that attaches to the interior's top section. The zip-in compartment that comes with the suitcase is a garment organizer, which could store some nicer items that you don't want wrinkled. By having them zipped into the top, there shouldn't be any weight sitting on them, pressing wrinkles into the fabric – smart.
You can purchase additional zip-in organizers to use with the suitcase. There are several to choose from. One is designed more for a suit, others for dirty or wet laundry, and yet another for smaller items.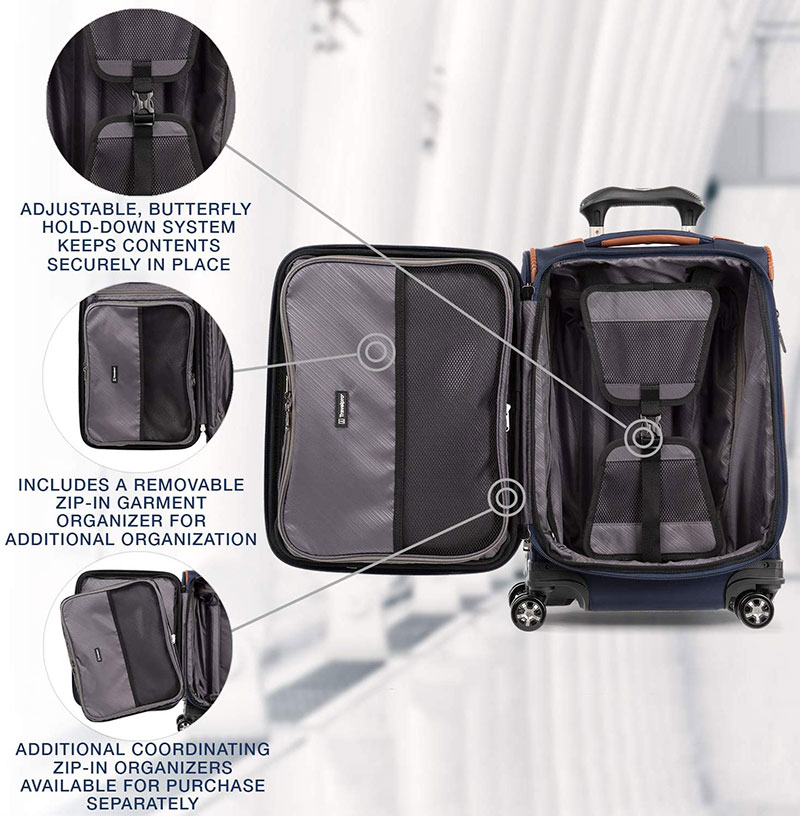 Sizes | Travelpro Crew Versapack
The Versapack is available in a variety of sizes. We reviewed the 20″ model here, but it also comes in a 21″ carry-on, a medium 25″ checked bag size, and a large 29″ version. You can also purchase the luggage as a 2 or 3 piece set for usually a lower price than buying individually.
Durability
Every aspect of Travelpro's Versapack is built for durability. The fabric is a high-density "ballistic" nylon. Sounds tough, huh? Ballistic nylon was actually originally engineered to protect soldiers from shrapnel. So although your luggage may not be exposed to shrapnel, we all know how much abuse they can take when being tossed around. This fabric, along with the corner guards, should keep the suitcase going strong for years.
Other very durable features are the super sturdy, powerscope extension handle and double spinner wheels. This is important, as even many suitcases that cost $100-$200 will sometimes have an extension handle that doesn't feel sturdy enough.
Price
The Crew Versapack suitcase isn't cheap. The 20″ carry-on that we are reviewing usually goes for around $250. That being said, few suitcases can match the durability and shear quality of the Versapack. The wheels glide like butter and the different zip-in dividers is brilliant. If you are looking for luggage that will last you for years and won't disappoint, then the Crew Versapack is for you.
For great durability but less features, you have the balanced Samsonite Centric, a fan favorite at half the price of the Versapack. Or if you need something just to get by and money is really tight, the AmazonBasics Hardside luggage is also a great choice. But you get what you pay for. And the Travelpro Versapack has some 1000 5-star reviews for a reason – it's worth it.
Summary | Travelpro Crew Versapack Luggage
Pros
Beautiful, durable fabric
Smooth, magnetic wheels
Versatile packing divider options
External USB charging port
Verdict
Here at Luggage Portal, we're fans of… well, luggage. We also know it makes a huge difference having a suitcase that is easy to push, easy to organize with, and doesn't get torn up. Because of this, we recommend Travelpro's Crew Versapack suitcase, despite it's higher price tag. It's a pleasure to walk with and makes packing a breeze. You'll love it too.