AmazonBasics Hardside Luggage Review
PRODUCT GRADE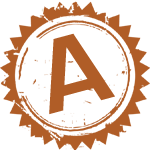 Traveling on a budget can take a lot of brain power. The expenses can easily overwhelm anyone. So let's start with the basics… luggage. Right away, you can add some extra bucks to your vacation fund by opting for a cheap suitcase. But is it really worth the risk?
As you've probably noticed, Amazon been making their own… well, pretty much everything. Including their own line of luggage. So how does this budget luggage from AmazonBasics really do when it comes to functionality and durability?
AmazonBasics Hardside Features
BASICS
Case: Hardside (hardcase) 100% ABS
Wheels: Spinner (4 wheels multi-directional)
Color Options: Black, Blue, Navy Blue, Orange
Weight: 7.2 lbs
All Sizes Available: 21″, 26″, 30″
Available as Set: Yes
SELLING POINTS
Very affordable price
Four different colors
Interior pockets
Lightweight & expandable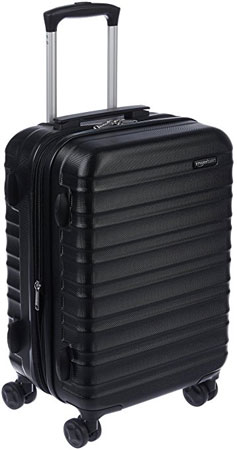 Exterior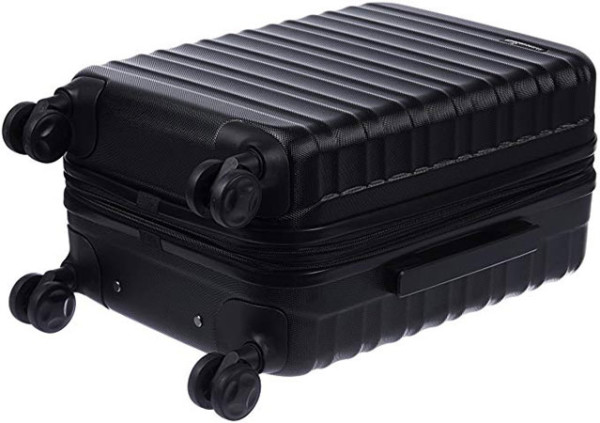 The AmazonBasics hardside luggage is made from 100% Abs, making it very lightweight and easy to clean. The finish on this carry-on is textured and has ridges which prevent cracking when other luggage is placed on-top on this piece. It is a simple, minimalist bag that is versatile and modern in appearance.
It has an aluminum telescoping push button handle, which feels somewhat sturdy for light use, but too flimsy for a lot of tugging or twisting. In addition there are top and side plastic handles.
The zippers feel pretty robust for a budget bag. There is an expandable option controlled by an extra zipper set, which when expanded it adds about an extra inch of packing space.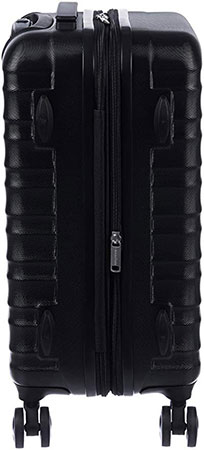 Color Options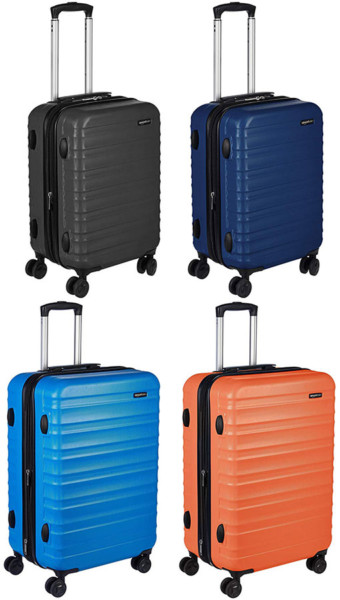 The AmazonBasics luggage currently comes in four colors: Black, Blue, Navy Blue, Orange
The black and navy blue are the most versatile and professional looking, while the blue is more of a bright pop color. The orange is definitely a bold choice that will stand out in a crowded airport or train station.
Interior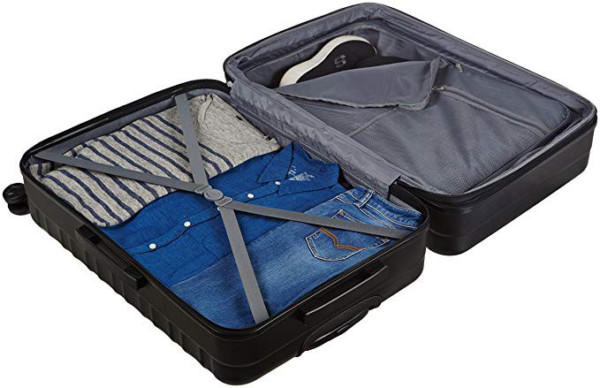 upon flipping open the clam shell of the suitcase, we have two main compartments. The bottom compartment has elastic tie down straps to prevent your items from shifting.
On the other side, the top compartment has a zippered divider with three zippered pockets for any smaller items you want to keep separate, like jewelry, underwear or power cords. The pockets are a nice touch for keeping your bag organized.
The interior is fully lined with durable light grey 150-D polyester which is soft to the touch. 150-D polyester known to be strong, so it's unlikely you will have any tears in the interior lining.
Sizes
The AmazonBasics hardside luggage comes in three sizes: the 21″ carry-on, the medium sized 26″, and the large 30″.
All three sizes have the same exterior and interior features. You can purchase all three as a set, or buy each piece separately.
AmazonBasics Hardside Durability
At this price point I wouldn't expect a whole lot to be honest.
So when it comes to durability the the AmazonBasics hardside luggage is a budget bag and not going to be the most sturdy bag on the market. The ABS shell while easy to clean and lightweight, is prone to cracking. In addition, the push button handle is know to be a bit flimsy as it's made from thin aluminum.
With that said if you're a light traveler, or only traveling by car this is a good budget bag. As a carry-on, you don't usually have to deal with other bags being stacked on top of your luggage, so it's going to hold up better. I would really worry more about this bag in the larger sizes that will be checked at an airport. There's just no telling what's happening when other people are handling your luggage.
Price
At just around $50 on Amazon, this is one of the cheapest pieces of carry-on luggage you can find. 
So if you're a light traveler or just want something cheap for an overnight or weekend bag this is a good bag for you. However, for longer trips or rougher travelers, this isn't a bag we'd expect to last for very long.
Summary | AmazonBasics Hardside Luggage
Pros
Very affordable price
Four different colors
Interior pockets
Lightweight & expandable
Cons
Not durable for long or rough trips
Verdict
If you're looking for a cheap bag for short trips or are a light traveler, AmazonBasics' hardside luggage is a good buy.
Typically around $50, it's got basic features that are functional for your travels. The outer ABS shell is reasonably sturdy with light use and is easy to clean and sanitize. Inside are two packing compartments equipped with compression straps on the bottom and three interior pockets.