XD Design Bobby Original Backpack Review
Started a few years ago in 2016,  XD Design is a Dutch brand and got their start through crowdfunding on the Kickstarter site. So they definitely are a modern example of an idea that has grown into a brand. Their Bobby Original Anti-Theft backpack is actually their first product that got them started. What features does the backpack have and is it worth the price?
Features
BASICS
Construction: Polyester
Color Options: Black, grey, navy
Weight: 2.8 lbs (14″ model), 3.2 lbs (15″ model), 3.8 lbs (17″ model)
All Sizes Available: Holds laptop up to 15.6″, 17″, and 14″
SELLING POINTS
Anti-Theft design with hidden pockets
Cut resistant
Integrated USB charging port
Holds laptop along with storage compartments
Illuminating safety stripes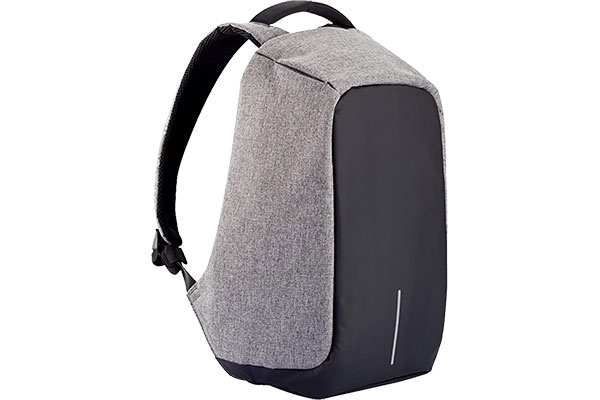 Exterior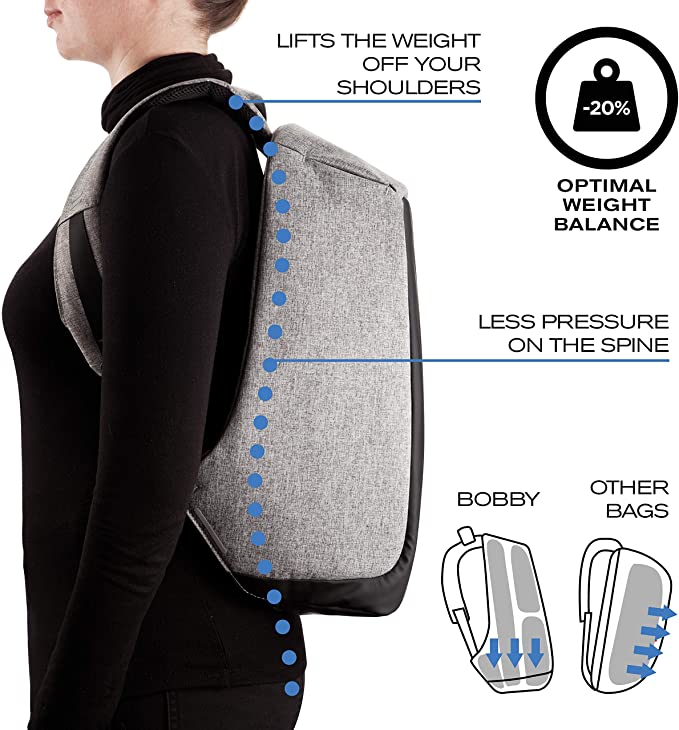 The exterior of the Bobby Anti-Theft backpack is very much the less-is-more, modern and minimalistic design. This is also largely due to its anti-theft features, as it's not easy for anyone to open you backpack and snatch something.
The outside has some reflective stripes if you are traveling outside in the dark – a great safety feature, especially for bike riders. There are also some hidden zippered pockets, such as one in the shoulder strap near your chest. This could hold a small wallet or your ID and credit cards. And if you travel with a powerbank, a USB cable runs through the shoulder strap to the outside so you can charge your phone without opening your backpack.
But besides that, everything is really on the inside. And as they say, it's the inside that counts right?
Color Options
The Bobby Original comes in 3 colors: Black, grey, and navy; so your standard colors.
More color variety is seen when you get to their other models like the Compact or Compact Print iterations. These are available in 2-tone colors like Grey with Mint Green, Yellow, or Pink – or patterns like Camouflage or Zebra print. You can only hold a 14″ laptop though, while the Original size holds a 15.6″ laptop, so you sacrifice a couple of inches for the additional color options.
Interior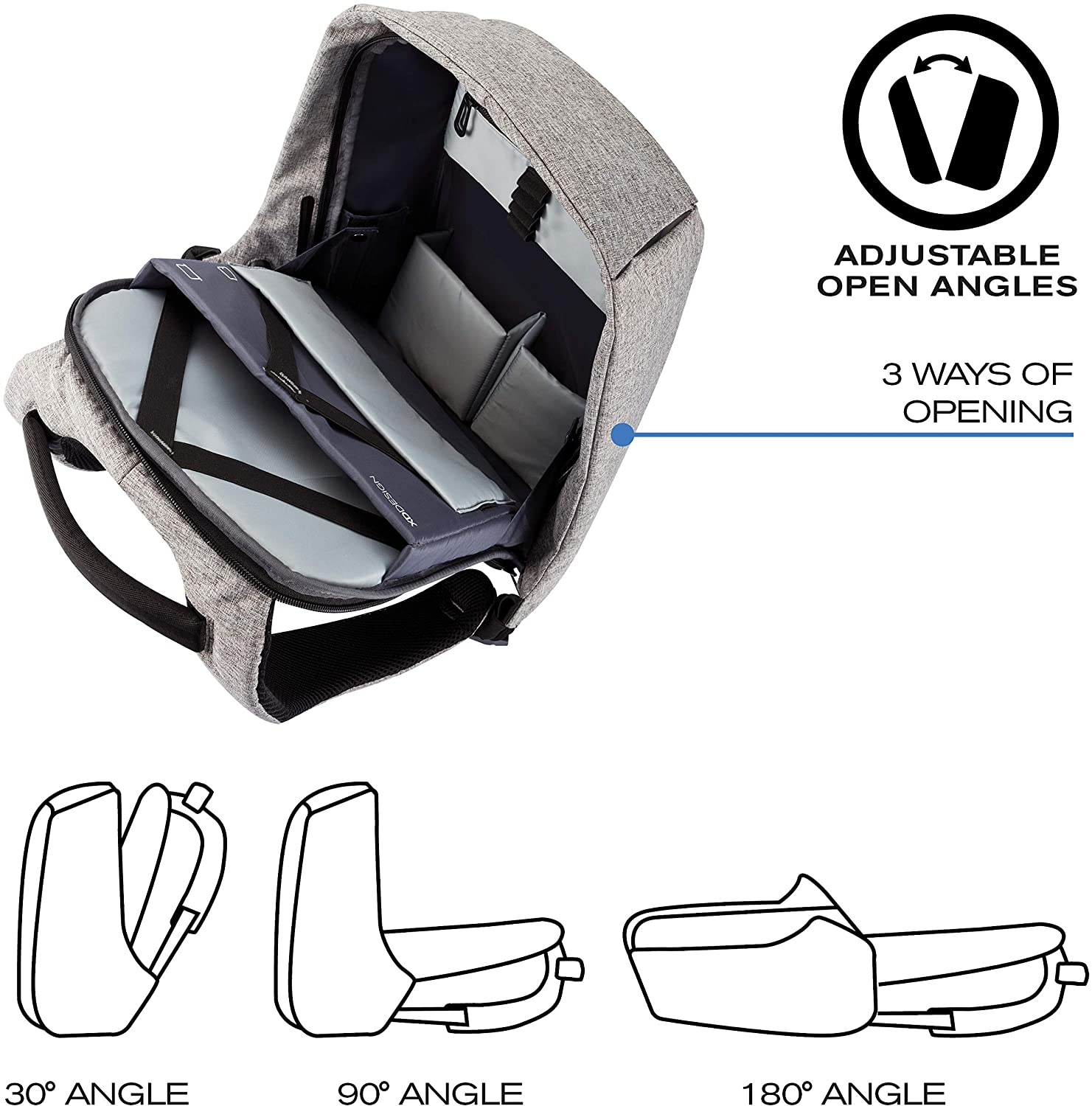 A really helpful feature is that the pack opens at an angle of 30, 90, or 180 degrees. At 90 or 180 degrees you can really organize your items, or find that small thumb drive that has disappeared!
With multiple compartments and zippered pockets, the Bobby really excels at keeping your stuff neat. The Bobby Original holds a 15.6″ laptop. Of course a large tablet also easily fits.
The only downside to all of the organizational packing is if you want to cram books or clothes in there, you have less space. So you really shouldn't get the Bobby if you looking to tote around school books or pack clothes for a short trip. There are other backpacks designed for traveling. Where the Bobby Anti-Theft shines is with regular commutes, such as walking or by bike, and with expensive items on hand like a tablet, cash, phone, etc.
Sizes | XD Design Bobby Original Anti-Theft Backpack
In our review we have primarily focused on the Bobby Original, which can hold up to a 15.6″ laptop. But there are variations of the Bobby Anti-Theft backpack. For example, the Bobby XL can hold up to a 17″ laptop, while the Bobby Compact is a couple inches smaller and can hold a 14″ laptop.
Durability
The weakest part of the Bobby backpack seems to be its durability. Most negative reviews are concerning zippers breaking or the fabric ripping at the seams. By and large most users don't experience these issues. But there does seem to be some quality control issues.
Another possibility is that many don't realize the Bobby Anti-Theft isn't designed to be a hefty backpack with which you tote around heavy school books. Get a Samsonite for that. The fact that it has so many internal organizational compartments shows that the product is designed to carry a variety of items, many smaller and more valuable (thus the need for it's hidden pockets), and not a few large and heavy items. So, if you purchase the Bobby with that goal, then its durability will most likely meet your needs.
Price
For a modern-design backpack with features like hidden pockets, cut resistance, and illuminating strips the Bobby Anti-Theft backpack is reasonably priced. Usually it can be found for a little under $100, even when not on sale. Considering how many other brand name backpacks are $150-$200, this is a well priced offering from XD Design.
It would be difficult to find a quality backpack with these features without getting a no-name brand.
Summary | Bobby Original Anti-Theft Backpack
Pros
Anti-theft design
Hidden pockets
Cut resistant
USB Charging cable
Cons
Not the most durable construction
Organizational compartments waste space unless you are packing small items
Verdict
The Bobby Anti-Theft backpack strikes a good balance in many areas. Just the anti-theft design and hidden pockets alone make it worth the money. USB charging, the 180 degree angle opening, and more make this a great backpack. The internal compartments are fantastic for those with many smaller items and who want to stay organized.
However, for those not needing the anti-theft features or who need to back lots of larger items (like books), then the Bobby Anti-Theft isn't for you. Due to its internal design, you won't hold as much content and will be paying for features you won't use. If that describes you, then check out the Samsonite Openroad backpack or Timbuk 2 Spire backpack.