Delsey Chatelet Shoulder Bag Review
PRODUCT GRADE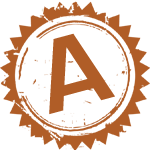 In these busy fast paced lives we live it's advantageous to have a good bag that can play multiple roles in our routine. Something to hold all of our stuff, whether we're students, moms, business women, or a combination. 
Meet the Delsey Paris Women's Chatelet Soft Air Shoulder Bag. Chic, durable, lightweight, and with multiple pockets to give you a large number of organization options. This bag is an excellent companion for the gal on the go. 
Find out why it has such high reviews on Amazon. 
Features
BASICS
Case: Water-resistant chevron polyester with vegan leather trim
Color Options: Chocolate, Champagne
Weight: 2.1 lbs
SELLING POINTS
Stylish and chic look
Well made and durable
Smart band to slide onto roller bag
Lots of pockets and compartments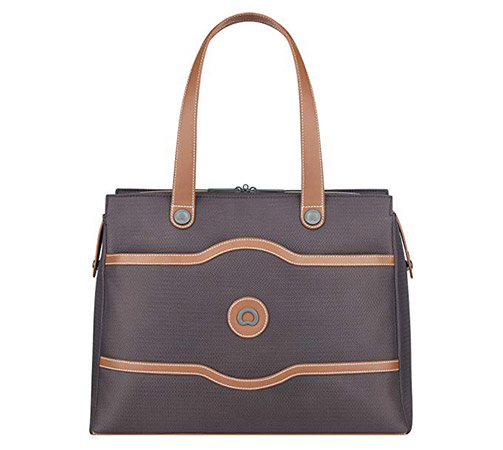 Crafted from water-resistant chevron polyester the Paris Women's Chatelet Soft Air Shoulder Bag is lightweight at only 2.1 lbs. Polished and timeless this elegant shoulder bag is spacious and functional. It is an extension to my favorite of Delsey's, the iconic, vintage-chic Chatelet Hardside collection. Now travelers can coordinate and complete their classy look on the go.
You can tote it easily over the shoulder as a personal bag. Vegan-leather trims make perfect accents to this graceful tote, along with a 10″ leather strap. A zippered exterior pocket is perfect for stowing last minute items. Sliding your hands in and out is a breeze because of the soft touch lining. Inside there are four slip and two zip pockets. There is plenty of space for a laptop, tablet, a change of clothes, a couple books and so on. It also comes with a removable pouch for small accessories.
For maximum convenience a smart band is wisely added on the back so you can slide the tote over the tubes of a rolling luggage. To protect the material bottom feet are fixed  to the bag.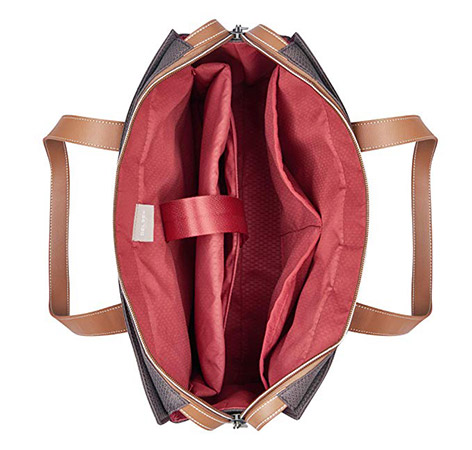 Color Options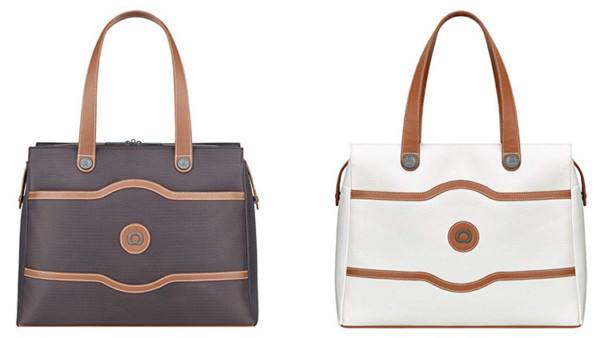 The Paris Chatelet Soft Air Shoulder Bag is available in two colors, chocolate, and champagne. The chocolate is a soft brown with tan leather trimming and accents. The champagne is an off white color also with tan leather accents. Both colors are chic and neutral.
Durability
Crafted from water resistant Polyester the Paris Women's Chatelet Soft Air Shoulder Bag is durable and easy to clean.
The feet on the bottom of the bag protect the material from scuffs and scratches. Because the bag is textured it's much more resistant to any abrasions. The leather handle also seem to hold up well. Overall it's a sturdy shoulder bag you can get a lot of use out of.
Price
As with many Delsey pieces this is not a budget bag. With that said, it's worth a splurge because any traveler could really get use out of it and it doubles as a day bag you can take anywhere business or casual.
It's a durable and timeless bag that will surely last for years of use. You can snag it on Amazon for around $110, depending on the sale and color.
Summary | Delsey Chatelet Shoulder Bag
Pros
Roomy and functional
Durable, long-lasting material
Timeless, versatile and chic design
Coordinates with the Delsey Chatelet line luggage
Verdict
Excellent for work, travel and elsewhere, the Paris Women's Chatelet Soft Air Shoulder Bag is a stylish and versatile travel companion for daily use. The water resistant material is long-lasting and easy to clean. Feet on the bottom of bag protect it from abrasions and the textured exterior make it very durable.
There are plenty of pockets inside, and even a zippered outside pocket giving users lots of organizational options. The removable zippered pouch is a thoughtful inclusion and perfect for makeup and small accessories. A laptop will fit nicely inside along with many other essential items.
Overall, at around $110, depending on sales, and colors this is a beautiful and reliable bag for any woman on the go. It would also make for a practical and gracious gift that can be easily purchased on Amazon.