Samsonite OpenRoad Business Backpack Review
We often think of backpacks as the choice for students or hikers. But backpacks can be a great luggage option for business professionals on the go as well.
Whether you have a commute to work that involves walking or often travel by air and want to have your hands free, a well designed backpack can be invaluable.
The Samsonite OpenRoad Business backpack is aiming for just such a market. So does Samsonite hit the mark with the features that business travelers need? Let's find out.
Features
BASICS
Construction: Nylon and polyester with memory foam padding
Color Options: Jet Black, Space Blue, Chestnut Brown
Weight: 2.8 lbs (14″ model), 3.2 lbs (15″ model), 3.8 lbs (17″ model)
All Sizes Available: 14.1″, 15.6″, and 17.3″
SELLING POINTS
Durable high-quality material
Designed to hold a laptop and tablet along with clothes
Well designed internal dividers
Water resistant material
Can slide onto a suitcase handle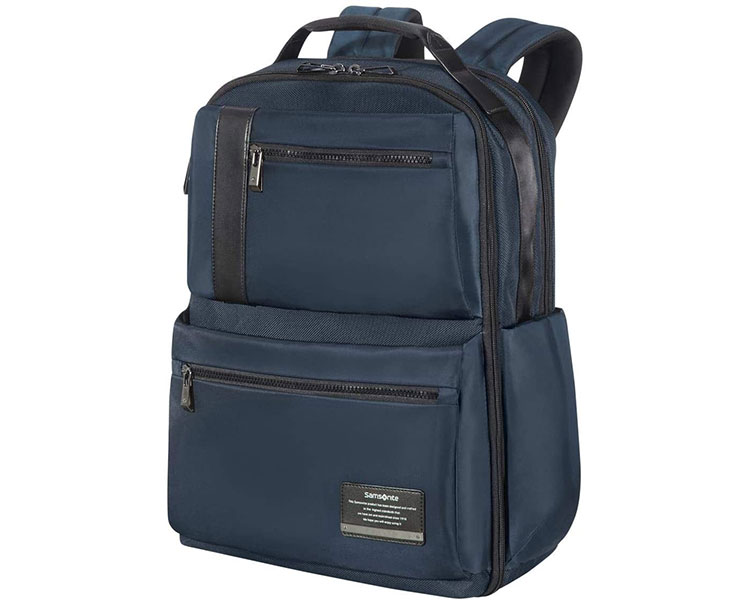 Exterior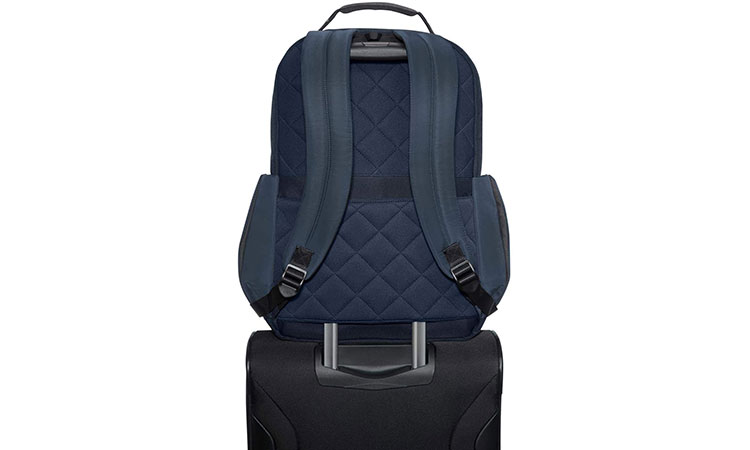 The exterior is fairly standard.
Two exterior pockets are on the front which provide a decent about of space but not for anything too bulky. The handle and straps are nice and solid, as well as the zippers.
On the side is a pocket that can stretch to accommodate a water bottle or such. And on the back there's a bottom sleeve that allows the backpack to slip over a suitcase handle for easy walking.
Color Options
The Samsonite OpenRoad laptop backpack comes in 3 colors: Jet Black, Space Blue, and Chestnut Brown.
The Space Blue color is more like a medium navy blue I would say.
Interior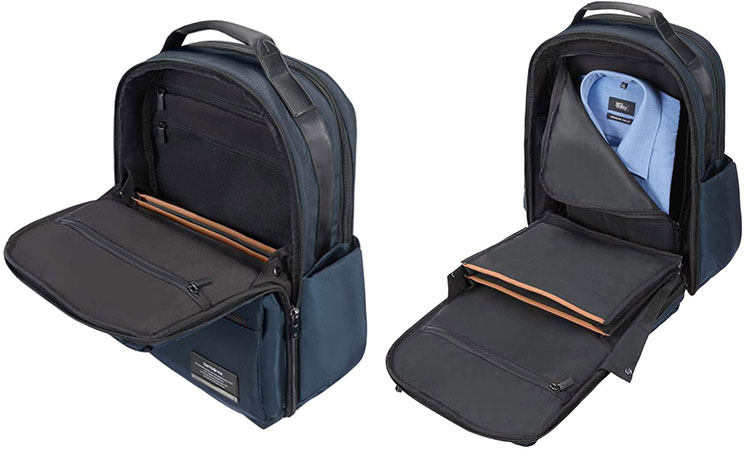 There's a lot going on here with the inside.
A full size divider allows clothes, shoes, or other items to fit the entire height and width of the backpack.
Additional pockets on the inside make separating documents and other thin items easy. But the abundance of pockets aren't too useful besides for thinner items.
The memory foam padding allows a laptop and/or tablet to be stored away and be protected. If you travel often with your electronics, then this is a key feature. Just be sure to buy the backpack size that fits your laptop, whether it's 13″, 15″, or 17″. If you are bringing along a large tablet (like 12″) and it has a rugged case on it, just double check that the 13″ backpack can actually fit it first, otherwise size up.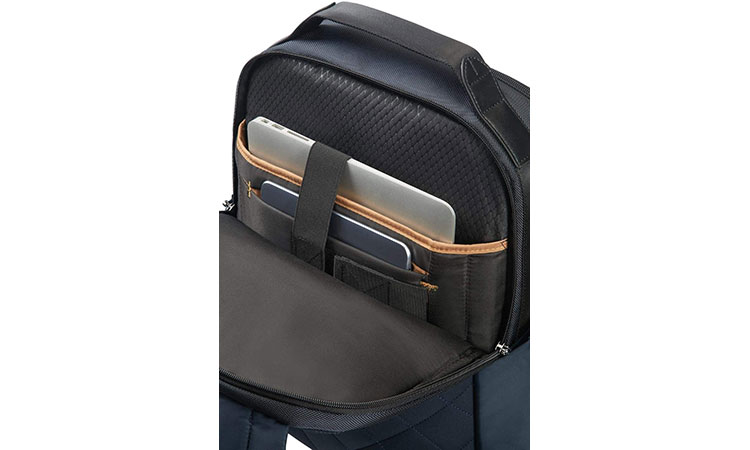 Sizes | Samsonite OpenRoad Backpack
So their size options are named after the size of laptop you can fit in it, not the actual size of the backpack itself.
14.1" Laptop Backpack
Dimensions: 16.0″ x 13.8″ x 6.4″
Weight: 2.8 lbs.
15.6" Laptop Backpack
Dimensions: 17.3″ x 14.5″ x 6.7″
Weight: 3.2 lbs.
17.3" Weekender Backpack
Dimensions: 19″ x 15″ x 7.5″
Weight: 3.8 lbs.
Durability
The polyester fabric is thick and the stitching is durable. Quality zippers and a handle on the top should allow for years of use.
With the fabric being water resistant, this allows the backpack to keep your electronics safe if caught in a light rain.
Price
Whether Samsonite's higher price point is worth it or not largely depends on how often you will use it.
I think one of the strongest values for Samsonite luggage is the durability. It will hold up with regular use; often over years. Whereas cheaper products can start to fall apart within months.
So will this be a daily item for work or traveling a number of days each week? Then absolutely it's worth the price. But if you want something to use for occasional travel then you could probably get by with a lower quality (but equally practical) backpack and save some money.
Summary | Samsonite OpenRoad Business Backpack
Pros
Durable and well constructed
Nice interior compartments to protect electronics
Memory foam for interior padding
Can hold up to a 17″ laptop (for 17″ backpack model)
Fits over a suitcase handle
Cons
A little pricey for a non-hiking backpack
Doesn't hold as much as you'd expect
Verdict
For a daily user or frequent traveler, the Samsonite OpenRoad backpack will be a good investment. A well padded interior and durable construction will keep your most expensive items, your electronics, safe.
For those looking for the occasional traveling companion, then cheaper alternatives would be sufficient. Since the OpenRoad doesn't hold much as far as clothing, then if you won't be carrying a laptop this isn't the solution for you.
Also check out our article on the top 7 Dakine backpacks.
And learn how to pack a week's worth of clothes into your backpack!