Samsonite Freeform Luggage Review
PRODUCT GRADE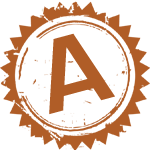 August 27, 2021
Sharp, modern, and nearly futuristic looking. The Samsonite Freeform is lightweight, strong and looks cool. But how function is it and how does it hold up?
We gave it an A rating, as it's a well-rounded and excellent product. For all the details, read our in-depth review below.
Features
BASICS
Case: Hardside (hardcase) 100% Polycarbonate
Wheels: Spinner (4 wheels multi-directional)
Color Options: white, black, navy, sage green, and tangerine
Weight: 6.5 lbs
Available Sizes: 21″, 24:", 28″
SELLING POINTS
Durable high-quality material
Lightweight
Modern unique look
Roomy with expandable option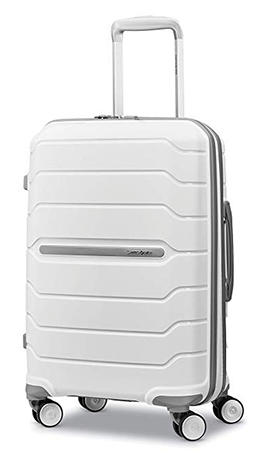 Exterior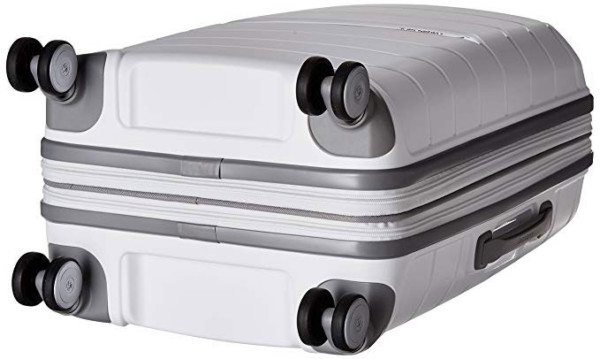 The Samsonite Freeform is crafted from of injection molded polypropylene. This is a material know for being durable and incredibly lightweight. This 21″ is just over 6 pounds!  This material is also moisture resistant, so you won't have to fret about your luggage contents getting wet. As far as aesthetics go, the shell has a ribbed design, with the Samsonite logo placed in the middle. It looks contemporary and clean giving it an heir of sophistication. The ripping is more than just a pretty face though, it adds to the durability of the piece as well.
For the closure, the Freeform is equipped with a sturdy zipper. It also has a second zipper to allow for expansion. The TSA lock is a dial style to keep your luggage contents safe and secure.
The telescopic handle is smartly equipped with a button that locks the position of the handle when pressed. It can be locked to different heights, so everyone it's adjustable to the users height and preference. There are also 2 carry handles, on the top and side of the suitcase.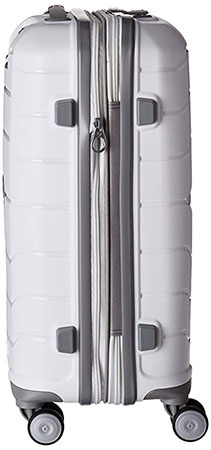 Color Options
The Samsonite Freeform comes in 5 different colors; white, black, navy, sage green and tangerine. I love the clean look of the white case, however I would worry it wouldn't stay clean, because obviously white things have a hard time staying white. The sage green, is a lovely soft color with a shine. Tangerine is definitely the most bold color, it's a bright and vibrant orange that would easily stand out in a sea of luggage.
Interior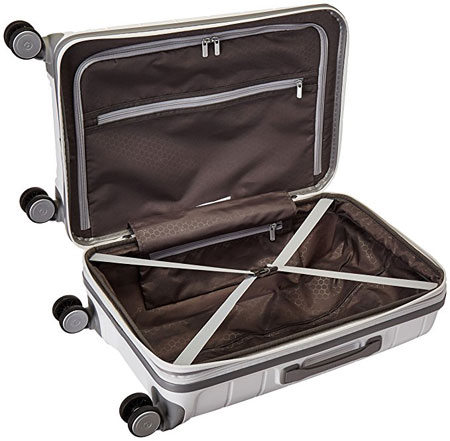 When you open up the Samsonite Freeform, you get two fabric lined packing compartments. The bottom compartment has elastic cross compression straps for keeping your things tidy and in place. Along with that there is a small single zippered pocket. The pocket is an inclusion placed with users in mind, excellent for jewelry or smaller items.
As for the top compartment, it can be fully closed off with a zippered divider. I love when bags include this because you don't have to worry about about anything falling out! In addition there is a well placed large zippered pocket on the divider, which you can use for any items you want to keep separate.
As mentioned this bag also has the capacity to be expandable, which for me is a must in any luggage. If you pack wisely, it wouldn't be hard to pack for a week's trip with this carry-on.
Sizes | Samsonite Freeform
The Samsonite Freeform comes in 3 sizes. The 21″ carry-on I'm reviewing, a 24″ and the largest at 28″.
Durability
The shell of this luggage is extremely lightweight and offers exceptional resistance to impact. As with most Samsonite luggage, it is built for longevity. 
This case is also very easy to clean and wipe down. Minor scuffs may occur but users report they typically buff out. 
Price
The Samsonite Freeform can very easily be found on Amazon for around $160 or less, depending on what kind of sale you find. With all the great features this bag has to offer, in 5 different colors it really is a great buy.
Also included is a 10 year limited warranty! Although Samsonite products are rigorously tested to ensure their products meet stringent standards. This bag comes with a 10-year warranty against defects in materials and workmanship.
Summary | Samsonite Freeform Luggage
Pros
Lightweight
Durable
Great price
10 year warranty
Verdict
Dare to be different. This easy gliding Freeform carry-on comes with the Samsonite brand reliable reputation. As you can see from the past reviews, we are cheerleaders for Samsonite and, believe you can rarely go wrong with a piece from them, and that stands to be true when talking about this Freeform carry-on suitcase.
It is a sturdy, well-made piece of luggage, and it has all the features frequent flyers need in a bag. The smooth spinner wheels, the durable polycarbonate hardshell, comfortable telescopic handle, and the TSA friendly dial lock- all at a very affordable price.
You can usually snag the Samsonite Freeform carry-on for less than a $160, when on sale.