Steve Madden Cubic Suitcase Review
PRODUCT GRADE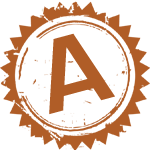 She's bold, she's beautiful, she's strong- meet the Steve Madden Cubic Hardside Suitcase! This lovely bright colored hardside suitcase it a happy marriage of style and functionality at an affordable price. 
Read on to find out why this fun piece of luggage is a smart and easy buy you can snag on Amazon. 
Features
BASICS
Case: Hardside (hardcase) ABS + PC material
Wheels: Spinner (8 wheels multi-directional)
Color: Multi-color
Weight: 7.1 lbs
All Sizes Available: 20″, 24″, 28″
Available as Set: No
SELLING POINTS
Bold fashionable exterior
Functional and smooth gliding
Durable easy to clean material
Expandable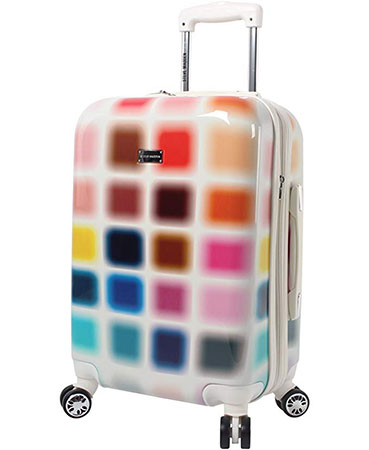 Exterior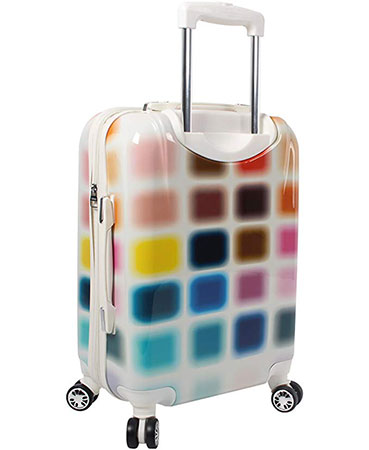 This eye-catching hard-side suitcase is colorful and unique. The multicolored square pattern of bright blues, pinks, oranges, and reds really pops as it's set on a white background. It's feminine and bold without overdoing it.
The glossy finish is classy plus very easy to wipe down and clean. Made to be lightweight you can can't on this piece for maximum packing as it's only 7 lbs. It's packing dimensions are 20″ x 13″ x 9″ with an expandable option.
A push-button locking retractable handle is comfortable in the hand and sturdy. In addition there are top and side carrying handles. 8-wheel spinners are smooth gliding even when packed to capacity.
There is no TSA lock included, so if that's something you require you'll have to buy one separately.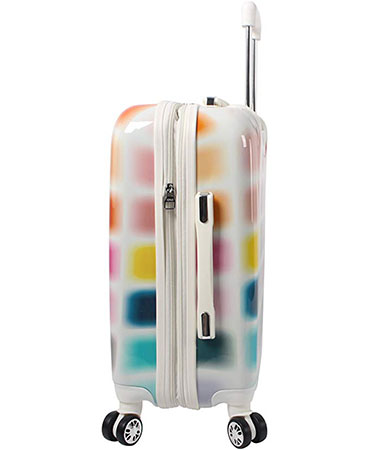 Interior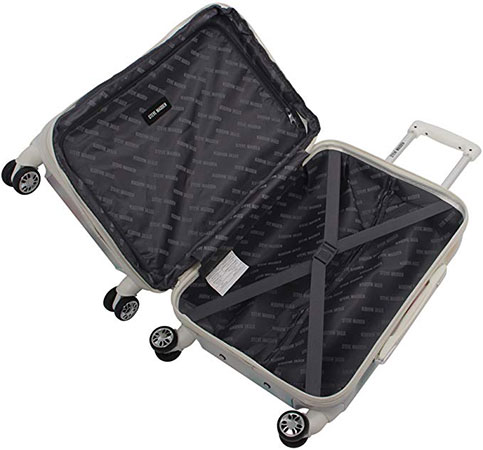 Inside there is a fully lined interior. The soft material is black with a grey Steve Madden logo. It's a nice neutral contrast to the bold exterior.
The interior is a simple 50/50 book opening. There are  two main packing compartments. One side has a zippered divider so you can section off your items and keep them safe when you open the bag. On one side is an open compartment and tie-down compression straps.
Not a lot of pockets or compartments here. If you like more organization options then I suggest using packing cubes, which in our "expert" opinion in the best way to organize a bag.
Durability
Users are generally very happy with the Steven Madden Cubic suitcase. Reviewers have reported that the suitcase endured rough trips even exposed to the elements on international trips. 
However, some do report this is a cheaply made suitcase. With that said, it's good to note that this is not a high-end bag. For that, you will have to pay more dough. For the price though, this is a good suitcase that gets the job done. 
Price
As I said above the Steve Madden Cubic suitcase is more of a value luggage. It looks beautiful and expensive but it's not a high-end bag as for as materials. So if you want something that is made with more expensive material, you're going to have to pay more.
You can this carry-on size for around $70 on Amazon. The 24″ goes for about $90 and you can find the 28″ for around $110. For the price, it is a good buy and it also comes with a 5 year manufacturer's warranty which definitely adds value!
Summary | Steve Madden Cubic Suitcase
Pros
Bold happy design
Expandable
Lightweight
Affordable
Verdict
All and all this is a chic, sleek, yet bold statement piece luggage. The vivid colors are eye-catching and make it easy to identify your bag in a crowded airport or elsewhere. The glossy virgin ABS + PC material is durable and easy to clean.
It's lightweight, sturdy and has an expandable option for maximum packing. You'll be able to glide smoothly through your travels with the 360 spinner wheels and comfort grip handle.
Available on Amazon for under $80, the Steve Madden Cubic suitcase is a great value. You can even make a 3 piece set and purchase the other 24″ and 28″ suitcases, also available on Amazon. This luggage would make an excellent gift for ladies of all ages. I would definitely purchase this for my sister or my very fashionable mom. In fact, I would also proudly slide in with this snazzy fun bag!