Delsey Chatelet 21″ Luggage Review
PRODUCT GRADE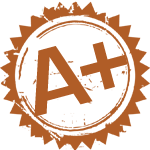 Delsey is well-known for their luxury designer styles. These vintage inspired pieces by Delsey really do make a girl feel first class! Perfect for those nice trips to Europe or the islands.
At first glance, this Delsey Chatelet 21 Inch Carry On may seem too expensive to some. However, in my opinion the class and quality of this piece is worth the splurge for so many reasons. Let's see why.
Features
BASICS
Case: Hardside 100% Bayer Virgin Makrolon Polycarbonate
Wheels: Spinner (4 wheels multi-directional)
Color Options: Champagne, Black, Brown and Chocolate/tan
Weight: 8 lbs, 4 oz
Size Being Reviewed: 21″
All Sizes Available: 19″, 21″, 24″, 28″
SELLING POINTS
Luxury design with a vintage inspired look
High quality and durable materials
TSA approved lock to keep your things secure
Impressive worldwide 10 year warranty
Silent Wheels and a Wheel Locking Mechanism
Exterior
A hard case with a soft clean touch of elegant leather trims. There are 3 handles; a retractile silver handle on top, and leather handles on the top and side.
Hopefully you haven't been there, but for those who have had their luggage lost it's a nightmare. Delsey has helped a little in this area by including an identification plate on the back.
One of the coolest and most unique things about this piece is the wheel locking mechanism. It's actually a nifty dial on the back you can turn to "stop" or "go". So while you're jetting through an airport because your layover was too short, turn to "go" and well, go! When waiting in line, hit "stop" to keep it from rolling off. Now why don't all suitcases have this feature?
Overall color options are stylish and expensive looking. That luxury "posh" vibe is all over this suitcase. I especially love the two-toned look of the contrasting but complementary leather details.
To me, many hardside suitcases look so… industrial. Utilitarian. You know, like men designed it for… men. But with the Chatelet model, Delsey has given it a soft, subtly feminine look with the same durability of other hard cases. Don't worry though guys, it's not pink. So it's still okay to own one!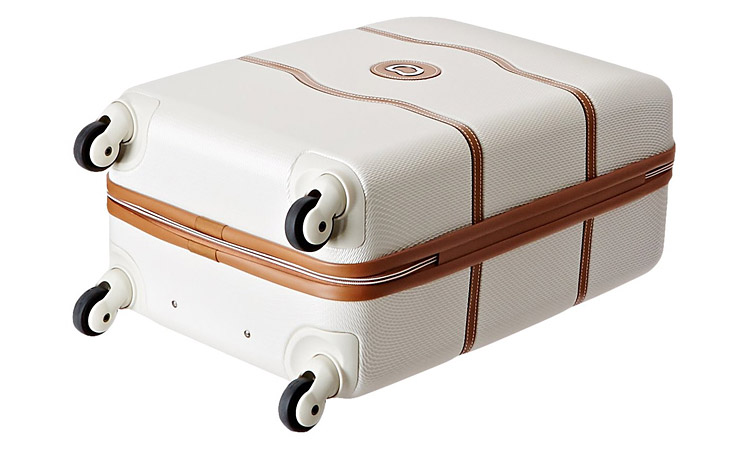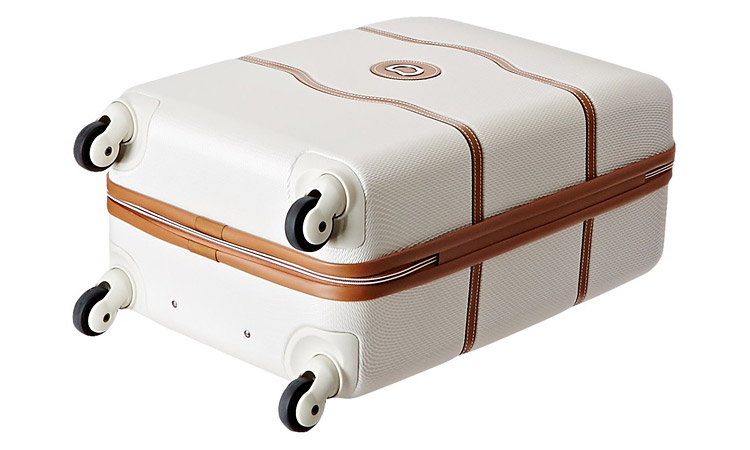 Color Options
The Delsey Chatelet Carry-On comes in 4 colors: Champagne, Brown, Black, and Chocolate/tan
Some sites describe the Champagne color as ivory. My initial concern with lighter colors is that it would quickly become dirty looking, but thankfully the material wipes clean easily.
Interior
The fully lined interior offers two packing compartments with a zippered divider on one side and tie-down straps on the other. I love how the compartments can separate bulky rough items like shoes, toiletries, and power charges from more delicate and expensive clothing. Plus after a few days, the used clothes can go on one side and fresh ones on the other.
It also comes with 2 separate matching bags made of the same soft lining. When traveling I always have to remember to bring extra bags to separate my dirty shoes or clothes, so I love the fact these 2 bags are included. So much more stylish than a grocery bag! There is also even a flexible clothes hanger inside.
One of my favorite features of the Delsey Chatelet is how even the inside lining was given attention. It's a bold but elegant crimson red color. Which I absolutely love. What an improvement over the standard 50 shades of gray most use for the interior.
Delsey Chatelet Sizes
The Delsey Chatelet Spinner comes in 3 additional sizes, besides the 21″ that I am reviewing – 19″, 24″, and 28″.
Durability
The hardcase is constructed from 100% Bayer virgin makrolon polycarbonate. Which is awesome. Ok… so I honestly had no idea what that actually is. But I researched it. Apparently it's the latest and greatest. This plastic is an exceptionally strong yet flexible material and can handle temperatures up to 298 degrees Fahrenheit. You know, just in case you get the urge to set your luggage near a fire.
As I read thoroughly through customer reviews many reviewers say this case is practically invincible. I guess this is due to the Bayer makrolon poly it is designed from. One website went has far as to say this plastic is "shatter proof". So extremely durable, even after months of use. The wheels especially are known to hold up well.
I think the biggest proof that the Delsey Chatelet is built for years of use, is their warranty. They provide an impressive 10 year limited warranty. Not many other companies do that. Samsonite does a 10 year warranty on some of their luggage products, but hey, their entire brand is built around durability. Designer luggage, though, with a good warranty make this piece a great buy.
Price
The Delsey Chatelet Luggage an economy piece? Not so much. It's a little pricey compared to other hardside luggage. But I think it looks more expensive than it is. It truly looks and feels high end. You know, for me I feel like I could walk into a fancy Italian hotel with this and fit right in. With a nice dress and heels of course.
If you are looking for something lower cost, and less "designer-ish" then I suggest the Beverly Hills Country Club Newport or the Rockland Leopard for those wanting something even more bold.
User Reviews
User reviews on various websites average around 4.7 stars out of 5.


Some of the things that user reviews often brought up were:
Stylish design with beautiful and refined color options
Good quality materials that are easy to clean
Considered oversize by some Airlines
As for the claim of the case being oversize, most airlines accept the measurements for carry-on requirements. This Desley is exactly 22″ with the wheels, and airline regulation is 22″. The real problem is probably more of overhead bins on the airplane being too full, not the size of this piece. If I was really concerned about it not fitting in overhead bins I'd just get the 19″ size, in fact it's so pretty I want want all 4 sizes!
Summary | Delsey Chatelet 21″
Pros
Classy design and vintage color choices
Sturdy hardside case
Wheels locks
Interior divider with pockets
TSA lock and identification plate
Verdict
Available on Amazon, the Delsey Chatelet is a very high quality and polished looking piece of luggage with top-notch features. I love how it has a feminine touch, but is still gender neutral enough not feel too "girly".
I think it would make an excellent piece for any business person or traveler, and a classy gift. Although it may be higher in priced, it is still affordable and a great value for the quality and style.
As was mentioned, if you are looking for something cheaper then I suggest the Beverly Hills Country Club Newport  or the Rockland Leopard.
Available on Amazon – All Sizes