American Tourister Moonlight Luggage Review
PRODUCT GRADE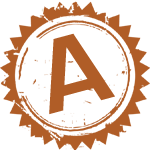 Ever lost your suitcase in a sea of luggage? The struggle is real. However there is a remedy, go for a bag with more originality. The American Tourister Moonlight carry-on is a excellent choice if you want something more eye-catching.
This trendy and playful suitcase is sturdy, but not bulky. It's lightweight and easy to manage on it's 4 smooth rolling wheels, even when I'm racing through the airport.
Check out our review on the American Tourister Moonlight carry-on.
Features
BASICS
Case: Hardside (hardcase) ABS
Wheels: Spinner (4 wheels multi-directional)
Color Options: 7 different patterns including (marble, rose gold, floral patters and more)
Weight: 7.5 pounds
Size Being Reviewed: 20″
All Sizes Available: 20″, 24″ and 28″
Available as Set: Yes
SELLING POINTS
Unique abstract design options
Lightweight but durable
Affordable price
Expandable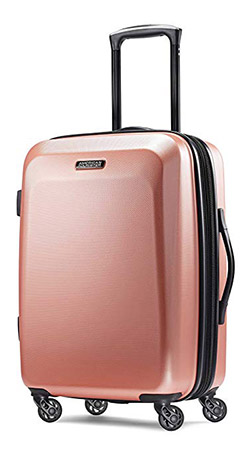 Exterior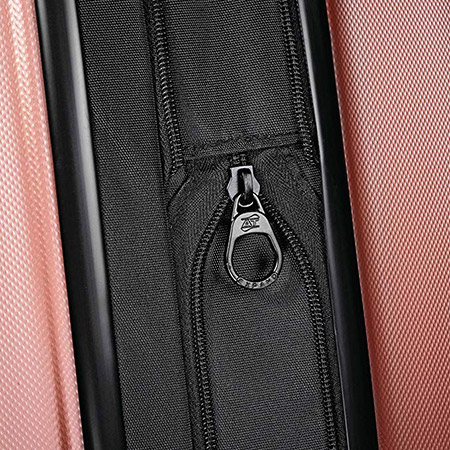 The American Tourister Moonlight carry-on is an expandable hardside luggage with spinner wheels. The spunky designs make it unique among the thousands or more bags at a crowded airport. And there are 7 different trendy patterns to choose from.
There is a sturdy retractable handle on top, that opens and closes with ease. There are also non-retractable handles on the top and side. The handles seem to be very strong, and look like they will hold up well.
I'm usually running through the airport because my layover is too short…or I lose track of time in the perfume store sampling the scents. So, as I'm dashing through, it's helpful that the American Tourister Moonlight carry-on has 4 smooth gliding wheels to keep up with me.
The exterior has a nice glossy finish or textured finish depending on the style you choose. Either can be easily wiped down and sanitized.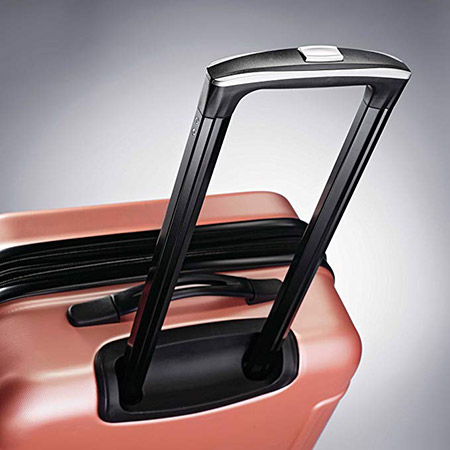 Color Options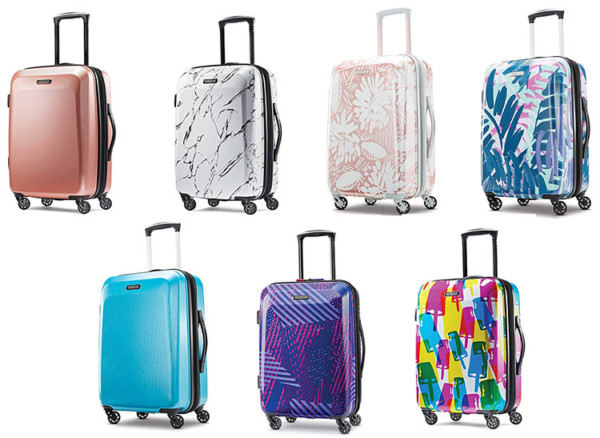 There are 7 different colors/ patterns to choose from. They are called: rose gold, marble, purple storm, palm trees, ascending garden rose gold, teal blue, and popsicle.
Finished with a textured feel are the rose gold, garden rose gold, and the palm trees print. The rest have a glossy finish, and the teal blue has a brushed look rather than a solid color. So really their is something for everyone!
Interior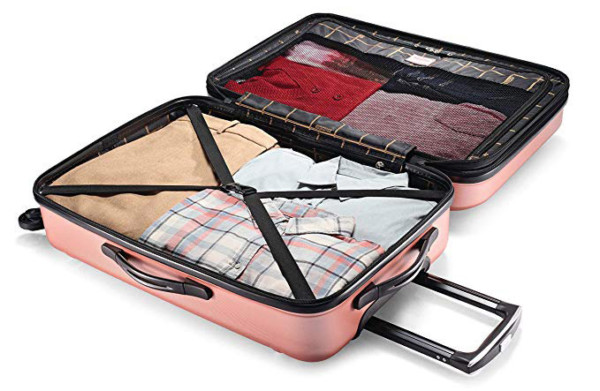 For organizing purposes, which I always need help with, I love the interior of this American Tourister Moonlight Carry-On. It has zippered pockets inside which help a lot to sort things and keep everything from shifting.
On one side there is a mesh zippered section that spans the length of the bag, so you can securely separate items. I especially like when carry-on's have the little pocket in the middle. It's great for smaller things or things you don't want seen if TSA is ruffling through you bag with dozens of onlookers.
Opposite the zipped side there is a crisscross elastic band. That's always a nice feature because when you open up the bag mid-flight, everything doesn't go falling out. The lining inside is soft to the touch and has a fun pattern too that's complimentary to the exterior.
Sizes | American Tourister Moonlight
American Tourister Moonlight Expandable Hardside Luggage comes in 3 sizes. The 20″ I'm reviewing, as well as a medium checked bag size 24″ and the large 28″. You can even purchase all 3 as a set on Amazon. 
Durability
Because the American Tourister Moonlight carry-on is so cheap I thought it might also feel cheap. But it actually feels very stable and durable.
It's made of ABS, which I've had several pieces of luggage in the same material. It always seems to hold up well without cracking or breaking.
It is carry-on luggage, which is meant for a few days' worth of clothes. Packing more than that could cause the zipper to stretch too far and break. It seems like some have packed it too much and posted about broken zippers. But for this low price, you can't treat the bag like a Samsonite. It should be used for what it's designed for and not overloaded.
Unfortunately, most hardside suitcases do get scratched over time. What I like about this case though, is that the abstract patterns hide scratches easier than solid colors would. Scratches are inevitable especially with a cheaper material, but at least they aren't too noticeable on this carry-on. A small concession to save $100 over mid-grade luggage options.
Price
This American Tourister carry-on starts at around $60 or so, depending on how much you catch it on sale.
An economy price often brings an economy design and bad durability. But I must say that I was pleasantly surprised at the quality of construction for such an affordable carry-on.
Summary | American Tourister Moonlight
Pros
Unique colorful design options
Affordable and a value for the quality and durability
Expandable
Verdict
The American Tourister Moonlight Carry-On 20″ is a durable hardcase spinner that does the job stylishly, while being gentle on your bank account. Even though the designs are trendy and modern, this piece is far from a novelty.
This is a lovely piece of luggage that would make a thoughtful, affordable gift. Young girls and teenagers would love the fun designs but's still mature enough for grown-ups. The lightweight design also makes it manageable even for little ones.
You can pick up this stylish user friendly carry-on in just a click on Amazon.