Purses, backpacks, messenger bags, and briefcases all have pretty specific purposes. However a canvas tote's unique combination of simplicity, durability, and versatility has multipurpose use for many occasions.
Totes come in a variety of shapes and sizes, and you can find one to carry almost any type of load. Searching for a canvas tote can be a little daunting though as there are a plethora of options available online. To help you out we narrowed it down to the top 7 canvas tote bags in this review. 
1. Caldo Canvas Market Tote
Built with a full-sized exterior zipper pocket for easy access and storage the Caldo Canvas Market Tote, found on Amazon, is a quality tote for daily use. Long adjustable shoulder straps and handles make carrying your daily essentials effortless. It's longer and wider than your average tote for easier organization, but still lightweight enough to fit comfortably under your arm.
Quality design
Adjustable straps
Outside zippered pocket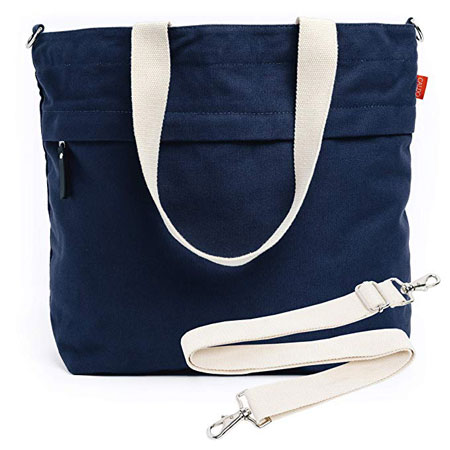 Whether your off to the market, work, daily errands or whatever, this versatile and simple carry-all bag goes with the thoughtfulness you put into your style. The Caldo Market Canvas Tote is a quality bag that comes in 4 colors on Amazon.
2. Torry Canvas Shoulder Tote
The Torry Canvas Tote Bag, found on Amazon is a feminine bag with a beachy vibe. Moreover, it has 2 pockets on the outside and 3 pockets on the inside, one of which is zippered. The zip top closure will keep all your belongings safe and in place.
Inner and outer pockets
Stylish & feminine
Highly rated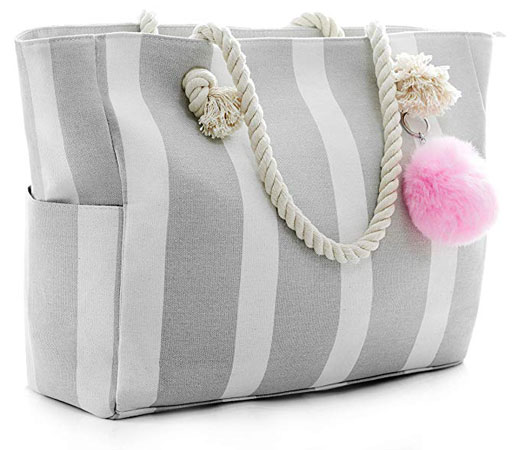 Stroll throughout the day and make the most of your trips and excursions with this feminine tote that features 2 comfortable, cotton rope handles. Offering the perfect combination of top-knotch quality and feminine class. The Torry Canvas Tote can be found on Amazon in two lovely colors.
3. Malirona Canvas Shoulder Tote
You can find the Malirona Canvas Shoulder Tote on Amazon in 4 different colors/patterns. This large canvas fabric bag with hemp rope handles is simple and stylish with a top zipper closure all for security. With 6 pockets around, this large beach bag perfectly hold all your daily necessities.
Large & spacious
6 pockets & zippered top
Highly rated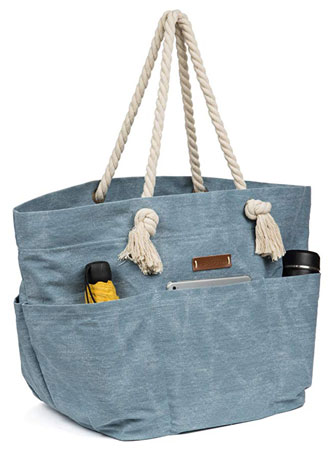 Whether your off to run errands, to the beach, water-park, or vacation this large bag has plenty of space to fit not just your gear, but a family or friends! The Malirona Canvas Shoulder Tote has over 80 reviews and 4.5 on Amazon.
4. BAGGU Duck Bag Canvas Tote
The BAGGU Duck Bag Canvas Tote, found on Amazon, is a durable bag that will last for years. It has a deeper body than the average tote, which means it will accommodate long or awkwardly shaped objects. It's durable and stain-resistant, and its hardy canvas wears over time to become soft and pliable without looking shabby.
Durable
Versatile
Warranty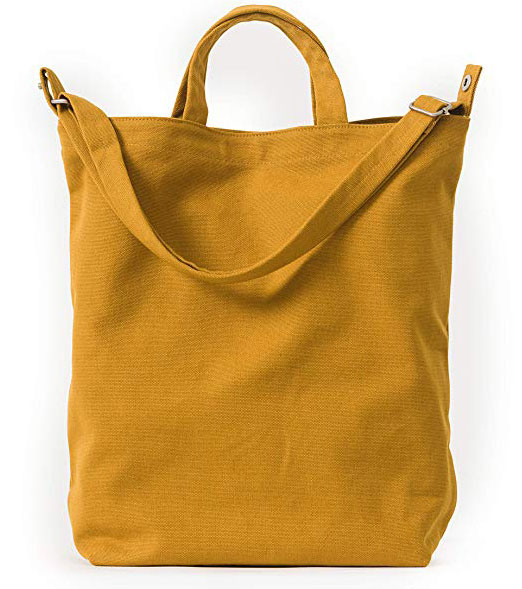 If you're looking for a good-looking, all-purpose canvas bag, the BAGGU Duck Bag Canvas Tote is a winner. This versatile bag also come in a number of tasteful prints and colors on Amazon.
5. Adornlee Canvas Tote Bag with Special Saying
The 100% cotton canvas Adornlee Canvas Tote Bag with Special Saying is highly rated tote on Amazon. The zip top closure keeps your must-haves from falling out. Plus an inside zipper pocket is provided for easy access to small essentials. It's spacious, cute, and stylish, but still holds up well after even regular use.
Special saying on natural canvas
Zippered top
Spacious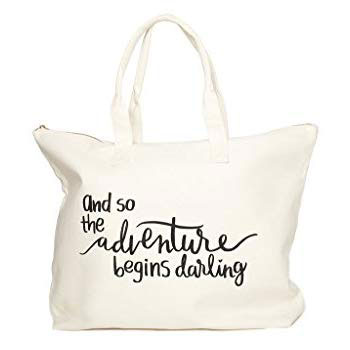 This natural canvas tote bag with black lettering will help you stand out from the crowd. The Adornlee Canvas Tote would also make an excellent, thoughtful gift for a loved one. 
6. Fishers Finery Heavy Canvas Striped Tote
The Fishers Finery Heavy Canvas Striped Tote is a sturdy multi-purpose bag you can easily pick up on Amazon. The cotton rope handle is made for heavy lifting and the sturdy zipper closure at the top will keep your items safe and secure. The interior pockets are great for holding tablets and books. There is a handy exterior pocket as well.
Sturdy & durable
Large enough for family
Highly rated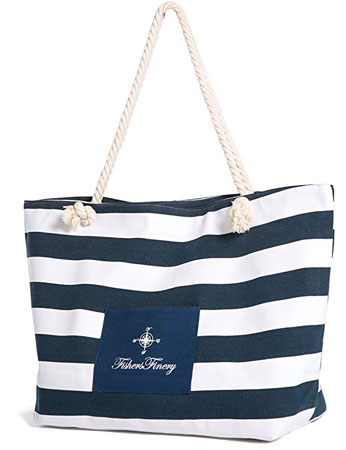 The Fishers Finery Heavy Canvas Striped Tote is available on Amazon in two sizes. A small tote measures 18″ x 14″ x 8″, and the large measures 27″ x 18″ x 8″. The large especially is spacious enough to accommodate a full day for the entire family. It's a great tote for the beach, but has many more uses, like running errands, the gym, or a weekend trip.
7. Filson Canvas Tote Bag
The Filson Canvas Tote can be found a click away on Amazon. This tote is significantly more expensive then the above, but is a very quality product. The canvas is stiff enough that the bag can stand up on its own, and it looks basically brand new after a few months of semi-regular use. The straps are crafted from bridle leather, which is classy and durable. There's a main compartment with four side pockets. There's also a key clip attached to the seam on one of the larger pockets, so your keys don't slip out.
Lifetime warranty
Very durable
Simple & functional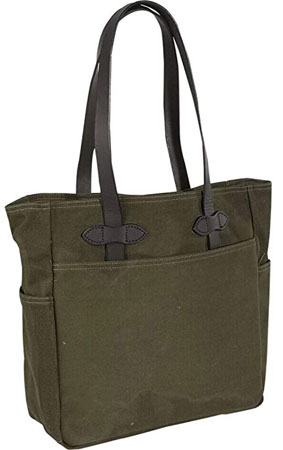 The Filson Canvas Tote is a higher-end alternative to your more casual canvas totes. If you've been searching for a lightweight, well-constructed tote that's multi-purpose and appropriate for a variety of occasions, this might be the tote for you. It's also supported by Filson's excellent lifetime warranty that covers any defects or issues from normal wear and tear with a free repair or replacement.