6 Must-Have Travel Gear & Luggage Accessories
Hopefully some of our luggage reviews have helped you to find a great suitcase or tote. But whether you are traveling frequently for business, or taking a long vacation to Europe, you need more than just a great piece of luggage if you want to save yourself stress and stay organized.
So here are the top 7 luggage accessories and travel gear items that you need to make your travels successful!
1. Digital Luggage Scales
For anyone who will travel by plane, a luggage scale is essential.
First of all, it is easier to use than a scale when packing at home. And second of all, it allows you to repack while traveling and stay under your weight limit. Because it seems nearly impossible to remember which items went in which luggage, or if you buy souvenirs. Plus, they are super small to pack away and super cheap. Do you not have one? Get one before you fly again!
110 lb / 50 kg capacity with precision accuracy of 0.2 lb / 0.1 kg
Solidly built with Lifetime Warranty
Compact lightweight design at 3.3oz
Easy-to-read LCD display
Long life lithium battery included
2. Luggage Organizers
Ok so some don't really care if their clothes are a wrinkled mess after packing, or that half their socks disappear in the suitcase. If that is you, then you DON'T need to worry about travel organizers. If that is NOT you, then these nifty dividers will prevent you from losing items in the sea of clothes, and keep them more neat.
Benefits of organizers are:
Allows you to separate dirty used clothes from fresh ones
Makes finding smaller items easy (provided  you remember which divider it is in!)
Saves you time from repacking because you pulled clothes out from the bottom
Allows you to separate your toiletries and protect your clothes from any spills
Reduces wrinkled clothing as it won't be compressed as much
6 piece packing cube set (2 small, 2 medium, 2 large)
Mesh top allows you to see what you have packed in each cube
Durable fabric and can be hand washed
Sizes: (Small) 11.5×6.75×3.75 inches, (Medium) 13.75×9.75×3.75 inches, (Large)17.5×12.75×4 inches
For those looking to make packing even easier, you may want to buy a cube organizer set in a variety of colors. This way you can remember that all your shirts are in the blue cube, for example. The PRO Packing Cubes Set might be more your thing then.
3. Travel Bottles
Everyone has to bring toiletries while traveling. Bringing a bottle of shampoo the size of your cat is just not that efficient.
And if you are traveling by plane, then you have the 3 ounce rule. So pretty much all of your items cannot go in your carry-on unless put in a smaller container. Since they will be used so often, really travel toiletry bottles are a basic that everyone needs in the travel kit.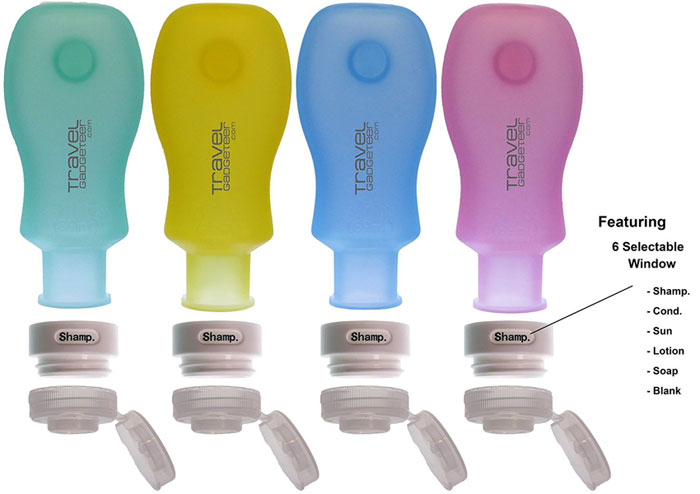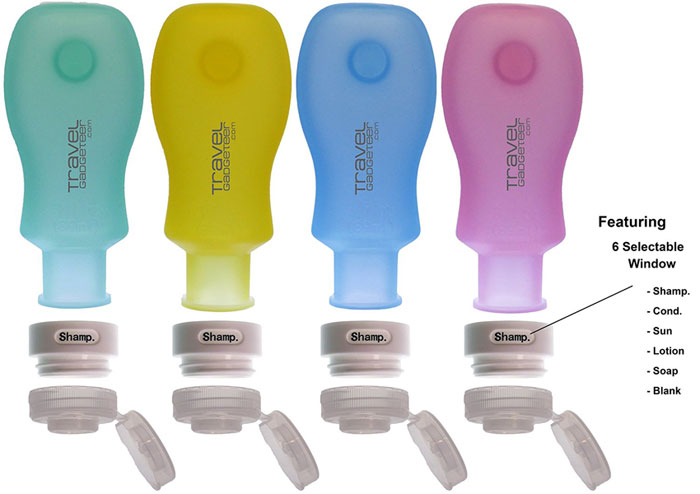 From experience, I have found that cheaper bottles break within a couple of years. The plastic is harder and more brittle so that the cap cracks or leaks when dropped. They are also harder to squeeze.
That's why I love this set from Travel Gadgeteer. Plus, instead of messing with sticker labels that end up being incorrect the next time you travel, these caps have a rotating label! So your shampoo is actually always in a bottle labeled "shampoo". Can you imagine such genius!
4 bottles with leak proof design
Rotating labels without the hassle of stickers
Easy to squeeze
TSA approved at 3 oz
4. Electrical Outlet Adapters
If you plan to travel to another country, then don't forget about electrical outlet adapters. Thankfully, there are adapters that do the job regardless of whether you travel to the UK (3 prong) or continental Europe (2 prong).
CAUTION
Now these outlet, or socket, adapters are NOT the same as voltage converters. In the USA, electrical devices us the 110 voltage current. But for most of the world, 240 voltage is used. Many electronics come with a A/C adapter that will handle both 110 or 240 volts. You can verify this by locking at the technical specs on the adapter. It should say  110∼240v. In fact, nearly all A/C adapters for cell phones, laptops, tablets, and such can handle both currents.
If your A/C adapter or electrical device ONLY says 110v, then using that device on a 240 outlet will cause it to overheat and die!
The outlet adapters below merely allow a USA prong to plug into a UK or Europe outlet. It also works the other way around for those coming from the UK to USA.
Type I (Australia / China)
Type E/F (Europe)
Type L (Italy)
Type J (Switzerland)
Type G (UK, Dubai, Hong Kong)
Type B (USA)
Dual USB Ports
USB Max: 2100mA 5V 2.1A, (Ideal for iPad, iPhone, & All Cell Phone Chargers)
5. Get Comfortable
Traveling for long periods of time can be a real pain in the butt – literally. Or a pain in the neck, your pick.
I didn't pick out one particular item in this category, because what is most important is really dependent on your own needs. My wife must absolutely have a neck pillow. Me? Not so much.
But hopefully the items below cover a variety of needs for my readers. And do you have any suggestions? Then let me know so that I can add it to the list!
6. Luggage Accessories
Being that this is a luggage focused website, how could I possibly leave out luggage accessories. I gotta show the love!
I have reviewed quite a bit of different luggage models on this site, and some of it is quite colorful and stands out. But luggage can still get lost. Or damaged. So here are some options to help you keep your luggage.
The Trakdot GSM Tracker is NOT a GPS tracker. Being GSM it works using cell towers to triangulate the device's location. This has pros and cons.
First the pros. GPS requires a direct line-of-sight to the sky to pinpoint its location. This can pose an issue if your luggage is deep down in the airport luggage bay or the cargo hold of the wrong plane.
The cons. Well being GSM it requires a annual or lifetime membership fee. The lifetime fee is not so bad. At this time it is under $70. The annual is under $20. Which if you travel frequently is a small fee.
But the app for smartphones allows you to have peace of mind throughout your journey, verifying that your luggage is following you! Or if it is not, where it is currently at.
Help distinguish your luggage from others with luggage tags. You can even get personalized ones.