In just a few short days I'll be lounging on the beautiful beaches of Rincon, Puerto Rico with a cocktail in one hand and a bottle of SPF 50 in the other. Far different from San Juan, if you're heading to Rincon, you can certainly leave your high heels at home. This beach town is known for its surfing, pineapple cocktails, and being incredibly pedestrian friendly. Ladies, this means you'll be walking a lot. If you're trying to figure out what to pack for your trip to Rincon or any other beach town, take a look at what I'll be bringing.
Bathing Suits and Cover-Ups
Most of your time in any beach town will be spent in a bathing suit and a t-shirt or dress you like to put on over it. Even when heading to the local shops and bars, it's not uncommon to see people walking around in what they clearly wore to the beach. Any town near a beach will be laid back and casual about attire, but probably not enough so that they will let you in a place of business wearing just a bikini or shorts. The cover-up is essential. I personally will be bringing three swimsuits for a five-day trip, but this is due to my absolute weirdness. I designate certain bathing suits for the beach and others for the pool. If you're not staying in an area with a pool and don't share my odd habit, you should be fine with bringing just two.
A Big Floppy Hat
As you can see in my poorly photoshopped image, I'm all for the big floppy hat. Not because it even looks great on me, but because I'm Irish and my skin does not do well in the sun. Last time I was in Puerto Rico I got sun poisoning for the first time, and I'm determined to make it my last. Aside from my hat, I'm bringing a ton of sunscreen, aloe vera, and a long cover-up that will cover my legs when I've been in the sun too long.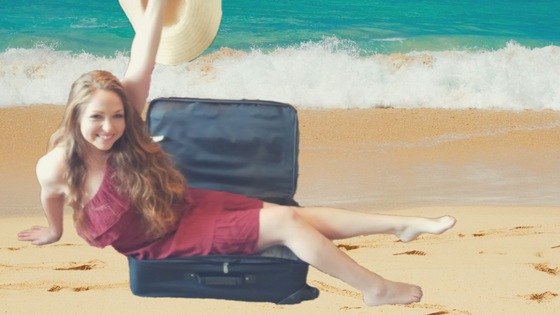 Comfortable Shoes
Like I mentioned earlier, Rincon is designed for walking. Most beach towns are. So I will be bringing a pair of flip-flops and a pair of cute sandals. Nothing too crazy as everyone will be dressed super casual, even for dinner and at night. Cabs aren't exactly a hot commodity on this side of the island, and I certainly don't want to get stuck having to walk back to my Airbnb in four-inch heels. No thank you!
Portable Chargers
Not just one, but I'll be bringing three portable chargers. In case you haven't heard, Puerto Rico is still suffering heavily from Hurricane Maria and the electricity situation is unpredictable. I've been told that Rincon wasn't hit so bad, but just a few days ago they lost electricity throughout the entire island. So, these portable chargers will be my security blanket ensuring I will at the very least be able to call a cab to get back to the airport at the end of my trip. A smart backpack will also do the trick. Hopefully, some of the money I plan on spending on booze will help them to recover.
Other Suggestions
Bring one nice, going out dress or outfit. This way if you travel to a nearby city or find a club to go to, you'll be prepared. I personally can't leave home without my own beach towel and a good book. For those heading to Rincon, you may want to bring your surfing gear. Wetsuits and whatnot. I personally have never surfed in my life, but it seems like a big deal there.
If packing light isn't exactly your forte, check out these packing tips before your trip!