Briggs & Riley Baseline Travel Tote Review
PRODUCT GRADE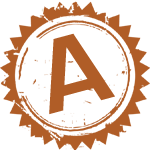 For years, keen travelers have depended on Briggs & Riley's Baseline collection for durability, performance, and style. This tote is no exception. Contemporary design meets high-end performance that doesn't disappoint.
The ballistic nylon outer material is self repairing and resists wear, water, dirt and abrasions. On top of all that, if your luggage is ever damaged Briggs & Riley will fix it, free of charge. For more information on why this Briggs & Riley Baseline Travel Tote is beloved and highly recommended by users, read on.
Features
BASICS
Case: Soft Ballistic Nylon
Wheels: None
Color Options: Navy, Black, Olive
Weight: 2.4 lbs
All Sizes Available: 17″ x 13″ x 7.5″
Available as Set: No
SELLING POINTS
Durable high-quality material
Sophisticated, expensive style
Functional organizational features
Dual purpose slip-through back pocket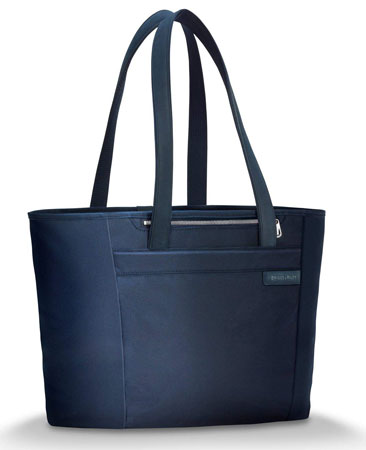 Exterior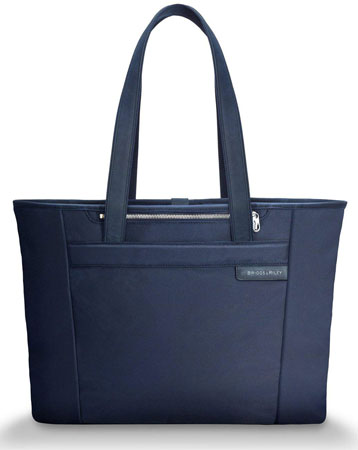 The Briggs & Riley Baseline Tote is well-crafted from ballistic nylon. It not only looks pretty, but it's ready for daily use. The outer fabric is abrasion resistant, water repellent, and color fast.
This elegant and sophisticated tote will get you where you're going in style. Luxurious leather shoulder straps are both comfortable and classy. It's easy on the shoulder (as long as you don't over-pack) , and easy on the eye whatever occasion you're using it for. Feet on the bottom of the bag protect the material from damage when you set it on any surfaces or have to jam it into an overhead compartment.
Exterior pockets are low profile, and well placed for easy access.  A front pocket with a magnetic closure can be used to hold your cell phone, travel documents, or frequently used items. A dual purpose slip-through back pocket is also added allowing the bag to slide over any luggage handle for easy transport.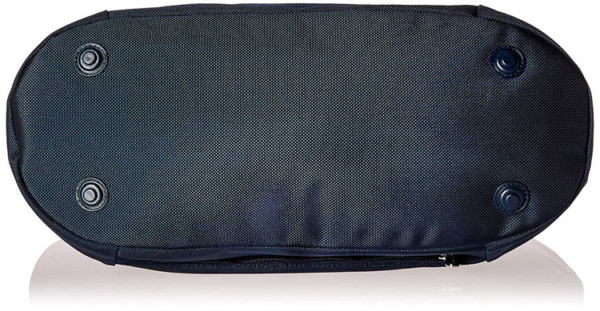 Color Options

The Briggs & Riley Baseline Tote comes in three colors, Black, Navy, and Olive. All three colors are versatile and contemporary for a minimalist classy style.
Interior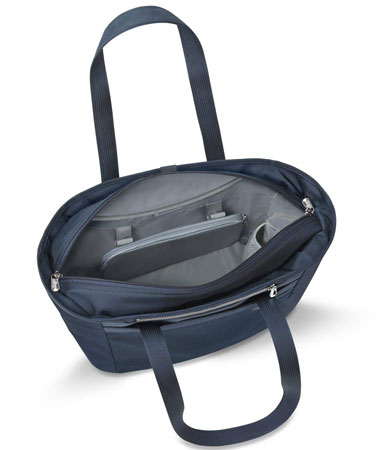 Whether you carry it for everyday business or otherwise, as your personal item on a flight, or pack for an overnight trip, this classy tote is spacious and functional. The Briggs & Riley Baseline Tote features a roomy main compartment with a convenient recessed top zipper closure. It's definitely large enough for clothing and accessories for a day or two of travel.
Interior pockets are well equipped for maximum organization. On one side it feature an internal zipper pocket, two stretchy pockets, and a key keeper. On the opposite side a snap-in removable waterproof bag is smartly added for toiletries or makeup. A waterproof water bottle pocket is also available and provides safe storage for a beverage.
In case you misplace this tote, a secured luggage Hhde-away ID card is provided in concealed slot.
Durability
It's all in Briggs & Riley's motto "Engineered for reality, guaranteed for life." That's a big promise to live up to. But it seems they have once again delivered with this tote.
As mentioned before the tote is crafted from a ballistic nylon outer fabric that resists wear, water, dirt and abrasion. This tough, durable fabric stands up to whatever nature throws at it. It's easy to clean and stays nice looking even with repeated use. Self-repairing YKK® zippers allow for smooth zipper action with lockable double zipper pulls. The leather/webbing straps also seem to hold up very well.
Price
This tote goes for around $180, depending on the sale, and the color.
Whew! Throwing down nearly $200 bucks for a tote seems like a lot to some. But considering this bag is extremely durable and comes with a lifetime warranty, I'd say it's totally worth it.
The design is pretty timeless too, which is good, because once you buy it, you might just have it forever.
User Reviews
User reviews on various websites average around 4.6 stars out of 5.


Some of the things that user reviews often brought up were:
Very sturdy & durable
Roomy interior
Uncomfortable to carry
Again, durability is to hallmark to this Baseline tote from Briggs and Riley. If you want a travel bag that will last for years this is a smart buy. Standing up to whatever comes your way, it is ware and water resistant. Users are very happy with how it preforms even in daily use. And in the rare instance of a bag malfunction, users report customer service representatives were generally easy to work with, and the product repair was satifactory.
On top on the high quality durability this bag offers, it's spacious and well-fitted for travel. In business and personal travel users report this bag can fit a a sufficient amount of travel gear. One user fit a laptop, files, notepad, magazines, iPad, headset, chargers, umbrella, water bottle, clothes for a day trip and even an extra pair of shoes. There is plenty of space to use this as a "weekender". The convenient pockets also make travel easier. The outer pockets are easy to access so you can speed though security and boarding. The dual-purpose, slip-through back pocket allows tote to slip over the handle of your other bags for consolidated transport.
Any bag that you pack too full is going to pinch on the shoulders overtime. Even though the straps on this bag are made to be comfortable if you have back problems a shoulder tote may not be the best option for you. In such a case we recommend a bag with wheels like Delsey Underseat Tote. If you're prepared to carry a shoulder bound tote, or pack a little lighter this Briggs and Riley Baseline Tote is a great buy.
Summary | Briggs & Riley Baseline Travel Tote
Pros
Durable water resistant fabric
Excellent organizational options
Spacious
Lifetime warranty
Verdict
This Briggs & Riley Baseline Travel Tote found on Amazon, is a perfect complement for every day use or any trip. As far as durability, it can be counted on for years to come. 
The design is functional and the interior space is smartly engineered with well-placed pockets and plenty of space. It's the perfect size to slip in an overhead compartment or to slide under your seat right at your feet and easy to reach.
Even though it's pricey, the lifetime warranty make it well worth the cost. This would also make a very thoughtful gift for a loved one who travels regularly.