Samsonite Zalia Backpack Review
PRODUCT GRADE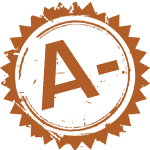 As I checked out the specs on this Samsonite Zalia Backpack, I started thinking of all the ways backpacks are superior to a tote bag. I mean don't get me wrong, I do love a good tote. But backpacks just have so much to offer. I may be a little obsessed with them now. And this one is obsession worthy.
Samsonite really delivered on style and functionality with this contemporary looking travel backpack. Usually backpacks look a little too school-like for me. And for a 30 year old, who actually still looks 16, I don't exactly want to add to my childish look. I know, woe is me. Anyway this backpack is actually very professional looking. Mature, yet still hip and recent.
Style meets real-world functionality. Read on to learn the many reasons why this Samsonite Zalia Backpack is so great.
Features
BASICS
Case:

Durable Nylon fabric

Color Options: Nude, Black
Weight: 2.00 lbs
Size:

17.30″ X 12.20″ X 7.10″ 
SELLING POINTS
Durable high-quality material
Professional yet modern
Lightweight and compact
Functional features for versatile use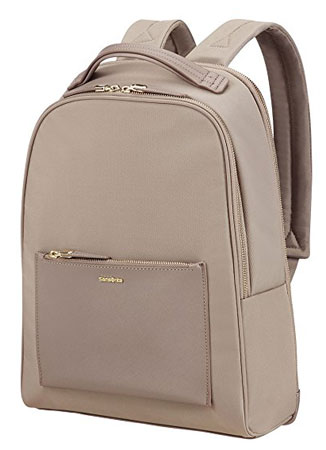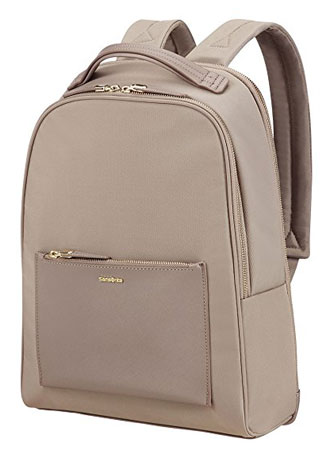 Design | Samsonite Zalia Backpack
Exterior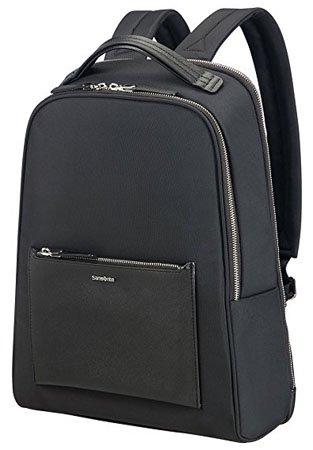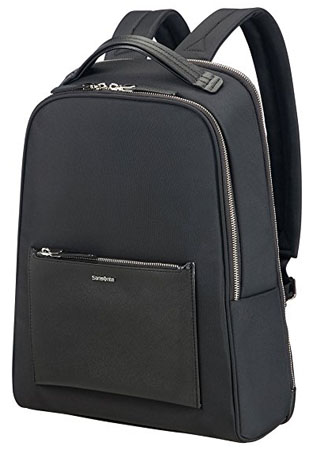 I love the simple exterior appearance of this Samsonite Zalia Backpack. The quality nylon creates smooth clean shapes that are complimented by metal hardware. The gold accents, including the exposed zipper on the nude colored bag, are fresh yet refined. The hardware on the black backpack is silver. The design has a no-frills feminine look. Just like the other piece in the Zalia line, it's a classic style with a up-to-date twist.
The sophisticated brushed pattern gives the bag a subtle textured look and feel. The fabric seems to hold up quite well and can be easily spot cleaned. The outside has a smaller nicely placed zipper closed pocket. For me this will prevent frustration! The outside compartment is just right for storing a passport, tickets, and other necessities.
There is a top sturdy fabric handle for handheld use. To free up your hands, there are two adjustable straps for looping over your shoulders. When I lived in Africa for two years I carried a backpack like this everywhere. One of the best things about backpacks are their ability to be worn on the back, or the front. I often wore mine front facing to protect my valuables and for easy access. It's also great when maneuvering through a narrow plane isle. Instead of whipping my bag into my fellow passengers' face I can hold if facing forward, while still having the use of my hands.
The back straps on this Samsonite Zalia backpack are lightly padded and comfortable. They don't cut into you, rather the well-crafted cushions sit comfortably on the shoulders.
Again this bag has the handy SmartSleeve feature. The SmartSleeve slips right on to a handle for securing this bag on top of a another piece of luggage.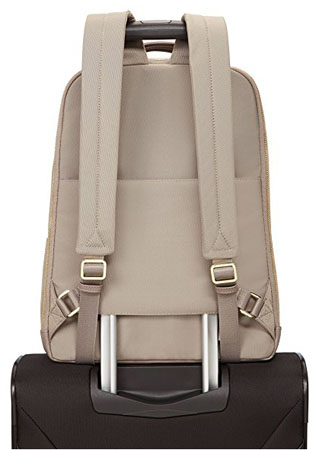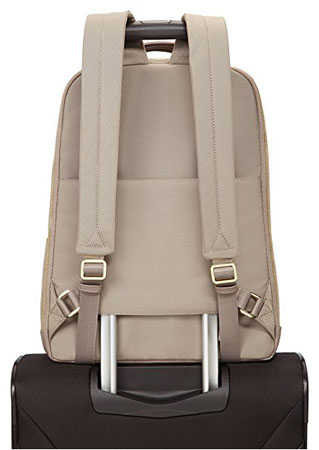 Color Options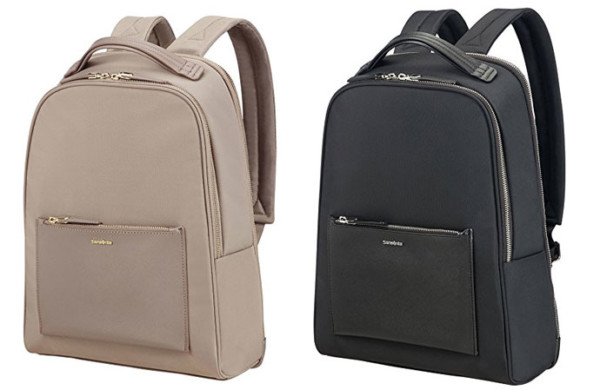 The Samsonite Zalia Backpack comes in two colors: Nude with gold accents and Black with silver accents.
As with the other pieces in the Zalia collection, my favorite color choice is the nude. I just find it much more versatile. The hardware is gold on the nude bag. Gold hardware can look super cheap. But since Samsonite uses high quality material, it looks lovely. It gives it a fresh, less conservative look, while still looking classic. The black is accented with silver hardware. Black is also a nice option for an even more traditional style.
Speaking of traditional. If Samsonite added, even a few more traditional color choices, I think that would be a smart design choice. For example I'd love to see this bag in a dark navy, or even a muted pewter. More color options would be one of the few things I can think of that could bring my review rating up. A two-toned Zalia Backpack would also be beautiful… Just remember I came up with that idea, Samsonite.
Interior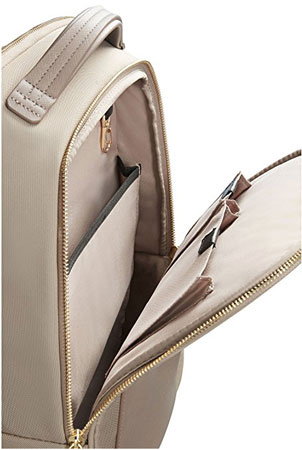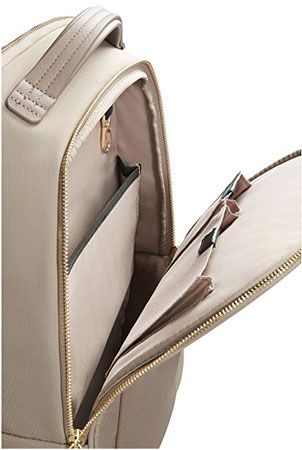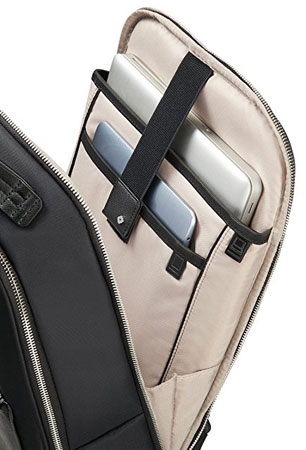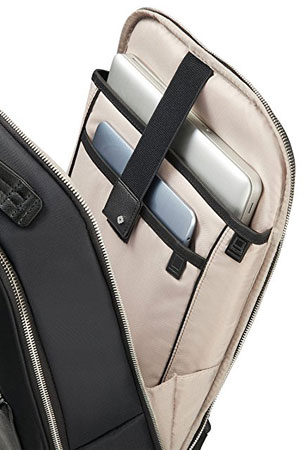 Inside, the Samsonite Zalia Backpack has two main compartments. The front compartment has handy cellphone, pen and coin pockets. It even comes with a little clasp for a key ring.
The back main compartment fits up to a 14.1″ laptop and a 10.1″ tablet. Even the bag looks petite, it can actually hold quite a bit. It's got smartly designed structured interior, so papers and such can be kept tidy. A matching removable document holder is also included, making this bag even more business friendly.
The lining internally is soft and satin-like. The nude color option has matching nude lining. The black bag has a light nude color lining.
The compartments of the bag are very nicely arranged. Everything a business woman could need for a meeting or day trip, can fit comfortably and securely inside.
Durability
I travel hard and frequent. As I've said, I lived in third-world Africa for two years, which exposed me, and my luggage to all sorts of elements and dangers. When it comes to travel bags, I know I want one I can really bank on. A bag that is stylish, but durable enough to withstand my journeys.
Samsonite claims that this is high quality and very durable nylon material. I trust the Samsonite brand, as I've yet to be disappointed with their product longevity.
The exterior is made of a flexible water-resistant material designed to handle frequent travel. It can be easily cleaned without wearing down. Protective metal studs on bottom of bag are another feature that adds endurance to the Samsonite Zalia Backpack.
This is definitely a dependable quality backpack. Staying true to Samsonite's 100+ year reputation of well-crafted durable luggage.
Price
So, it is a little pricey at around $130, (depending on sales and promotions). Of course, there are cheaper name-brand backpacks on the market. Not all have the same quality of material like Samsonite does though. This high quality material could last for years if well-maintained. I also haven't seen many bags with as many organizational features. So I do believe this is a smart buy.
For me, this style is feminine and classic, yet well-crafted for long time use. I purchased my last backpack for $50 on sale, but unfortunately the material started peeling within a few months. Instead of getting a bag that will fall into an early retirement, I'd say it's worth it to spend a little extra on more durable backpack. Especially if you can snag it while it's on sale!
User Reviews
User reviews on various websites average around 4 stars out of 5.


Some of the things that user reviews often brought up were:
High Quality
Perfect size
Professional and business like
Since this Samsonite line is very new there are few online reviews. However, users have very positive feedback so far. Like me, they all say this is a well designed, professional, yet stylish bag. It's features and exceptional organization make it a great bag for everyday use.
The backpack straps are well-crafted and comfortable on the shoulders. Even though it's petite and lightweight, it can actually hold a lot, including a laptop and tablet. Some college students have even used this bag and said it's excellent for carrying books.
Just be careful not to stuff it too full. One customer did report a jammed zipper that split. This was the only negative review I could find, but it's still a concern. Samsonite luggage is always performance tested, at fully loaded capacity, using stringent quality control standards. However, there's always a possibility for human error of manufacture defect.
I'm confident that as this product is on the market longer it will continue to just get better with reviews. 
Summary | Samsonite Zalia Backpack
Pros
Stylish design
Durable nylon material
Comfortable shoulder straps
Practical interior organization
Cons
Price, especially if not bought when on sale
Verdict
The Samsonite Zalia Backpack is an excellent business backpack found on Amazon.
The design is well-crafted and durable, along with a contemporary fashionable look. Samsonite's luggage offers well organized main compartments perfect for a professional woman.
There are cheaper business backpacks on the market, but this one has a lot to offer in quality, style, and practicality.
You ladies may also enjoy the Samsonite Zalia Bailhandle or the Delsey Tote, one of my favorites.
For you men out there, I recommend the sophisticated Fossil Saffiano Messenger Bag.
Available on Amazon
Similar Products