Samsonite Zalia Bailhandle Review
PRODUCT GRADE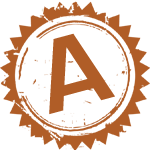 My first reaction to this Samsonite Zalia Organized Bailhandle was "Yes Yes Yes!". This piece is a woman's dream bag. The timeless classic design really never goes out of style. It looks like your everyday go-to handbag, but it's actually made for travel.
I love how the bag is organized with compartments on the inside and outside. It the perfect size, and has all the features a girl could want in a secondary carry-on or for a day trip. There is space for a laptop, magazines, phone, chargers, snacks and other person items. It's structured and well organized so all my carry-on essentials stay nice and tidy.
This piece is also sleek and modern looking. It could really be used as a purse or a business tote. It's just the right size to push under your seat or throw into an overhead compartment when traveling by air.
Simply put, I really really like Samsonite Zalia Bailhandle. Read on to learn the many reasons why.
Features
BASICS
Case:  Nylon with Saffiano PU details
Wheels: None
Color Options: Nude, Black
Weight: 2.2 lbs
All Sizes Available: 14.1″
SELLING POINTS
Durable material with protective metal studs on bottom
Functional for everyday use
Sleek versatile color options
Modern attractive design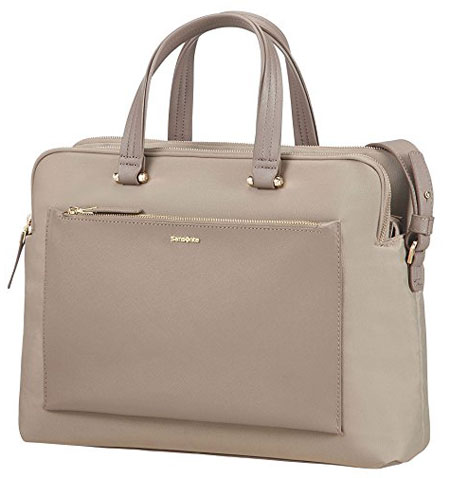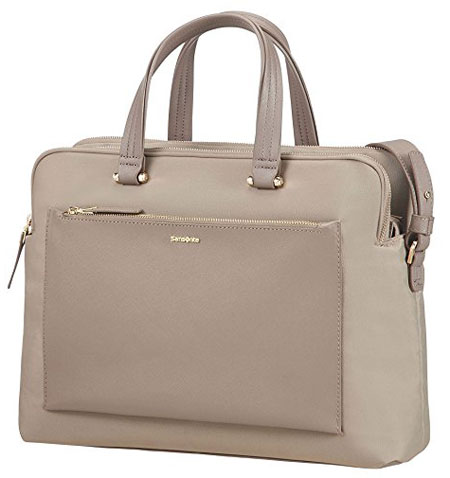 Exterior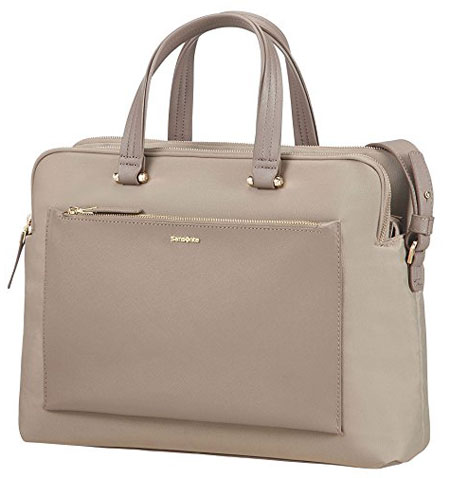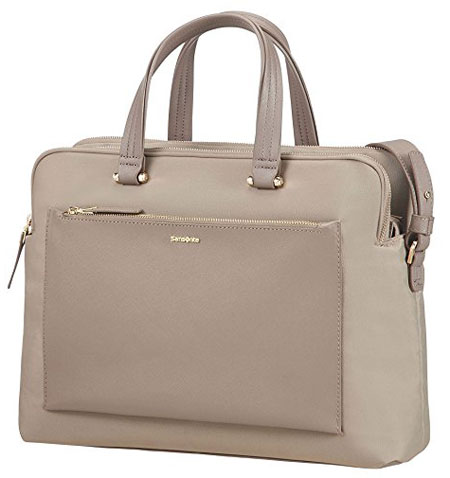 The Samsonite Zalia Organized Bailhandle is made of a ddurable Nylon fabric. The subtle brushed pattern gives the bag a nice textured look and feel. The fabric seems to hold up quite well and can be easily wiped down.
The gold accents, including the exposed zipper, on the nude colored bag are fashion forward, yet classy. It gives a feminine touch without going over-board. The accents of the black bag are silver.
The outside has a smaller well-placed zipper closed pocket. Perfect for storing a passport, tickets, and of course snacks. It's easier to stay organized with this bag because of the convenient compartments.
There are two sturdy round top handles for handheld use. To free up your hands, there is also a long adjustable strap for looping over your shoulder. I also love the back strap which Samsonite has dubbed the Smart Sleeve feature. The Smart Sleeve slips right on to a handle for securing this bag on top of a another piece of luggage.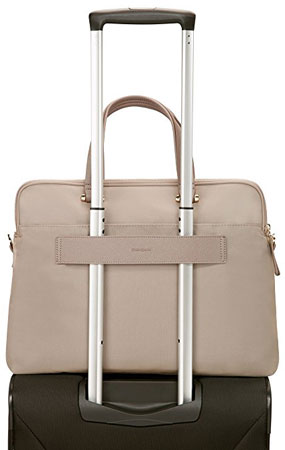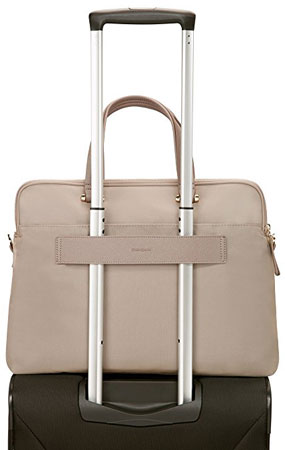 Color Options
The Samsonite Zalia Bailhandle comes in two colors: Nude with gold accents and Black with silver accents.
My favorite is the nude, because it really goes with everything. Just like a good pair of nude pumps! Essential! The hardware is gold on the nude bag, but it doesn't look cheap like some gold accents I've seen. The black is accented with silver hardware. Black is also a nice option, and looks quite "businessy".
I think a more bold pop color would be a popular choice in this bag. It would bring my review rating up a couple notches. I'd love to see a hot pink color option. Maybe it wouldn't be as "businessy" looking but it would certainly be more feminine. I'm all about owning my femininity. I am woman hear me roar!
Interior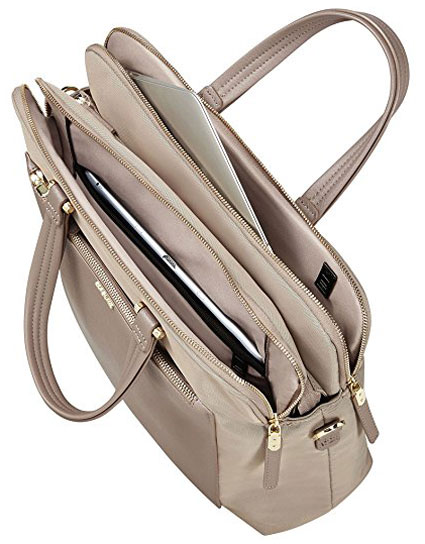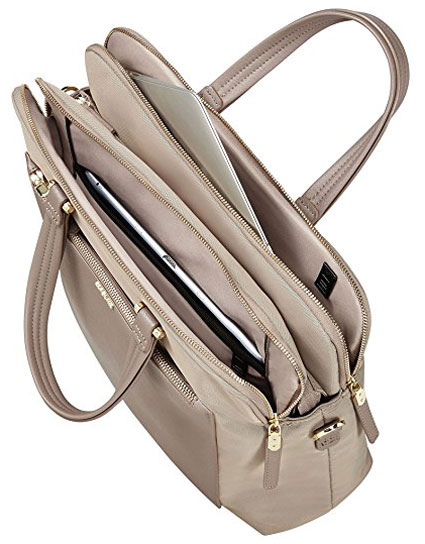 Inside, the Samsonite Zalia Bailhandle has three main zippered compartments. Also included are two pockets with no zipper on each side, which make it easy to slide in a magazine or papers. The laptop and tablet compartments inside fit up to a 14.1″ laptop or tablet.
The lining internally is soft and satin-like. The nude color option has matching nude lining. The black bag has a light nude color lining.
The compartments of the bag are very nicely arranged. Organized is in the name for a reason!
Durability
When it comes to travel bags, I know I want one I can really depend on. A a good bag that is stylish, but durable enough to withstand my travels.
Samsonite claims that this nylon material is very durable. I trust the Samsonite brand, as I've yet to be disappointed with their product longevity. 
The exterior is made of a flexible material designed to handle regular travel. I love that while flexible, it's still structured so my papers and magazines keep their shape and don't get dog-eared or wrinkled. It can also be easily cleaned without wearing out.
This bag is definitely well-made and durable. This bag lives up to Samsonite's reputation when it comes to durability. 
Price
At around $170 and up (depending on sales and promotions) it's definitely not the cheapest travel bag on the market. And for many this will be outside of their budget. It really depends how much you are willing to spend on a handbag to get the style and durability that we all want.
For me, this style is timeless because of it's neutral colors and classic design. Instead of getting a bag that will fall apart within a year or two, if you can snag this when on sale, I'd say it's worth it to spend a little extra to get something that will last.
User Reviews
User reviews on various websites average around 5 stars out of 5.


Some of the things that user reviews often brought up were:
Stylish
Durable
Functional
Since this Samsonite line is very new there are few online reviews. However, users have nothing but positive feedback so far. Like me, they all say this is a well designed, professional, yet modern bag. It's features and exceptional organization make it a great bag for everyday use.
The bailhandles are comfortable in the hand or on the shoulder, and they're made to last. With this quality material we can expect years of use.
As this product is on the market longer it wouldn't surprise me at all if it continues to stay around the the 5 star mark.
Summary | Samsonite Zalia Bailhandle
Pros
Stylish design
Durable material
Perfect size for everyday use
Functional pockets and organization
Cons
Price, especially if not bought when on sale
Verdict
The Samsonite Zalia Bailhandle Bag (found on Amazon) is great for everyday use and business trips.
Samsonite's luggage offers well organized main compartments and a surplus of secondary pockets. The design is durable and professional, along with a classic stylish look.
It's not the cheapest business bag, but it's timeless design will never go out of style, and the durable material is sure to last years.
Alternatively I also recommend the Delsey Tote.
Available on Amazon
Similar Products