When shopping for a good carry-on it can be overwhelming to say the least. There are hundreds upon hundreds of different carry-on luggage options out there. Many brands even have dozens of options just by themselves. So how can you pick one that will fit your needs, style and budget? To point you in the right direction we went through to give you the highlights of our top picks.
I didn't rank them in order of preference, as the ranking really depends on your needs, design tastes, and budget.
Do you have a carry-on that you love that is not listed? Then let me know in the comments and I will try to review it!
ECONOMY: Rockland Melbourne Carry-On
Wow 34 different colors/designs! The Rockland Melbourne Carry-On has an option for everyone here. Apart from that, this luggage piece has an excellent reputation for durability and functionality. The price is also very affordable between $40-$70 depending on the color. I can say this is a smart buy, from personal hands on experience, as I have owned this carry-on myself for the last 5 years.
34 different color designs
Excellent reputation
Affordable and durable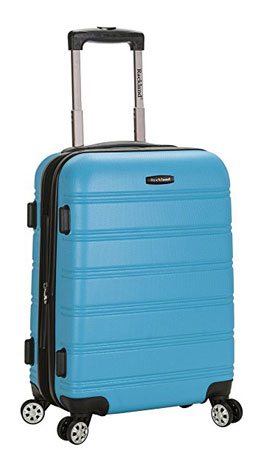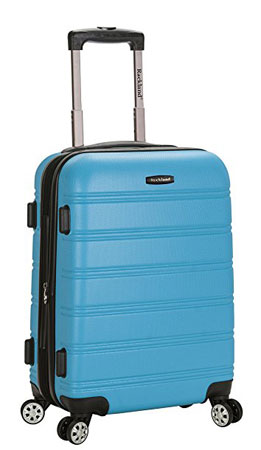 This expandable abs carry on from Rockland is lightweight yet extremely durable material. The multi-directional spinner wheels don't disappoint as they roll with ease. A sturdy ergonomic aluminum telescoping handle is reliable and retracts with ease.
The interior is a simple design with two main compartment. Top side you have a zippered section, and the other side is equipped with compression straps. There is a little zipper pouch good for storing jewelry and small things you want to keep separate.
This hard-side case keeps it's shape even after years of use. Besides some scuffing that may occur this bag is easy to clean and has lasted me for years, in trips to 10 countries!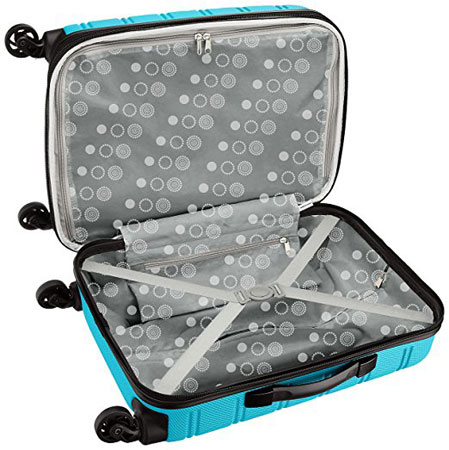 You really can't go wrong with this bag. Whether it's business or leisure, this is an exceptional, durable, economical carry-on. 
ECONOMY: AmazonBasics Hardside Spinner Carry-On
Economical price
Durable hardside exterior
Lightweight material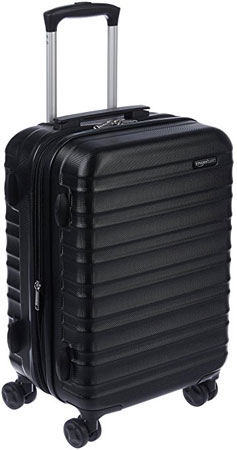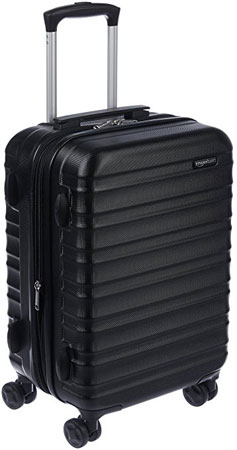 This 20-inch hardside spinner carry-on comes in 4 colors, and is great for weekend getaways or as international carry-on. The protective hard shell has a scratch-resistant finish. It's made of extra-thick, thicker than the competition ABS, for enhanced strength and durability. 
4 double spinner wheels ensure smooth-rolling mobility in any direction. It's also equipped with a solid telescoping handle for comfortable maneuvering, plus securely mounted short handle.
A fully lined interior with a divider is provided for good organization. The soft polyester interior organizer with 3 zippered pockets is exceptionally convenient for storing smaller items. This baby is expandable for up to 15% additional packing capacity.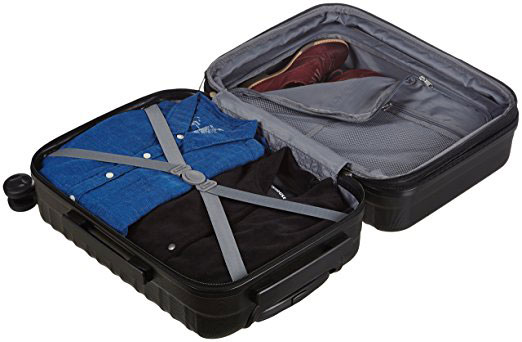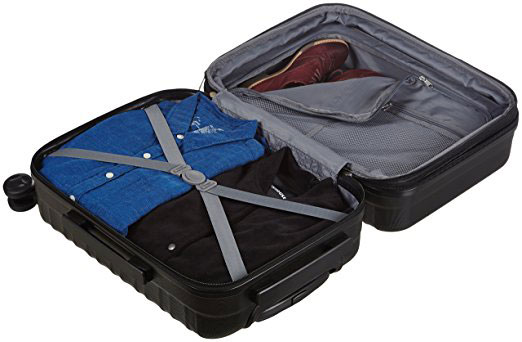 This bag will be in the budget of most travelers at only $50. It's a great value, with enhanced durability and a practical simple design.
STYLISH LADIES: Delsey Chatelet Carry-On
The Delsey Chatetlet is a classy design that is full of features and extremely durable. The quality easily makes the higher price point worth every dime. It's also available in several sizes and colors.
Also check out Melissa's full review of the Delsey Chatelet luxury carry-on.
Luxury design with a vintage inspired look
High quality and durable materials
Impressive worldwide 10 year warranty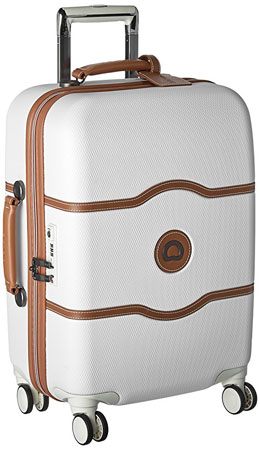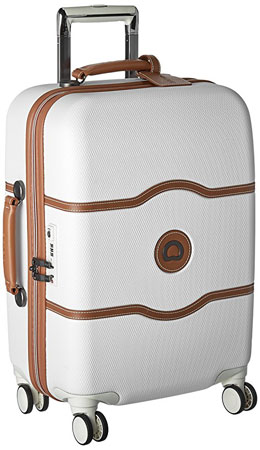 A hard case with a soft clean touch of elegant leather trims. There are 3 handles; a retractable silver handle on top, and leather handles on the top and side. One of the coolest things about this piece is the wheel locking mechanism. It's actually a nifty dial on the back you can turn to "stop" or "go".
Overall color options are stylish and expensive looking. That luxury "posh" vibe is all over this suitcase. Delsey has given it a soft, subtly feminine look with the same durability of other hard cases. Don't worry though guys, it's still gender neutral if you're worried about that.
The fully lined interior offers two packing compartments with a zippered divider on one side and tie-down straps on the other. It also comes with 2 separate matching bags made of the same soft lining. There is also even a flexible clothes hanger inside.
One of my favorite features of the Delsey Chatelet is how even the inside lining was given attention. It's a bold but elegant crimson red color. What an improvement over the standard 50 shades of gray most suitcases use for their interior. It also comes in other sizes and color options.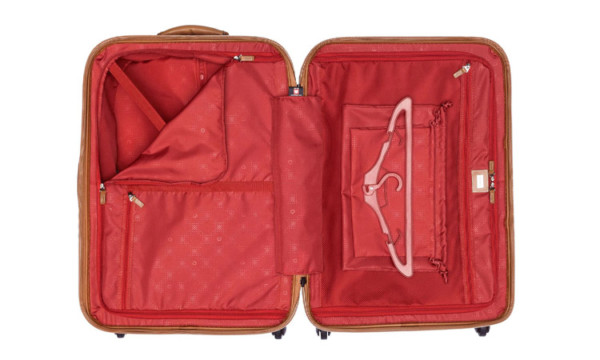 I think most people would see this as a very high quality and polished looking piece of luggage with top-notch features. I love how it has a feminine touch, but is still gender neutral enough not feel too "girly".
Overall it's well priced at around $200, making it an affordable luxury carry-on. For more information on this product, read our full review of the Delsey Chatelet.
STYLISH LADIES: Nicole Miller Rainbow Carry-On
7 feminine colors/patterns
Affordable price
Stylish yet durable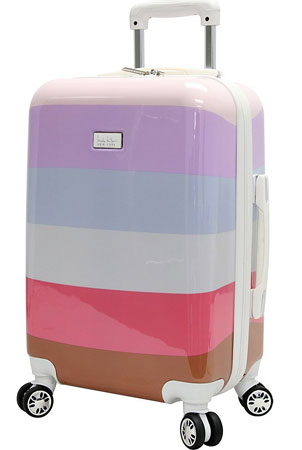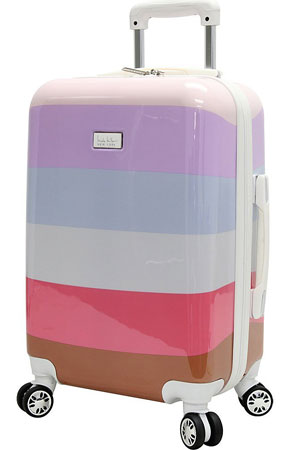 Once again style meets functionality. This lovely bag is sure to stand out with it's eye catching design. If you're looking to make your mark in unique and classy style this is a fine choice to accessorize your life.
The Nicole Miller Hardside Rainbow Stripe carry-on is constructed from ABS which makes it fashionable and durable. It features 360-degree spinner wheels that let you to zip through the airport in ease and style. A telescopic push-button handle system with ergonomic grip is also provided for comfort and convenience.
Also quite lovely is the fully lined interior. The soft material is shiny and a light pink feminine color for an extra touch of style. It's a simple design with two packing compartments with a zippered divider on one side and tie-down straps on the other.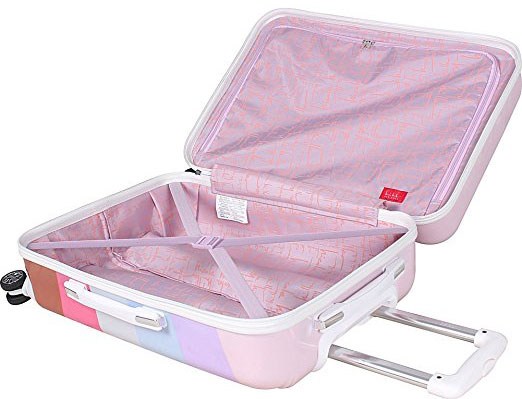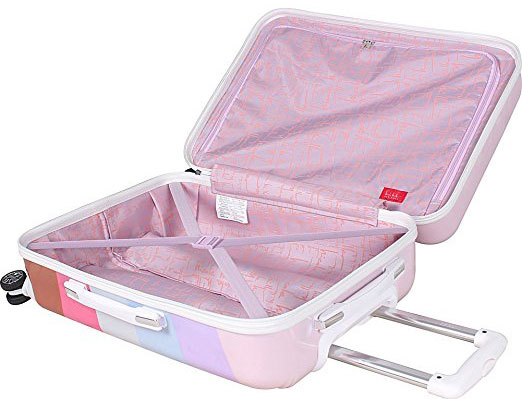 Ladies and girls alike with love this stunning carry-on. At just under $70 it's also quite affordable, but looks expensive and refined. 
STYLISH MEN: Samsonite Inova Carry-On
Sexy and classy. If I have to summarize the Samsonite Inova into a few words, I feel that best captures this carry-on suitcase.
This suitcase glides across the ground as if the wheels were covered in WD-40, at top of the class in durability, and feels as expensive as it looks. Also check out our in-depth review of the Samsonite Inova.
Hardside (hardcase) from 100% Makrolon polycarbonate
Super smooth multi-directional wheels
Secure TSA approved lock
Great interior organization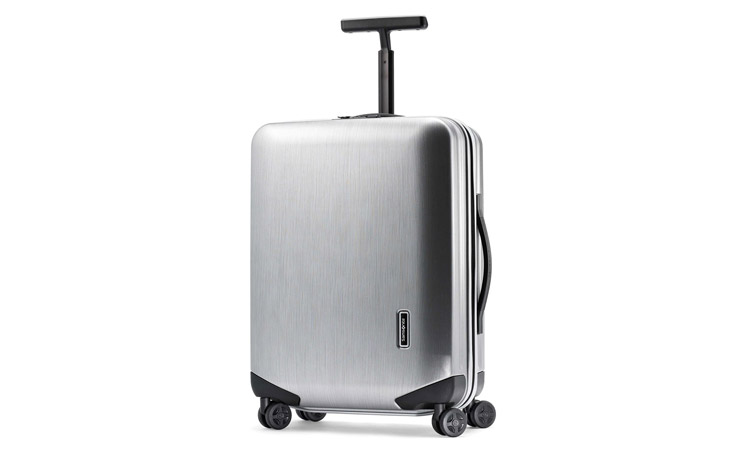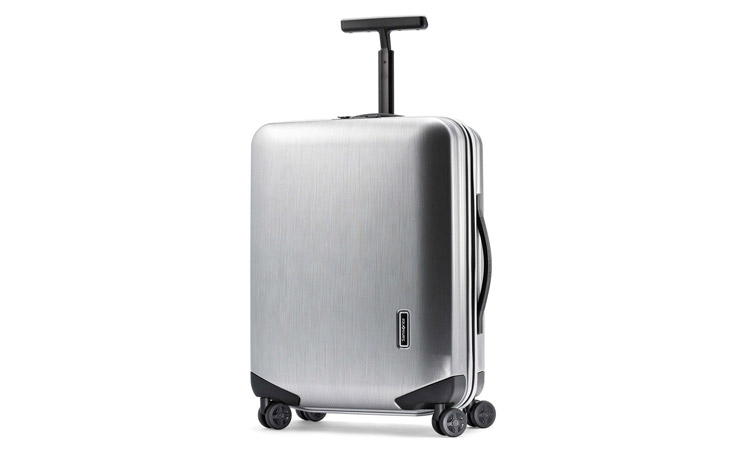 You can actually fit a lot in this Samsonite Carry-On. With a clam-shell design, the Inova has two compartments. Each compartment has its own mesh, zippered separator.
Compared to the single wheels that most luggage uses, the four double spinner wheels makes maneuverability effortless.
The Makrolon polycarbonate hardside case is the latest and greatest in luggage plastics, making it extremely impact-resistant and durable. This poly material no doubt greatly increases the Samsonite Inova's price, but it's also one of the toughest carry-ons you can currently buy. PERIOD.
Although I listed this under the category for men, this is a classy carry-on suitcase that works for men and women. It's not flashy, but it's classic, stylish design exudes today's popular less-is-more trend.
With super smooth wheels, an exceptionally durable shell, and great interior organization the Samsonite Inova wins our top carry-on pick for the Men's Category.
STYLISH MEN: Timbuk2 Copilot Carry-On
The Timbuk2 Copilot's materials are exceptionally durable and the frame provides great protection for a softside suitcase. Its uniquely designed compartments make organization simple and makes the Timbuk2 Copilot one of our favorites.
We also have a very detailed review of the Copilot, so check it out if this suitcase interests you.
Nylon and fabric reinforced tarpaulin shell
Super quiet 2 "skateboard" wheels
Expandable top compartment
Interior dividers on both sides
The great thing about the Copilot is its unique fabric. It's not the typical textured nylon. Instead, it's a nylon reinforced tarpaulin. It looks more modern and sleek than most fabric luggage, cleans easily, and is difficult to stain. The wheels are super quiet, smooth and replaceable!
The Timbuk2 Copilot has mesh dividers on both sides and the very front of the Copilot has a thin pocket to store a 13″ laptop or tablet.
Above the thin, laptop-style pocket is a zippered compartment on the very top. It doesn't hold much, but it's great to hold small items like a phone charger, tickets, or small food items.
It's durable fabric, whisper-quiet wheels, and stylish design make it easy to travel with. The multi-pocket design and interior dividers make organization simple and common items quickly accessible.
For more pictures and details, read our full review on the Timbuk 2 Copilot.
LUXURY: Bric's Luggage Bellagio Carry-On
This beautiful Bric's Luggage Bellagio Carry-On has a luxurious European look, and is made of fine Italian material like Tuscan leather. Sounds fancy, doesn't it?
Luxury design with Italian Leather trim
High quality interior fabric
Durable and water-resistant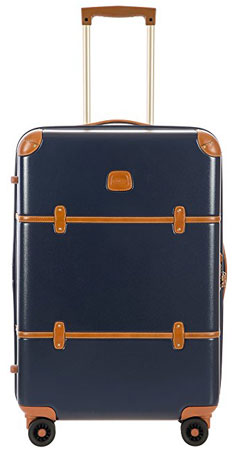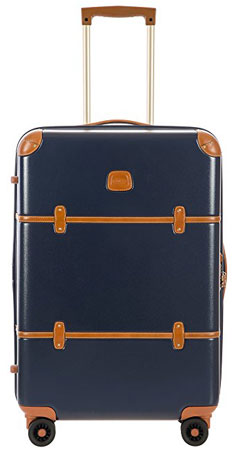 This Bric's Luggage Bellagio Ultra-Light 21″ Carry-on hard case is made of molded polycarbonate and trimmed with full grain Tuscan leather. Overall color options are stylish and expensive looking. A European air of luxury exudes from this suitcase, making it classic and timeless in design. 
It's more than a pretty face too, with features like a water-resistant sealed zipper and a TSA approved combination lock. The beautiful exterior is complete with a telescopic 3-stage pull handle and, 4 smooth rolling multi-directional wheels.
The fully lined interior offers two packing compartments with a zippered divider on one side and compression straps on the other. The inside is also very well-crafted and feels expensive and high quality. This luxury carry-on also comes in other sizes and color options.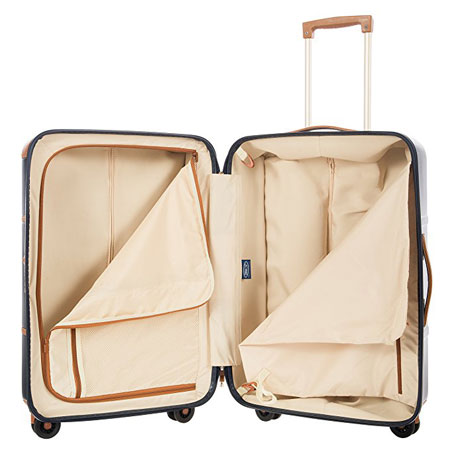 This is a great gift for a travel loving loved one. It's sure to dazzle guys and ladies alike. Overall it's well priced at around $300 and up, which is expensive, but in my opinion worth it, if you want something with high quality and luxury.
GIRLS: Rockland Owl Carry-On
The Rockland Owl or Rockland Carry-On 20″ is a sweet and playful suitcase. It really caught my eye as the colorful design is unique and fun for little girls. I don't think anyone could ever mistake this bag for another because it's so different from your standard princess luggage.
Unique playful design options good for little girls
Lightweight but durable
Exceptionally affordable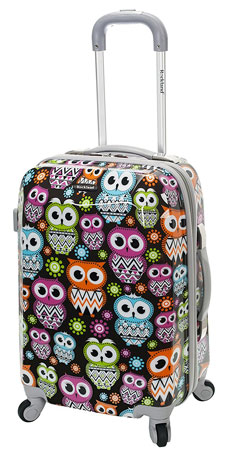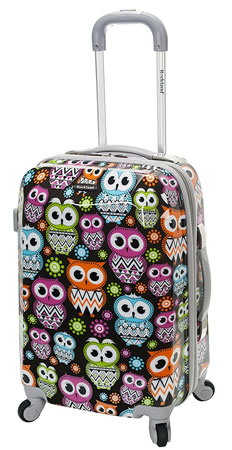 I love how much this Rockland Carry-On stands out. The abstract playful designs makes it so unique among the thousands or more bags at a crowded airport. And there are 9 different fun patterns to choose from which are appropriate for little girls, and young ladies. .
There is a sturdy retractable handle on top in a nice modern silver/grey color. There are also non-retractable handles on the top and side in the same grey color. The handles seem to be very strong, and look like they will hold up well and be comfortable even for little people to pull and push around.
The exterior has a nice glossy finish that can be easily wiped down. Which I love because, God only knows who or what touched our luggage along the way. And we all know how little kids love to put there hands in their mouth. Antibacterial wipes to the rescue!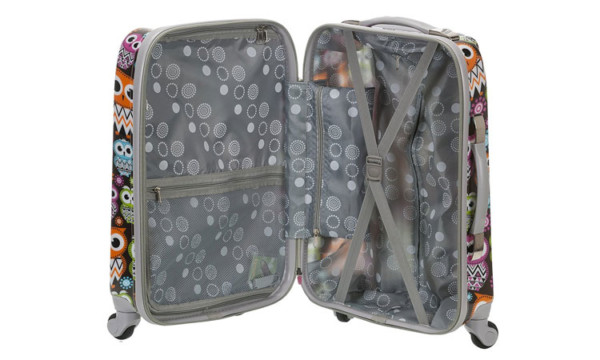 The lively fun options of this suit case really make it stand out in a good way. It's a good choice for a little girl because it's not so kiddish she'd grow out of it and be embarrassed to wheel around, like she might be with a princess bag. The price is really affordable and I think it's a great value for what you get.
BOYS: American Tourister Disney Carry-On
Warning Dad's may want to steal this American Tourister Disney Carry-On from their sons. It's that cool. Disney's relaunch has united families. With that in mind this is a pretty nifty addition to the suitcase family, and would make a great gift for boys. (Along with tickets to come down to Disney World!)
Star Wars design
Durable hardside exterior
Functional interior organizational features with character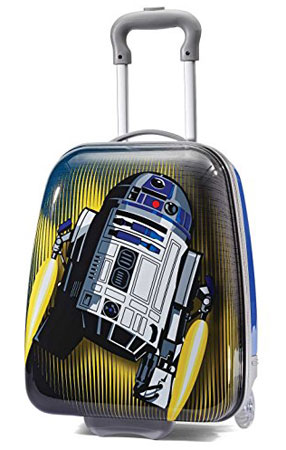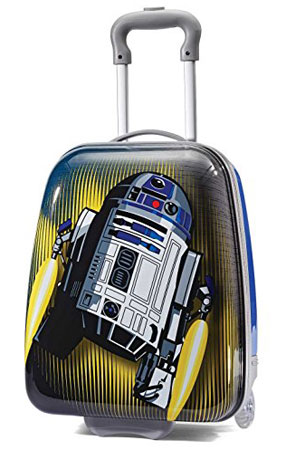 This kid friendly Star Wars bag from American Tourister is well designed with a durable material and plenty of Star Wars character through out. It comes in three diffrent picture desins, but my favorite is R2-D2, because he's a good "guy".
This suitcase looks small, but fits a lot in it. One parent said the family traveled internationally for almost 2 weeks and all her 4 yr old grandson's clothes, shoes, toys, medications, and coloring book and coloring pencils fit inside it. The interior is fully lined with comes with two packing compartments with a zippered divider on one side and compression straps on the other.
Users even reported this case was durable enough for young ones to sit on. Very helpful when their little legs get tired and they need a rest. Although it's equipped with two wheels instead of four like most new bags, it's still easy to maneuver and won't roll away.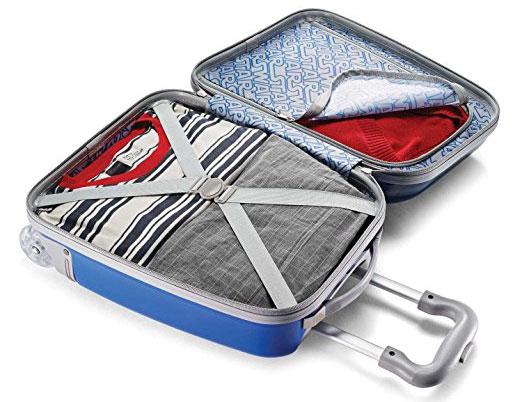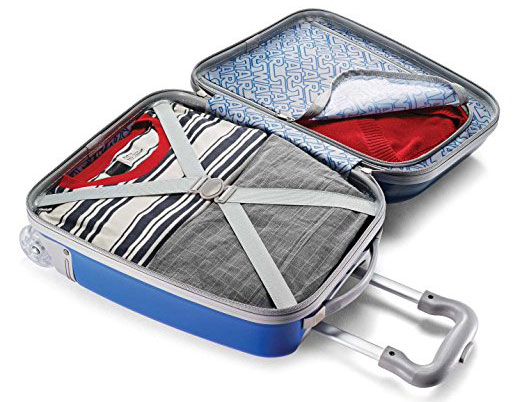 This is the perfect carry-on for little boys. I haven't met one yet that isn't captivated by Star Wars. It's also sturdy and good quality piece at a very reasonable price. The force is strong with this one..
SMART LUGGAGE: BlueSmart Black Edition
Smart luggage with charger, GPS, and digital lock
Lightweight yet durable
Contemporary sleek look with exterior pocket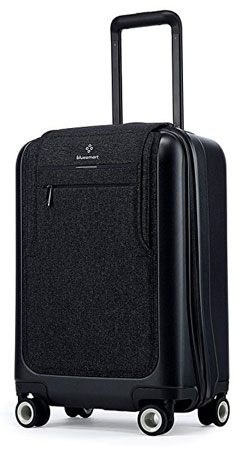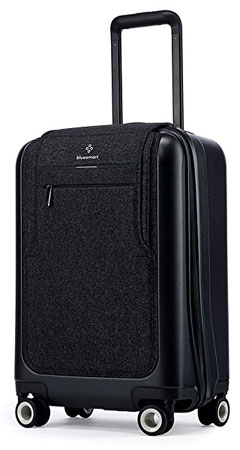 Frequent business travelers, will totally fall in love with this Bluesmart Black Edition International Luggage carry-on! It's sleek, super light-weight and durable with it's scratch resistant Makrolon and reinforced nylon exterior. The pockets and compartments are well-thought-out. With most hardside carry-on luggage you have to unzip the entire suitcase before and after the security line, which is never really convenient. Being able to put a laptop in the front pocket, outside of the actual suitcase, is genius.  
On the inside of the luggage, there is enough space for 2-3 days of travel. There is a dedicated compartment for all your chargers and cords. And get this, we have the ability to charge devices while on the go with the built-in USB charging port that can charge your devices up to six times over.
Another intelligently designed feature is the remote digital lock means you can lock/unlock the suitcase using your phone. On top of that this baby has a built-in 3G + GPS tracker that allows you to locate your suitcase anywhere in the world. Wow! This is the future of luggage right here.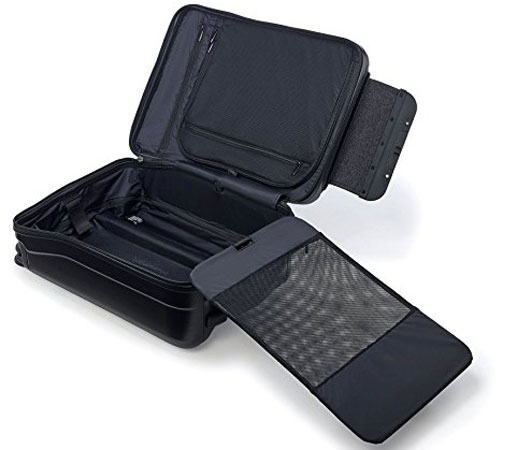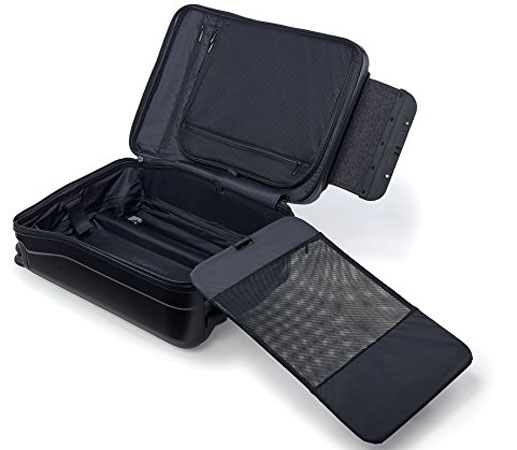 I can think of so many people in my life that would love me forever for gifting this. As I said this really is the future of luggage design. It's pretty much like a robot carry-on which is AWESOME.
A cheaper option is the standard model, the BlueSmart One Smart Luggage.