Samsonite Inova Carry-On Luggage Review
PRODUCT GRADE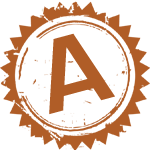 In those movies – movies with the agents in black suits. Sunglasses. Dramatic music beating to each step. And you know that suitcase? The one packed full of neatly stacked $100 bills?
That's pretty much what I think of when I see the Samsonite Inova. Classy. Sexy and classy. Or maybe sexy and then classy?
But does the Samsonite Inova Carry-On hold up well? And what about its crazy high price tag?
Find out and read our review on the Samsonite Inova.
Features
BASICS
Case: Hardside (hardcase) 100% Makrolon polycarbonate
Wheels: Spinner (4 wheels multi-directional)
Color Options: Metallic Silver, Indigo Blue
Size Being Reviewed: 20″
Weight: 6.25 lbs
All Sizes Available: 20″, 28″
Available as Set:  No
SELLING POINTS
Super lightweight & durable
High-end stylish design
4 double-wheeled spinners
Secure TSA approved lock
Exterior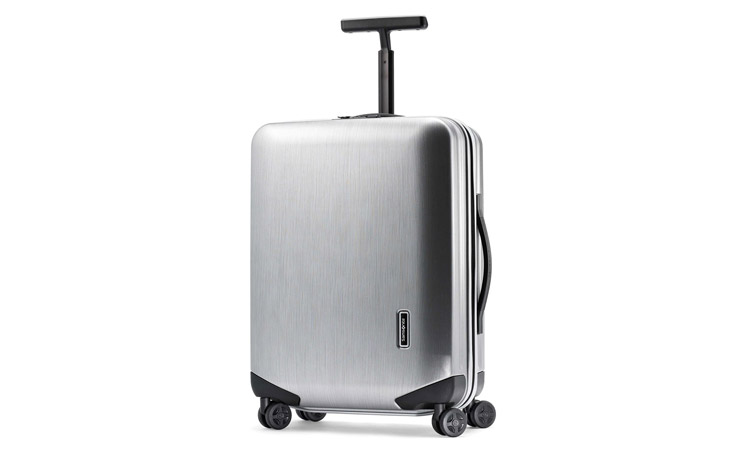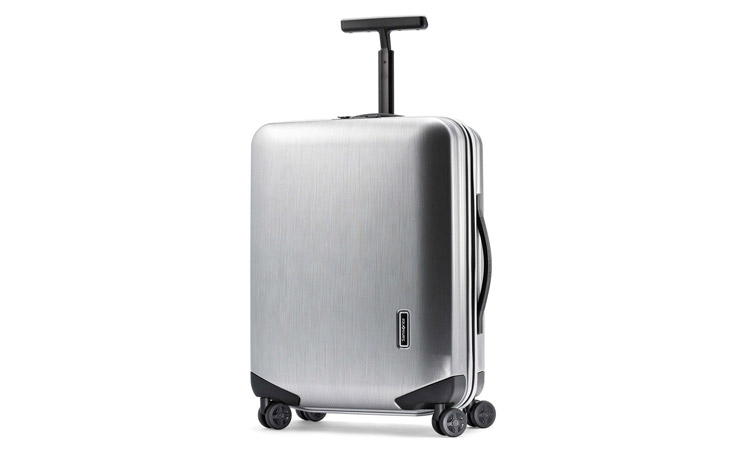 The Samsonite Inova Carry-On has a sleek and simple design.
Its brushed metal texture is just plain sexy. It gives it both a luxury and masculine flare. This also hides scratches really well. The matte black trim and hardware nicely contrast and compliment the design as well.
Thanks to the four double spinner wheels, maneuverability is effortless. Compared to the single wheels that most luggage uses, the double wheels really do make the Inova roll more smoothly.
The retractable handle is solid and performs well. Its design is also very modern and sleek. The grab handles on the side and top are durable and sturdy.
A TSA approved lock keeps your bag secure. You know, just in case you're carrying around stacks of $100 bills with this bling-bling of a suitcase.
Color Options
The Samsonite Inova 20″ Carry-On comes in 2 colors: Metallic Silver and Indigo Blue
You can't go wrong with either color. Both are professional and modern designs.
Interior
You can actually fit a lot in this Samsonite Carry-On.
With a clam-shell design, the Inova has two compartments. Each compartment has its own mesh, zippered separator. I really like dual separators in my luggage, because this keeps everything in place on both sides when opened. To also help keep everything in place, each side has tie-down straps.
Now some luggage will add a zippered pocket or two onto the mesh divider. This is oddly absent with the Samsonite Inova. Perhaps they excluded it to keep with the "less is better" style of the suitcase? It's definitely a small omission, but with its high pricetag I have to knock off a few points from what would have been a perfect design score.
Sizes | Samsonite Inova Carry-On Luggage
The Samsonite Inova Spinner comes in 2 sizes, 20″ and 28″. However, it does not appear that anyone sells them as a set (including Samsonite's own online store).
Durability
The Makrolon polycarbonate hardside case is the latest and greatest in luggage plastics, making it extremely impact-resistant and durable. This poly material no doubt greatly increases the Samsonite Inova's price, but it's also one of the toughest carry-ons you can currently buy.
The brushed metal texture offers a unique design while camouflaging scratches. It's easy to wipe clean and keep looking new.
Equally as tough are the Inova's double spinner wheels. They too are made of the same strong, flexible polycarbonate.
As I went through online reviews I saw next to no complaints from consumers about the Inova's durability. The Inova Carry-On lives up to and even surpasses Samsonite's reputation.
Price
The MSRP is around $230 for the 20″ Inova Carry-On, and it's not commonly found on sale.
There's no doubt, it's not cheap. But it's not cheaply made. The material in the Samsonite Inova is top-notch.
And it's sexy. Professional sexy, that is.
But ultimately the Inova is marketed toward the high-end luggage crowd. Whether you find it's worth the price depends on how much "style" is worth to you.
User Reviews
User reviews on various websites average around 4.6 stars and up, out of 5.


Some of the things that user reviews often brought up were:
Extremely durable
Super lightweight
Lack of interior pockets
The lightweight and durability of this carry-on make it a win-win. The smooth spinning wheels and dual locking handle are sturdy and reliable.
The textured finish of the outer shell easily hides scratches.
Some users were disappointed with the number of interior pockets. I like zipper pockets on the mesh dividers too. But whether this matters to you or not is probably dependent on what luggage you are currently used to.
Summary | Samsonite Inova Carry-On Luggage
Pros
Super lightweight & durable
High-end stylish design
4 double-wheeled spinners
Secure TSA approved lock
Cons
Price, price, and then price
Verdict
If you want the best and the most stylish, and can afford it, then you will be in love with the Samsonite Inova.
Made from the latest and toughest of plastics with double wheels, the Samsonite Inova Carry-On kicks butt on the durability scale. And it's bringing sexy back to luggage.
For a modern but more affordable option, check out my favorite carry-on the Timbuk2 Copilot.
The Delsey Helium Aero is also very stylish and the Rockland Sonic is usually the cheapest (depending on the sale).
Available on Amazon – 20″ & 28″