Top Luxury Carry-On Luggage Review
Most of us, have a few areas in life that we're willing to splurge on. If you travel a lot, especially because you have to, luxury luggage is a worthy investment. If you have to look at it a lot, and use it a lot, you should at least love it.
Whether it's a gift for a loved one, or a gift for yourself, here is my Top Luxury Carry-On Luggage Review. 
1. Tumi Tegra-Lite International Carry-On
The beautiful Tumi Tegra-Lite International Carry-On is the Rolls-Royce of the luggage world. Rolling in with a sophisticated heir of modern, yet classic luxury carry-on. It's well-crafted from high quality Polypropylene Thermoplastic Composite making it lightweight and durable. The hardside case is easy to care for and clean.
Very High Quality
Lightweight yet durable
Contemporary luxury design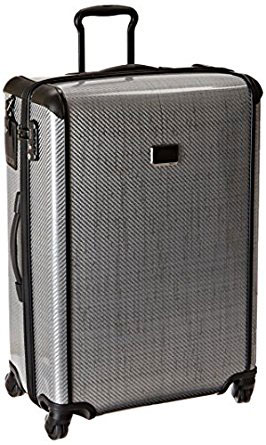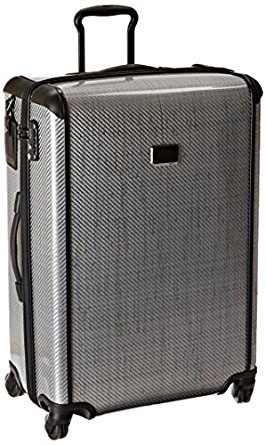 The Tumi Tegra-Lite International Carry-On is equipped with a sturdy three stage telescoping handle crafted from aircraft quality aluminum. Also included for convenience are top and side carry handles, plus a bottom handle. Four patent-pending spinner wheels and back wheel with skids ensure ease of movement, while taking the pressure off the body. The TSA integrated lock is added for security along with unique the Tumi tracing system bar-code.
Tumi did not sacrifice luxury with the fully lined book-case opening of this suitcase. It is well arranged and has a fictional design with multiple pockets and compression straps. A really nice feature is the inside matching removable garment sleeve with mesh pocket.  
This suitcase also comes in several versatile colors and sizes.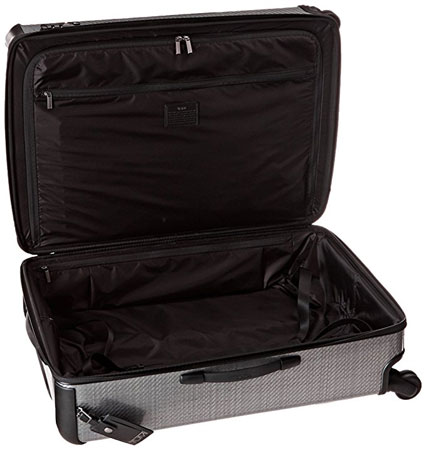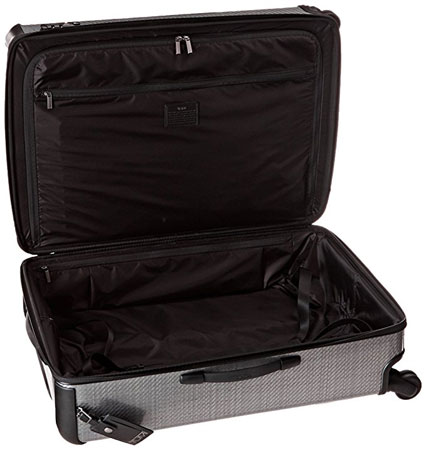 Lightweight in a durable body. Luxury meets functionality. If you're looking for a high-end professional carry-on to meet your travel needs, this is an excellent choice indeed.
2. Delsey Chatelet Carry-on
Luxury design with a vintage inspired look
High quality and durable materials
Impressive worldwide 10 year warranty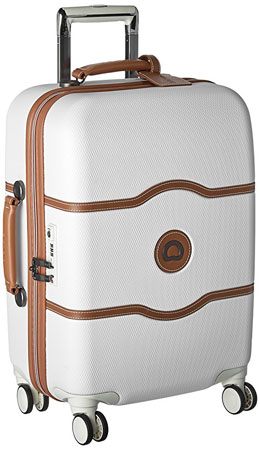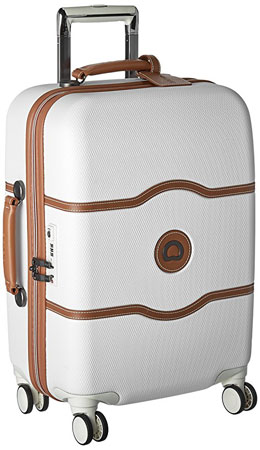 A hard case with a soft clean touch of elegant leather trims. There are 3 handles; a retractable silver handle on top, and leather handles on the top and side. One of the coolest things about this piece is the wheel locking mechanism. It's actually a nifty dial on the back you can turn to "stop" or "go".
Overall color options are stylish and expensive looking. That luxury "posh" vibe is all over this suitcase. Delsey has given it a soft, subtly feminine look with the same durability of other hard cases. Don't worry though guys, it's still gender neutral if you're worried about that.
The fully lined interior offers two packing compartments with a zippered divider on one side and tie-down straps on the other. It also comes with 2 separate matching bags made of the same soft lining. There is also even a flexible clothes hanger inside.
One of my favorite features of the Delsey Chatelet is how even the inside lining was given attention. It's a bold but elegant crimson red color. What an improvement over the standard 50 shades of gray most use for the interior. It also comes in other sizes and color options.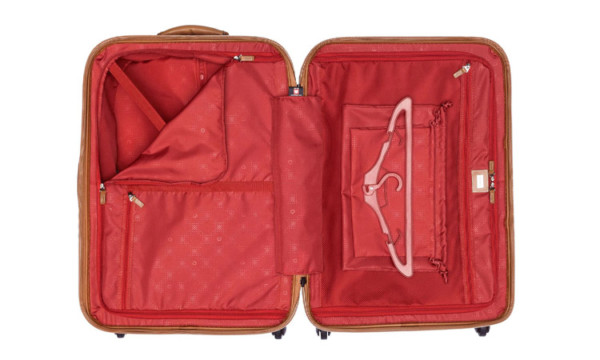 I think most people would see this as a very high quality and polished looking piece of luggage with top-notch features. I love how it has a feminine touch, but is still gender neutral enough not feel too "girly".
Overall it's well priced at around $200, making it an affordable luxury carry-on. If you haven't yet, read our full review of the Delsey Chatelet.
3. Travel King Aluminum Luggage Carry-On
The Travel King Aluminum 20″ Carry-On is more than a mouth full of words. It sports a very modern design reminiscent of something a secret agent would carry in a spy movie.
Unique luxury design
High quality and durable materials
Combination lock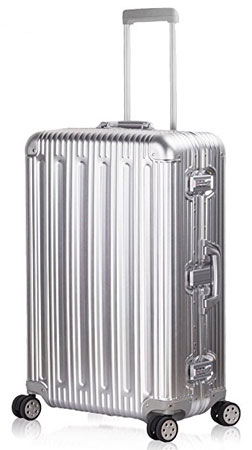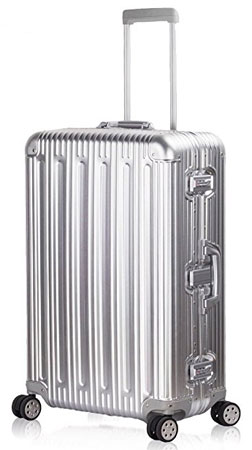 The Travel King's All Aluminum 20″ Carry On zipper-less design makes it feel more like large briefcase than a typical suitcase with this change. It is much quicker to pop the lock on this aluminum case than it is to unzip a typical suitcase. Also, there is a rubber seal on both the top and bottom shell, so when it's closed it is fully protected from water. Not only does the all-over aluminum add a unique flare but, more importantly, appears to add increased durability.
Dividers inside on both sides keep clothes in place, and you don't have to worry about things falling out if you accidentally open it upside down. A large mesh pocket is provided along with compression straps. You also get a removable piece with 2 mesh pockets to keep things smaller things organized and 1 plastic pocket for toiletries or other liquids.
Not having zippers, the typical TSA lock has been replaced with a combination lock, like briefcase. It actually makes it seems more solid and secure. The kind of case you would carry a million dollars in, not that I have a million dollars… But this luxury carry-on sorta makes me feel like I do.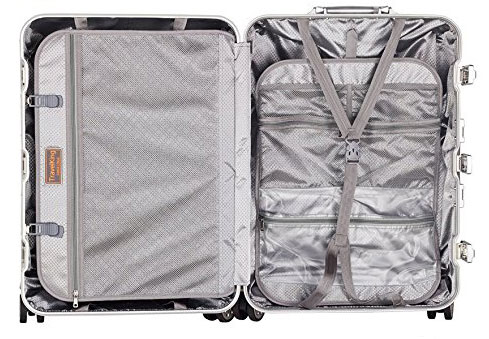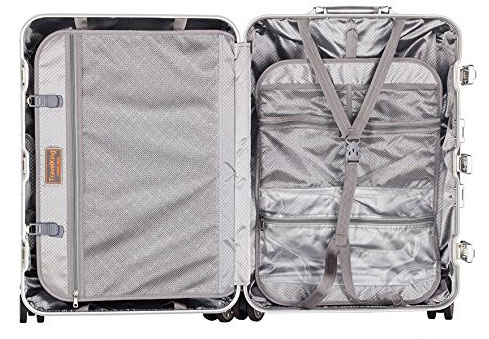 Whatever mission you're going on, whether it possible or impossible, the Travel King All Aluminum 20″ Carry On has a lot to offer in the way of functionality and durability, plus style.
4. Bric's Luggage Bellagio Carry-On
The lovely Bric's Bellagio Carry-On  has a luxurious European look, and is made of fine Italian material like Tuscan leather. Sounds fancy, doesn't it?
Luxury design with Italian Leather trim
High quality interior fabric
Durable and water-resistant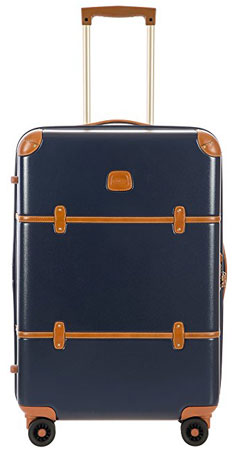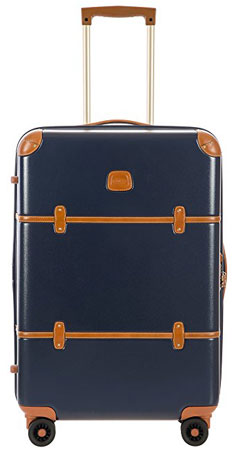 This Bric's Luggage Bellagio Ultra-Light 21″ Carry-on hard case is made of molded polycarbonate and trimmed with full grain Tuscan leather. Overall color options are stylish and expensive looking. A European air of luxury exudes from this suitcase, making it classic and timeless in design. 
It's more than a pretty face too, with features like a water-resistant sealed zipper and a TSA approved combination lock. The beautiful exterior is complete with a telescopic 3-stage pull handle and, 4 smooth rolling multi-directional wheels.
The fully lined interior offers two packing compartments with a zippered divider on one side and compression straps on the other. The inside is also very well-crafted and feels expensive and high quality. This luxury carry-on also comes in other sizes and color options.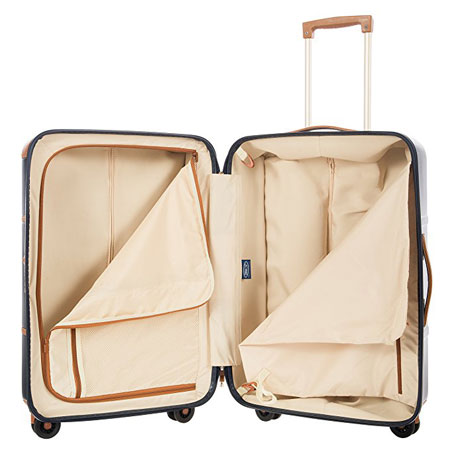 This is a great gift for a travel loving loved one. It's sure to dazzle guys and ladies alike. Overall it's well priced at around $300 and up, which is expensive, but in my opinion worth it, if you want something with high quality and luxury.
5. BlueSmart Black Edition Smart Luggage
Smart luggage with charger, GPS, and digital lock
Lightweight yet durable
Contemporary sleek look with exterior pocket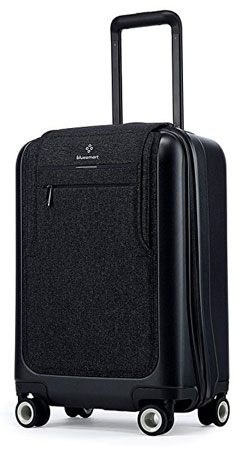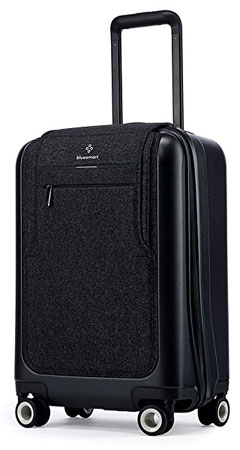 Frequent business travelers, will totally fall in love with this Bluesmart Black Edition International Luggage carry-on! It's sleek, super light-weight and durable with it's scratch resistant Makrolon and reinforced nylon exterior. The pockets and compartments are well-thought-out. With most hardside carry-on luggage you have to unzip the entire suitcase before and after the security line, which is never really convenient. Being able to put a laptop in the front pocket, outside of the actual suitcase, is genius.  
On the inside of the luggage, there is enough space for 2-3 days of travel. There is a dedicated compartment for all your chargers and cords. And get this, we have the ability to charge devices while on the go with the built-in USB charging port that can charge your devices up to six times over.
Another intelligently designed feature is the remote digital lock means you can lock/unlock the suitcase using your phone. On top of that this baby has built-in 3G + GPS tracker that allows you to locate your suitcase anywhere the world. Wow! This the future of luggage right here.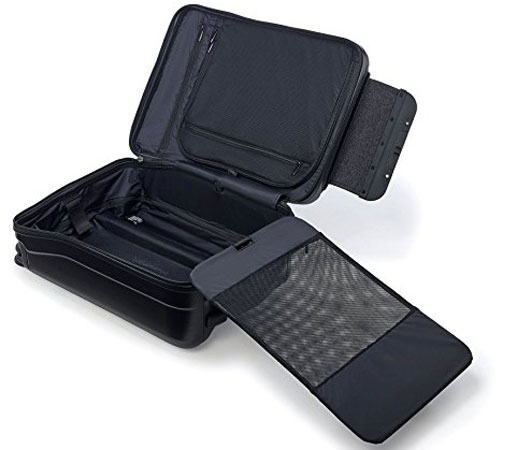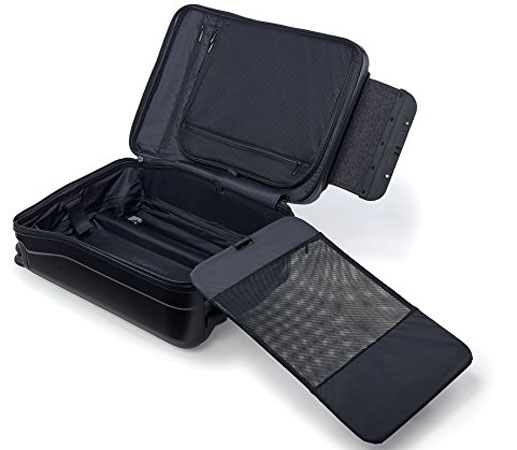 I can think of so many people in my life that would love me forever for gifting this. As I said this really is the future of luggage design. It's pretty much like a robot carry-on which is AWESOME.
A cheaper option is the standard model, the BlueSmart One Smart Luggage.