Beverly Hills Country Club Malibu Luggage Set Review
PRODUCT GRADE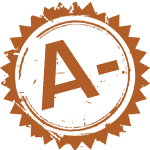 I can't justify rolling in with a leopard print bag on a business trip. So the Beverly Hills Country Club Malibu set is a good balance between professional, contemporary, and stylish.
The Beverly Hills luggage set can also be purchased in some more fun, stand-out colors, giving what I consider to be a wide appeal and versatility.
Ready the review so see some of the nice features these suitcases have and whether it's worth your money.
Features
BASICS
Case: Hardside (hardcase) 100% ABS
Wheels: Spinner (4 wheels multi-directional)
Color Options: Magenta, Navy, Orange, Green and Grey
Sizes In Luggage Set: 21″, 24″, 28″
Weight of Each Suitcase: 6.5 lbs, 9 lbs, 10 lbs
SELLING POINTS
4 smooth rolling spinner wheels
Professional yet noticeable color options
Affordably priced mid-grade option
4 corner riveted protective shells
Good interior organization
Exterior
I really like the sleek design of this luggage set. It looks very professional, yet is still somewhat eye-catching with it's bright color options and contrasting trim.
It's great for longer trips because it has the expandable feature. I like to buy souvenirs wherever I go, sometimes too many… So it's nice that this set can hold extra bulk.
Spinning wheels are in my opinion a must for every suitcase. The days of 2 wheels have died. These wheels are very easy to maneuver in any direction and over various surfaces.
The handles also seem very sturdy. There is one retractable handle on top which is an aluminum self-locking. Then there two non-retractable handles on both the top and side in the same light grey color as the trim.
An often overlooked feature with suitcases are bumper guards on the top corners. The corners have an extra piece of material to take the blow in some rough handling.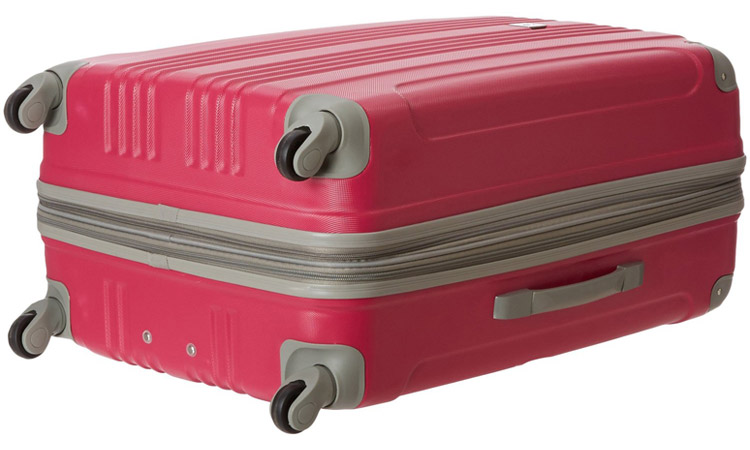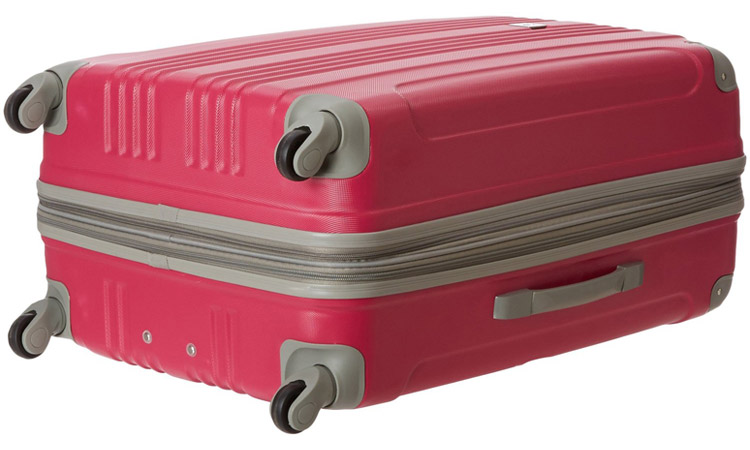 Color Options
The Beverly Hills Country Club Malibu 3 Piece set comes in 5 colors: Magenta, Navy, Orange, Green and Grey.
I personally think all the colors are really attractive and would stand out in an airport, while remaining professional.
The orange and magenta are the only colors that may not be as professional because I think they are a little loud for business travel. However, I absolutely love the magenta color for personal travel because I love pink. I would never loose the magenta as it really stands out.
The navy is a really nice shade, not too light, not too dark. It's more of a dark blue in my opinion, and I really like it. The grey is also a modern professional looking color. It's a medium sort of grey and actually is one of the best color options for frequent traveler's because it hides scuffs and dirt really well.
Interior
Yes! Lots of pockets and compartments. That's one of my most favorite things about this set as the pieces have more than the usual pockets inside.
It can be so hard to stay organized on a trip. I personally getting stressed if I'm not organized, so I love how the interior of these bags make for a stress-free organizing.
On one side there is a zippered section that spans the length of the bag, so you can securely separate items. On the outside of the zipper part there are 2 open top elastic pockets, and a zippered mesh pocket. I especially like the mesh pocket because it's so helpful for storing things I need to get to quickly.
Opposite the zipped side there is a crisscross elastic band that clips in the middle. This is a common feature, but one that shouldn't be taken for-granted.
Beverly Hills Country Club Malibu Luggage Sizes
Durability
As with many bags that are made of 100% ABS there are mixed opinions. It's not the most expensive material and that's why it's such a low price. But for the most part I have found the Beverly Hills luggage set to be a good choice as far as durability, although perhaps not the best.
I will say the 4 corner riveted protective shells add some extra protection. I find wheels with this design tend to last longer too.
However, some consumers have mentioned that this luggage set doesn't quite hold up as well as they would hope. Cracked corners seem to be the most common issue. So yeah, no 90 score in durability, but for this price I'd still call it a good value.
Price
The Beverly Hills Country Club Malibu 3 piece luggage set can be found around the $150 range and up, depending on how good of a sale you get. That's roughly $50 per suitcase, making it one of the most affordable hardside luggage sets out there.
The Beverly Hills set also comes with a 2 year warranty, which adds some additional value.
User Reviews
User reviews on various websites average around 4.3 stars out of 5.


Some of the things that user reviews often brought up were:
Professional color options
Corner guards help protect
Dents or cracks easily
The reports of cracking can't be ignored, however this set still has an average rating of 4.3 or so on most sites. I think if cracking was common the review score would be much lower. In reality, due to rough handling at the airport practically any case can crack. Therefore I personally wouldn't rule out this set because of a few negative reviews. Many more people have been pleased than disappointed.
Summary | Beverly Hills Country Club Malibu Luggage Set
Pros
4 Smooth rolling spinner wheels
Professional yet noticeable color options
Affordable
4 corner riveted protective shells
Good interior organization
Cons
Some people report exterior cracking
Verdict
The Beverly Hills luggage set can be found on Amazon for a reasonable price. Overall it's got a modern design with features and durability that match it's price. You will get your money's worth here.
I also love the protection if offers with the corner guards and flexible material. The interior pockets are fantastic and make it much easier to stay organized and neat when traveling.
A similar luggage set is the Rockland Sonic.
Available on Amazon – All Sizes