Samsonite Winfield 2 Fashion Luggage Review
PRODUCT GRADE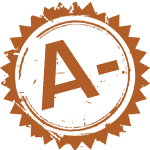 There is no question. The Samsonite Winfield 2 Fashion Luggage is a mouthful to say, as if they could not decide on naming it Winfield or Fashion. But along with a long name, Samsonite has also managed to pack a ton of value into this model. For this review I focused on just the 28″ size, although you can also get it in 20″ and 24″.
The style and color options were a big plus for me (orange for the win!), along the TSA lock. Of course, the Samsonite durability is there too. But is the Winfield 2 Fashion a good value?
Check out this review on the Samsonite Winfield 2 Fashion Luggage 28″.
Features
BASICS
Case: Hardside (hardcase) polycarbonate
Wheels: Spinner (4 wheels multi-directional)
Color Options: Charcoal, Dark Blue, Orange, Purple
Weight: 11.5 pounds
Size Being Reviewed: 28″
All Sizes Available: 20″, 24″, 28″
Available as Set: Yes
SELLING POINTS
Lightweight but sturdy
TSA Lock on the side
Nice interior divider with pockets (great to separate used clothes from the fresh!)
The brush-stroked color does well to hide scuffs and scratches
Side & top handle
Expandable
Exterior
The exterior is what really sets most suitcases apart, as there is only so much innovation that can be done with the interior.
As far as the design itself, the brushed metal look and bold colors make the Samsonite Winfield suitcase stand out. If you travel by plane often like me, this is very important feature. Not only does it make it easier to spot your luggage in baggage claim, but stops those awkward moments when someone else incorrectly starts walking off with your luggage.
The brushed metal look also seems to help with hiding small scratches and scuffs. Hardside cases have many benefits over poly or nylon fabric luggage, especially if caught in the rain or in a dirty environment. But their Achilles heel is usually a tendency to get scuffed. I talk about this in more detail further down in the article under User Reviews.
As for the wheels, they roll smoothly even on more bumpy surfaces. Really, after using 4 spinner wheels there is no going back to the old 2 wheel design. The wheels keep the bag balanced so it's never top heavy.
Some suitcases struggle with a sturdy retractable handle. But the Samsonite Winfield 2 Fashion provides a solid retractable handle that can withstand tugging it different directions quickly.
Another key thing I look for is the quality of the grip handles. Like most larger luggage products, it has two. One is on the top and the other is on the side. For me, side handles on hardside suitcases often look they are going to pop off as there is so much weight pulling on only half of the case. But the side handle seems to hold up quite well on the Winfield 2 Fashion.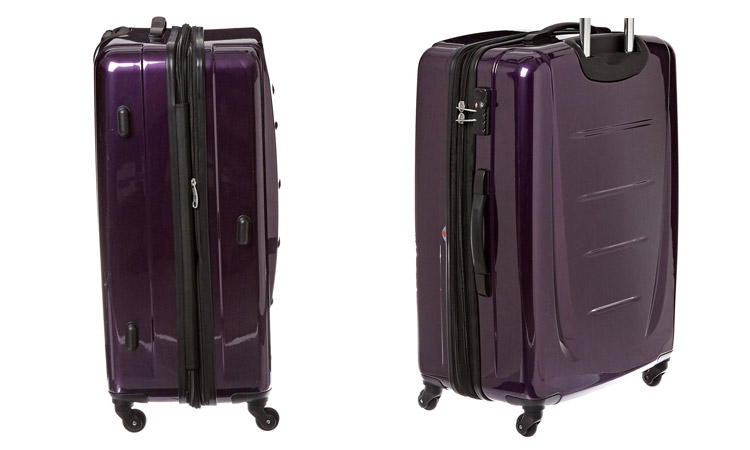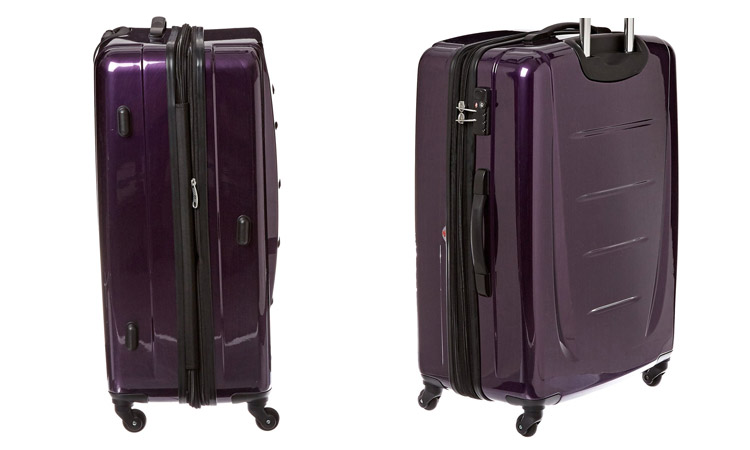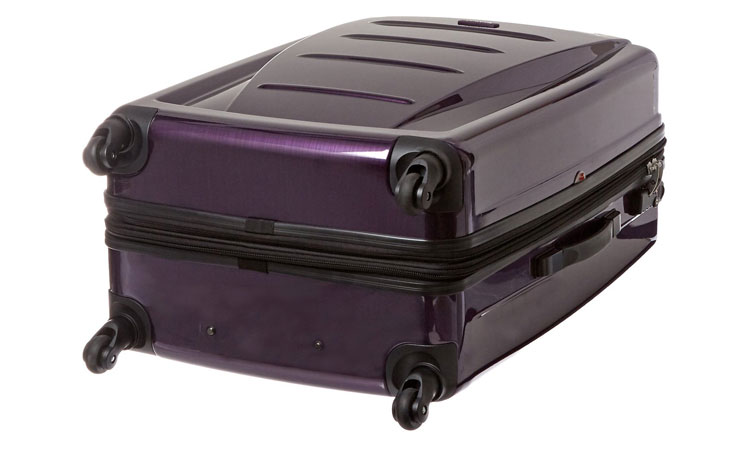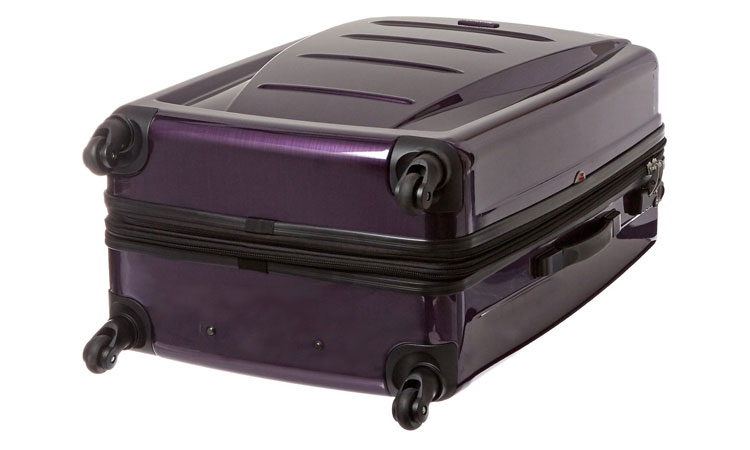 Color Options
The Samsonite Winfield 2 Fashion comes in 4 colors: Charcoal, Deep Blue, Purple, and Orange.
For those holding back on the orange color option, I would say the color to a bronze than the orange color many of us think of with the fruit. Which is nice. It stands out, but is not over the top. It's not as generic as the Charcoal and looks… well cool.
Interior
At 28 inches, the Samsonite Winfield holds a lot. I mean a lot. And that's not even using the zippered expansion feature. A couple pairs of mens shoes, several pairs of jeans, half a dozen shirts, a full sized coat, a week of socks and underwear – all there along with toiletries. In fact, you will probably find that if you pack it completely full that it will go over the weight limit for a checked bag. Of course, if you are not flying then pack it on!
Interestingly some people have complained about having an interior divider. But personally I love it and would never buy a suitcase with out it. It can separate rough items like shoes, toiletries, and power charges from more delicate and expensive clothing. Plus after a few days, the used clothes can go on one side and fresh ones on the other. And if you have a very large item that cannot fit in one half of the suitcase? Then just don't zip up the divider.
Along with the divider, it also has 2 compartments with a zipper. I like to put smaller important items here so I can find them easily. You know, like my nose hair trimmer. Not that I have one. But if I did.
Samsonite Winfield 2 Fashion Sizes
The Samsonite Winfield 2 Fashion model comes in 2 additional sizes, besides the 28″ that I am reviewing – a carry-on 20″ and medium 24″ size. To me this is an important factor, as I like to have a matching set.
Durability
Of course great features and design are only as good as they last. Samsonite has established a reputation for strong and durable luggage. The Samsonite Winfield 2 Fashion seems to uphold that reputation.
Ribs across the front of the case seem to help reduce bowing when heavy objects are placed on top of it (when closed). The corners appear sturdy and out of many user reviews I only found one that complained about them getting dented at the airport.
I also spent quite a bit of time reading over user reviews to see if there were any issues with the handle twisting and breaking, or the wheels not rolling smoothly, but did not find any. So it seems that this Samsonite luggage holds up well even after months of use.
The only thing that prevents me from giving it a 100 in the durability grade is one of the main complaints from other buyers: scuffs. There is no luggage solution that's immune to scuffs or scratches, especially with the abuse it takes at an airport. But some textured hardside luggage models do seem to resist scuffs slightly better than smooth ones, like this Winfield. Of course, this is a small thing and I talk about it a little more down in the User Reviews section below.
Price
What a product is worth is a very subjective thing. Like cars… and wine. Many price points for many people.
The 28″ Samsonite Winfield 2 Fashion suitcase has an MSRP at $180, but can be found around $120, depending on what kind of sale you find. For me, I feel this is a great price (when on sale) for a product that will most likely withstand years of use. Samsonite has more expensive models to choose from, so this is nice mid-range option while still getting the Samsonite brand and durability. And although other brands can be had cheaper, you typically get what you pay for.
So don't fret over a few extra dollars. The Samsonite Winfield is a great value that I don't think you will regret.
User Reviews
User reviews on various websites average around 4.5 stars out of 5 for the Samsonite Winfield 2 fashion.


Some of the things that user reviews often brought up were:
Very lightweight
Holds a ton of stuff
Case can get scuffed
About that last one, scuffing is a common issue with all hardside luggage. It's a downside over fabric luggage. But the upside over nylon/poly fabric luggage is of course the ability to clean it and repel water.
For me personally, I have found that hardside luggage with a textured surface may scuff a little less, but the scuffs that it does get are harder to remove. However, smooth hardside luggage like the Winfield 2 Fashion may initially get more scuffs, but these can typically be rubbed off easier. I'm curious to know if others have found this the case as well?
Summary | Samsonite Winfield 2 Fashion
Pros
Durable hardside case and spinner wheels
Stylish design in bold colors
TSA Lock
Interior Divider with pockets
Great value for price
Cons
Smooth hardside case seems to scuff more than a textured hardside
Verdict
Stylish, durable, spacious, and at a great price. The Samsonite Winfield 2 Fashion is a great mid-priced luggage choice that will be perfect for most people's needs.
If you are looking for a hardcase that is a little cheaper, then I recommend the Rockland Sonic.